Interdisciplinary Prize 2016 Winner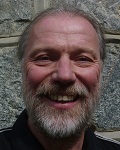 Professor Jörg Feldmann
University of Aberdeen
Awarded for the development of analytical systems to unravel biological metal metabolites
About the Winner
Jörg Feldmann has graduated from the University of Essen, Germany, in 1989 with a Chemistry Diploma, with a specialisation in Geochemistry. After working as an Environmental Officer, he returned to the University of Essen, to study for PhD at the Institute of Environmental Analytical Chemistry. Here, he pioneered the use of ICP-MS for metal speciation analysis coupling GC-ICPMS, for which he received the Price of the University of Essen in 1996. He was awarded a Feodor Lynen Fellowship of the Alexander-von-Humboldt Foundation in 1995 and spent two years in Canada at the University of British Columbia and University of Alberta studying microbial transformations of arsenic and antimony and developing novel approaches of elemental speciation analysis.
After his appointment as a Lecturer in Environmental Chemistry in 1997 by the University of Aberdeen, he built up his research group TESLA (Trace Element Speciation Laboratory Aberdeen) and was promoted to Full Professor in 2004. His work on the analysis of arsenic metabolites was influential for the introduction of a maximum contaminant level in rice by the WHO in 2015.
Furthermore he pioneered a new bioimaging method using laser ablation ICP-MS which enables the detection of trace elements in tissue thin sections at the micrometre scale and applied this techniques to unravel nutritional immunity. His work on using stable isotopes and LA-ICP-MS which he coined "dynamic bioimaging" made it possible to study the kinetic uptake and accumulation of metals in single animals.
At present, he has published more than 200 peer-reviewed papers in more than 70 journals which gained more than 10,000 citations. His work has always been hypothesis driven by unravelling environmental and biological problems and by developing novel analytical systems such as the simultaneous coupling of HPLC to ICP-MS as an element detector and ESI-MS as a molecular detector.
He is on the JAAS Editorial Board and a Fellow of the Royal Society of Chemistry and has a visiting Professorship at the Universidade Federal de Santa Catarina, Brazil. He received the biennial European Award for Plasma Spectrochemistry for this work in 2015.
Related Links

Professor Feldmann's Webpage
University of Aberdeen

Link to 'Arsenic in Rice' impact study
University of Aberdeen
External links will open in a new browser window