2018 Interdisciplinary Prize Winner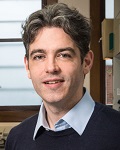 Professor Leroy (Lee) Cronin
University of Glasgow
Awarded for work exploring complex chemical systems and digitising chemistry using artificial intelligence.
About the Winner
Lee Cronin was born in the UK in 1973 and was fascinated with science and technology from an early age getting his first computer and chemistry set when he was 8 years old. This is when he first started thinking about programming chemistry and looking for inorganic aliens. He went to the University of York where he completed both a degree and PhD in Chemistry and then on to do post docs in Edinburgh and Germany before becoming a lecturer at the Universities of Birmingham, and then Glasgow where he has been since 2002 working up the ranks to become the Regius Professor of Chemistry in 2013.
He has won many prizes including the RSC Corday Morgan Prize (2012), BP/Hutton Prize (2013), RISE Award (2014), RSC Tilden Prize (2015), China 1000 Foreign Talents Prize (2016), ACS Inorganic Lectureship Award (2018). He has one of the largest multidisciplinary chemistry-based research teams in the world, having raised over £25 M in grants as PI and current income of £15 M including a ERC Advanced Grant and EPSRC Programme and Platform grants. He has given over 390 international talks and has authored over 380 peer reviewed papers with recent work published in Nature, Science, and PNAS. He and his team are trying to make artificial life forms, find alien life, explore the digitization of chemistry, understand how information can be encoded into chemicals and construct chemical computers.
Related Links

Professor Cronin's Webpage
University of Glasgow
External links will open in a new browser window