Pedler Award 2016 Winner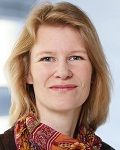 Professor Dr Helma Wennemers
ETH Zurich
Awarded for the profound and elegant discovery of small molecules that function like natural macromolecules
About the Winner
Helma Wennemers studied chemistry at the Johann-Wolfgang-Goethe University in Frankfurt and received her PhD degree at Columbia University, New York for graduate studies with W. Clark Still in 1996. Following postdoctoral studies at Nagoya University with Hisashi Yamamoto (1997-1998), she joined the faculty of Basel University as the Bachem-endowed Assistant Professor in 1999. She was promoted to Associate Professor (2004) at the University of Basel before moving to ETH Zurich as Professor of Organic Chemistry in 2011.
Her research focuses on the development of small molecules with functions that are fulfilled in nature by large macromolecules. This scope includes the development of peptides and other bioinspired asymmetric catalysts, functionalizable collagen, and molecular scaffolds for applications in supramolecular and biological chemistry.
Helma Wennemers is a Fellow of the Royal Society of Chemistry and her research has been recognized by several awards including the Leonidas Zervas Award, the David Ginsberg Lectureship, the Holger Erdtman Lectureship, and a JSPS Distinguished Lectureship.

Related Links

Professor Wennemers' Webpage
ETH Zurich
External links will open in a new browser window