Theophilus Redwood Award 2011 Winner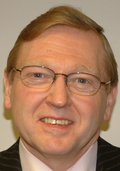 Anthony Turner
Linköpings University
Awarded for his outstanding work in biosensors. In particular, his pioneering work which has led to the development of home blood glucose monitoring technology.


About the Winner
Professor Anthony (Tony) Turner's name is synonymous with the field of Biosensors. Following brief spells as a Scientist for the UK Ministry of Agriculture, Fisheries and Food and then as a Lecturer in Anatomy, Professor Turner began his research career at the University of Kent (UK) in 1976. He joined Cranfield University in 1981, as a founder member of the UK's first Biotechnology Centre. There, he led the Biosensors Group, which went on to develop the world's most successful type of biosensor, the hand-held mediated amperometric glucose sensor for people with diabetes. His work helped lay the foundation for a new multi-billion dollar a year industry and consolidate the emerging field of Biosensors and Bioelectronics as an academic discipline. By 2010, his group was widely acknowledged by international commentators as one of the best biosensor development laboratories in the world, ranking alongside the leading commercial and academic organisations. In November 2010, he moved his research activities to Sweden to head the Biosensors and Biolectronics Centre at Linköping University, while continuing to advise Cranfield University on innovation.

Tony Turner's 35 year academic career in the UK culminated in the positions of Principal of Cranfield University at Silsoe and Distinguished Professor of Biotechnology. He is now an Emeritus Professor at Cranfield and retains a part-time position with Cranfield Ventures Ltd as Innovations Director, with responsibility for leveraging Cranfield University's IP via spin outs and licensing. He was elected a Fellow of the Royal Society of Chemistry in 1996, invited to Fellowship of the Institute of Biology in 1999 and the Institute of Physics in 2006. He was awarded a Higher Doctorate (DSc) for his exceptional contribution to biosensors by the University of Kent in 2001 and an Honorary DSc by the University of Bedfordshire in 2008, where he served as a Governor for six years. He was admitted to the USA National Academy of Engineering as a Foreign Associate in 2006, for his work on glucose sensors, environmental monitors and synthetic recognition molecules.
Professor Turner has over 600 publications and patents in the field of biosensors and biomimetic sensors. He co-founded and has edited the principal journal in the field, Biosensors & Bioelectronics, since 1985 and edited the first textbook on Biosensors in 1987. He founded the World Congress on Biosensors for Elsevier in 1990 and has chaired it since then. He played a key role in coordinating research activities in medical and environmental sensors in the European Union and led concerted actions and thematic networks since 1988. In addition to advising companies and governments worldwide in the general area of analytical biotechnology, he has served as an expert witness in patent litigations and arbitrations on three continents.

Related Links

Linköpings University
Anthony Turner homepage
External links will open in a new browser window