Theophilus Redwood Award 2016 Winner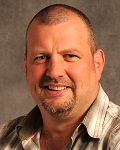 Professor Duncan Graham
University of Strathclyde
Awarded for innovation and leadership in exploiting surface enhanced Raman spectroscopy in the analytical community
About the Winner
Duncan Graham is Research Professor of Chemistry and Deputy Head of Department for Pure and Applied Chemistry at the University of Strathclyde in Glasgow having being appointed there as a lecturer in 2002 and then to a chair in 2004.
He is currently Chair of the Editorial Board of Analyst and president elect of the Analytical Division of the Royal Society of Chemistry. He serves on the advisory boards of Chemical Society Reviews, Chemical Science, Journal of Raman Spectroscopy, the Journal of Biomedical Spectroscopy and Imaging and the new Cell Press journal, Chem.
He has been awarded numerous awards for his research including the RSCs SAC Silver medal (2004), Nexxus Young Life Scientist of the year (2005), Corday Morgan prize (2009), a Royal Society Wolfson Research Merit award (2010), the Craver Award from the Coblentz Society (2012), Fellows Award from the Society for Applied Spectroscopy (2012) and was elected to the fellowship of the Royal Society of Edinburgh (2008).
He has published over 200 papers and graduated over 50 PhD students. He is a cofounder and director of Renishaw Diagnostics Ltd (2007) which now has 42 FTE and has a CE marked SERS based diagnostic now available for use in European hospitals. He completed a PhD in organic chemistry at the University of Edinburgh (1996) and his interests are in developing new diagnostic assays based on nanoparticles and spectroscopy with target molecules including DNA, RNA, proteins and small molecule biomarkers.
Related Links

Professor Graham's Webpage
University of Strathclyde
External links will open in a new browser window