2018 Theophilus Redwood Award Winner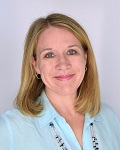 Professor Christy Haynes
University of Minnesota, Department of Chemistry
Awarded for interdisciplinary work at the interface of analytical, biological, and materials chemistry and skills for passionately and effectively communicating science to broad audiences.
About the Winner
Christy Haynes is the Elmore H. Northey Professor of Chemistry at the University of Minnesota where she leads the Haynes Research Group, a lab dedicated to applying analytical and nanomaterials chemistry in the context of biomedicine, ecology, and toxicology. Professor Haynes completed her undergraduate work at Macalester College in 1998 and earned a Ph.D. in chemistry at Northwestern University in 2003 under the direction of Richard P. Van Duyne. Before joining the faculty at the University of Minnesota in 2005, Haynes performed postdoctoral research in the laboratory of R. Mark Wightman at the University of North Carolina, Chapel Hill.
Among many honors, she has been recognized as an Alfred P. Sloan Fellow, a Searle Scholar, a Dreyfus Teacher-Scholar, and a National Institutes of Health "New Innovator." In addition to wide recognition for her research contributions, including over 150 peer-review publications, she has been recognized by her university as an Outstanding Postdoctoral Mentor and the Sara Evans Faculty Woman Scholar/Leader Award. Professor Haynes is currently the Associate Head of the University of Minnesota Department of Chemistry, the Associate Director of the National Science Foundation-funded Center for Sustainable Nanotechnology, and an Associate Editor for the journal Analytical Chemistry.
In addition, Prof. Haynes is a champion for diversity in STEM fields and dialogue between scientists and the public. To learn more about Prof. Haynes and her research listen to a recent interview she gave on the "People Behind the Science" podcast and watch a TEDx talk she delivered in January 2017.
Related Links

Professor Haynes' Webpage
University of Minnesota

Professor Haynes' Podcast - 'Tiny Technology with Big Impacts: Nanoparticles for Medicine, Energy, and the Environment'
People Behind the Science

Professor Haynes' TEDx talk - 'Nanomaterials are everywhere; how do we make them safe?'
Youtube
External links will open in a new browser window