Young Industrialist of the Year Award 2012 Winner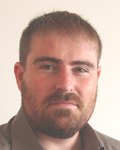 Dr Asier Unciti-Broceta
Deliverics and University of Edinburgh
For his capacity to develop and lead the translation of novel concepts into products, along with his outstanding research/commercial early track record in the chemical sciences.
About the Winner
Asier Unciti-Broceta is currently an IGMM Academic Fellow of the Edinburgh Cancer Research Centre (MRC Institute of Genetics and Molecular Medicine, University of Edinburgh) and Chief Scientific Officer at Deliverics Ltd.
Asier received an MPharm (1st class / distinction, 1999) and an MSc in Organic and Medicinal Chemistry (1st class, 2001) from the University of Granada (Spain). He then remained in Granada to develop a PhD in Medicinal Chemistry (cum laude, 2004) under the supervision of Prof. A. Espinosa sponsored by a Ramón Areces Foundation scholarship.

In 2005 he moved to the University of Edinburgh to join the prestigious group of Prof. M. Bradley, where he developed various research lines in the interface of chemistry and biomedicine. In 2008 Asier was awarded a SE Proof of Concept grant to translate a novel biodegradable DNA/RNA delivery technology into a commercial product. In 2010 Asier co-founded the spin-out company Deliverics Ltd, leading since then its R&D efforts, and gained its current position in the Edinburgh Cancer Research Centre, where his research group is developing novel chemical strategies to anticancer therapy. Asier was the recipient of the Nexxus (East) Young Life Scientist Award of 2010.

In less than 2 years trading Deliverics has launched two innovative transfection kits, SAFEctinTM and SAFEctinTM-STEM, research lab tools currently commercialised in the UK and oversees (US, Spain, Korea, etc.), and spun out LIPIteq Ltd, which will exploit the potential of Deliverics' technology in the gene therapy market. In recognition to its rapid growth, Deliverics was awarded the Nexxus (East) Most Promising Young Life Science Company of 2011.
Related Links

Dr Unciti-Broceta's Research Profile
Edinburgh Cancer Research UK Centre
External links will open in a new browser window