Pay and Reward Survey 2023 is coming!
The 45th edition of the Pay and Reward Survey will run from 14 June and close at midnight on 12 July. Members will be invited to participate via email and the results published in late 2023.
Pay and Reward Report 2021
Every two years, we ask our members to share their experiences of working in the chemical sciences. We report on salaries, pensions, benefits, job security, skills, employees' needs and more.
It's a valuable resource for the chemical sciences profession. Not only does it provide benchmarking data for individuals, employers and recruiters, but evidence that we can use to drive positive change within the chemical sciences and beyond.
This year's pay and reward survey is sponsored by CK Group, specialists in scientific, clinical and technical recruitment. Read their predictions about the future skills needs for the sector, and what the recruitment landscape will look like in 2022.
What the survey reveals
The chemical sciences continue to offer a high level of job security and stability
Despite the impact of Brexit and a global pandemic, the chemical sciences has remained resilient.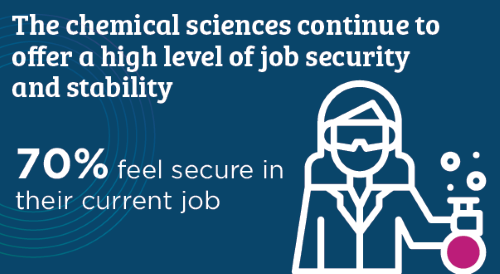 The median salary increases but pay parity issues remain
While there is a 3.5% increase in median salary on 2019, women continue to earn less than men, despite sharing a similar level of responsibility.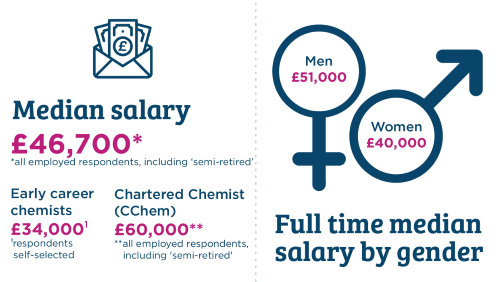 The chemical sciences needs to address equality issues
For the chemical sciences to thrive and overcome new challenges it must attract, develop and retain a diverse range of people. Women, disabled people, those with caring responsibilities, and LGBT+ people continue to experience discrimination and bias. We're working hard to support our community and highlight examples in the report. The Pay and Reward data will feed into our evidence-driven approach to drive action on inclusive access and progression within the chemical sciences.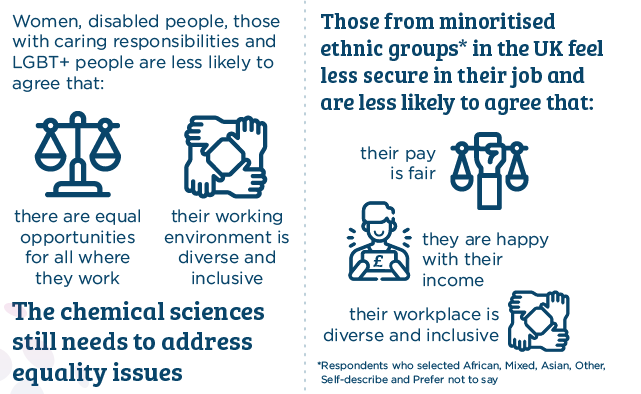 The most sought-after skills for career progression
As in 2019, leadership and networking are the skills that chemistry professionals want to develop over the next twelve months. It appears that the sector's growing need for specialist digital skills isn't yet reflected in individuals' priorities.

Pay and reward through the ages
Members can delve into our digital archives to find out how employment in the chemical sciences has changed over the last 100 years. What did a chemical scientist earn in 1919? What were the most lucrative industries to work in? When was the best time to be a chemist?
*Get free access to the report – join us
You can purchase and download the report for £250. Alternatively, get free access as part of a comprehensive package of benefits when you become a Royal Society of Chemistry member. Join for as little as £20.
As a Royal Society of Chemistry member, you'll become part of a diverse global community of over 50,000 people who are working hard to create a better world. We'll give you resources, support and connections to help you stay at the forefront of your profession.
When you become a member you can help us influence challenges faced in the environment, education systems, inclusion and diversity and other areas of the chemical sciences.
Wherever you are in your relationship with the chemical sciences, there's a membership option to suit you.


---
Career management team
Contact our career management team for support
Tel:

+44 (0) 1223 432231

Email:
Share