Supporting our community through Covid-19
While our publishing services are running as usual, we also know that this is a very challenging time for everyone, for many different reasons. If any aspect of the publishing process is worrying you – for example you think you may struggle to meet a pre-determined deadline – please let us know, and we will work out an answer together.
Setting up remote access to RSC content
You can find details about how to access information remotely in this step-by-step guide. The guide will also help if for any reason you have difficulty accessing the content you want.
Welcome from our Editor-in-Chief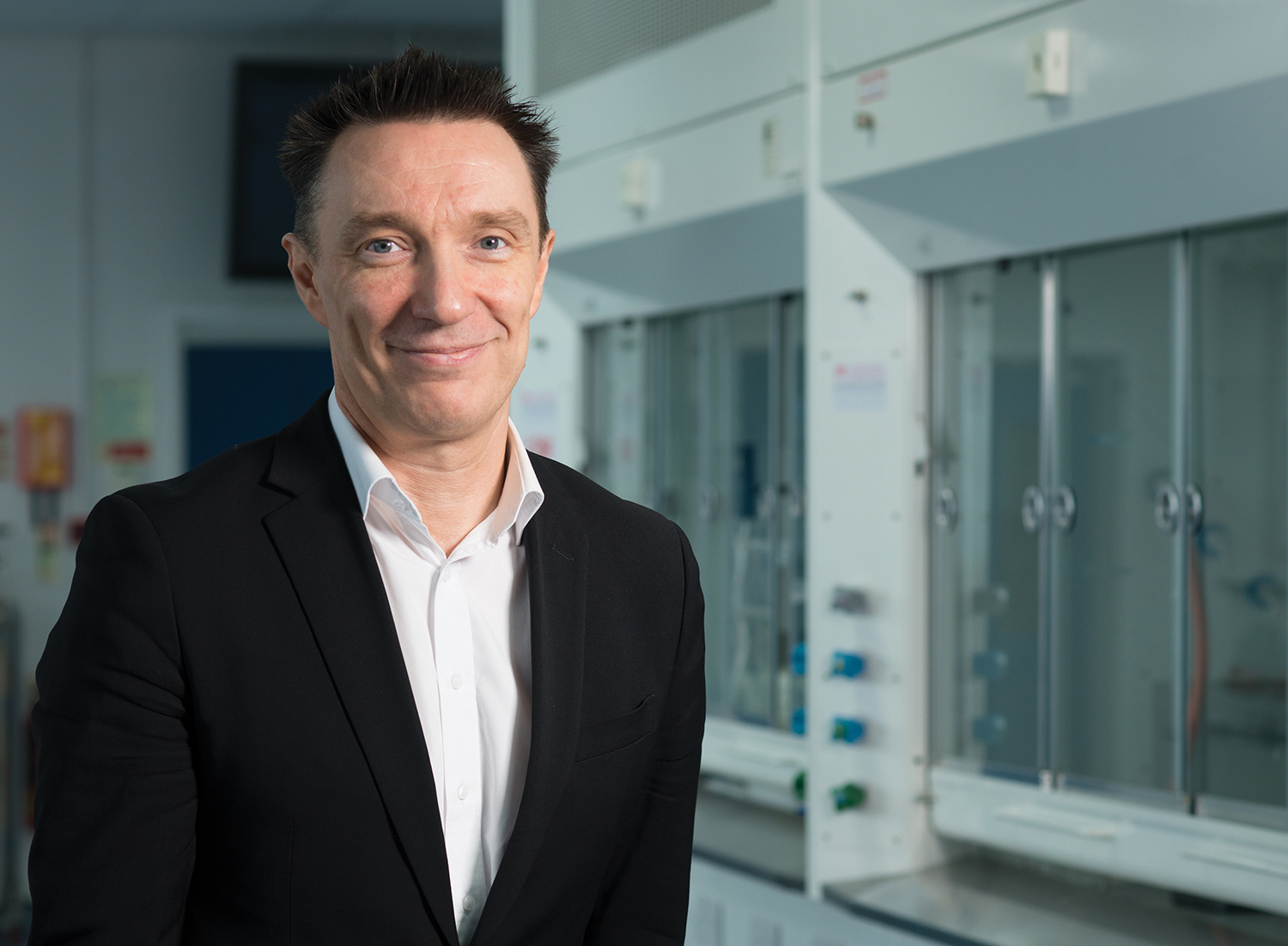 Professor Andrew Cooper leads our flagship journal as it continues to share exceptionally significant findings from across the chemical sciences.
"I'm excited to take on this new role in 2019 and I look forward to working with a great editorial board. The Royal Society of Chemistry does an important job and I'd encourage colleagues to submit their best work to Chemical Science."
We are gold open access so that everyone can read important new chemistry research. We pay all article processing charges (APCs) so you have no barriers to sharing that work.

Essential reading for chemists in all areas
We feature only cutting-edge solutions to today's global challenges. Our fast times to publication mean rapid visibility for your work. Our peer review process is rigorous and fair.

Free to read and free to publish with no APCs
We're open access so there is no pay wall to prevent your research reaching everyone. We're the only flagship journal that's free to read. We don't chase trends, but cover all areas of chemistry.

Authors from 53 countries in 2019
Our board has members from four continents and our reviewers are evenly spread across the world. Our download statistics show that your work will reach the broadest possible audience.
Scope
Chemical Science is a multi-disciplinary journal publishing findings from across the breadth of the chemical sciences. Articles should present new findings of exceptional significance to their field, and also be of wider interest to readers working in other areas across the chemical sciences. For work to be published, it should provide a significant, conceptually novel advance or insight into the development of its field, and be written to be accessible to scientists across the broad readership of the journal. More specialised work is generally not suitable for publication in the journal.
Chemical Science publishes work from areas including (but not limited to):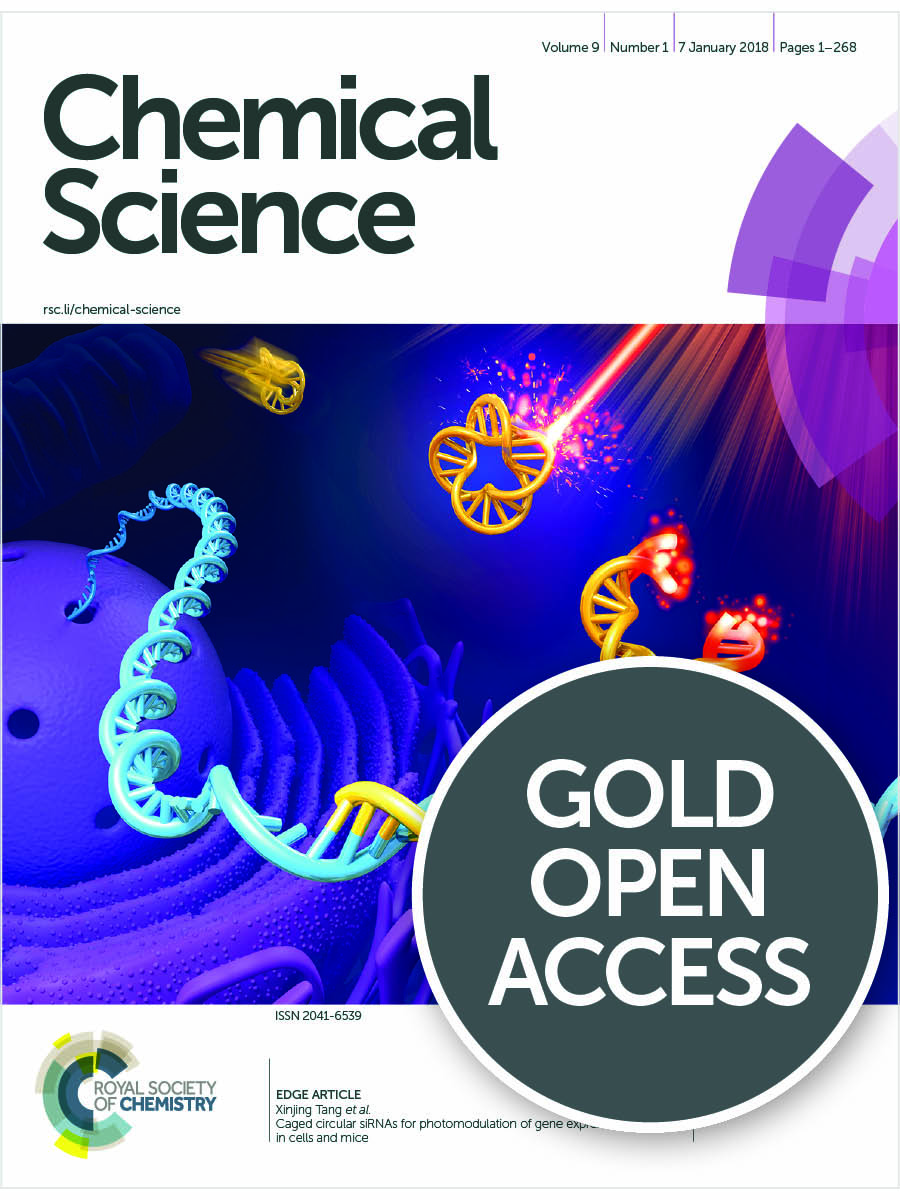 Organic chemistry
Inorganic chemistry
Physical chemistry
Materials science
Nanoscience
Catalysis
Chemical biology
Analytical chemistry
Supramolecular chemistry
Theoretical chemistry
Computational chemistry
Green chemistry
Energy and environmental chemistry
Digital chemistry
Impact factor: 9.346*
Indexed in Science Citation Index (SCI), PubMed Central (PMC) and the Directory of Open Access Journals (DOAJ)
Watch the latest video abstracts
Our video abstract series features the hottest research in every field published in Chemical Science. Click or tap an image to start watching.
Editorial board
Chemical Science follows a single-blind peer review process and articles are typically sent to at least two independent reviewers for evaluation. A dynamic and high quality team of associate editors is responsible for peer review and associated editorial decisions. Authors may choose their preferred choice of associate editor upon submission.
Please note that it may not always be possible for the author's first choice associate editor to be selected. In situations where this is not possible the editorial office will assign the most suitable alternative.
On submission to the journal, all manuscripts are initially assessed by a team of professional editors who have a wide range of backgrounds from across the chemical sciences. They make an assessment of whether the manuscript may be suitable for the journal, based on the scope and very high significance and broad general interest criteria required for publication in Chemical Science. Successful manuscripts will then be forwarded to one of our associate editors to carry out a further assessment drawing on their expertise in the field. Only manuscripts that are successful during these initial assessments will be sent for full peer review. Full details of the initial assessment process can be found with our processes and policies.
Editorial board
Advisory board
Dave Adams, University of Glasgow, UK
Ayyappanpillai Ajayaghosh, NIIST, India
Markus Antonietti, Max Planck Institute of Colloids and Interfaces, Germany
Ulf-Peter Apfel, Ruhr-University Bochum, Germany
Polly Arnold, University of California Berkeley, USA
Xinhe Bao, Dalian Institute of Chemical Physics, China
Zhenan Bao, Stanford University, USA
Gonçalo Bernardes, University of Cambridge, UK
Guy Bertrand, University of California, San Diego, USA
Donna Blackmond, Scripps Research Institute, USA
Jeffrey Bode, ETH Zürich, Switzerland
Christopher Chang, University of California, Berkeley, USA
Chi-Ming Che, University of Hong Kong, China
Jun Chen, Nankai University, China
R. Graham Cooks, Purdue University, USA
Christophe Copéret, ETH Zürich, Switzerland
Eugenio Coronado, University de Valencia, Spain
Leroy Cronin, University of Glasgow, UK
James Crowley, University of Otago, New Zealand
Christopher C. Cummins, Massachusetts Institute of Technology, USA
Ben Davis, University of Oxford, UK
Jillian Dempsey, University of North Carolina at Chapel Hill, USA
Kazunari Domen, University of Tokyo, Japan
James Durrant, Imperial College London, UK
Xinliang Feng, TU Dresden, Germany
Ben Feringa, University of Groningen, The Netherlands
Cynthia Friend, Harvard University, USA
Makoto Fujita, University of Tokyo, Japan
Phillip Gale, University of Sydney, Australia
Song Gao, Peking University, China
Elizabeth Gibson, Newcastle University, UK
Ryan Gilmour, WWU Münster, Germany
Hubert Girault, Ecole Polytechnique Federale de Lausanne, Switzerland
Frank Glorius, WWU Münster, Germany
Jinlong Gong, Tianjin University, China
Leticia González, University of Vienna, Austria
Duncan Graham, University of Strathclyde, UK
Vicki Grassian, University of California, San Diego, USA
Michael Grätzel, Swiss Federal Institute of Technology, Switzerland
Alexis Grimaud, Collège de France/CNRS, France
Christian Hackenberger, FMP Berlin, Germany
Buxing Han, Chinese Academy of Sciences, China
Christy Haynes, University of Minnesota, USA
Patrick Holland, Yale University, USA
Malika Jefferies-EL, Boston University, USA
Kim E. Jelfs, Imperial College London, UK
Yousung Jung, KAIST, South Korea
Takashi Kato, University of Tokyo, Japan
Jérôme Lacour, University of Geneva, Switzerland
Ai-Lan Lee, Heriot-Watt University, UK
Daniele Leonori, University of Manchester, UK
Chao-Jun Li, McGill University, Canada
Yi Li, Jilin University, China
Mi Hee Lim, KAIST, South Korea
Wenbin Lin, University of Chicago, USA
Kopin Liu, Academia Sinica, Taipei
Watson Loh, Instituto de Química, Campinas, Brazil
Bettina Lotsch, Max Planck Institute, Germany
Xiong Wen (David) Lou, NTU, Singapore
Kazuhiko Maeda, Tokyo Institute of Technology, Japan
Satoshi Maeda, Hokkaido University, Japan
Gabriel Merino, CINVESTAV Merida, Mexico
Scott Miller, Yale University, USA
Daniel Mindiola, University of Pennsylvania, USA
Wonwoo Nam, Ewha Womans University, Korea
Jonathan Nitschke, University of Cambridge, UK
Allie Obermeyer, Columbia University, USA
Martin Oestreich, Technische Universität Berlin, Germany
Takashi Ooi, Nagoya University, Japan
Rachel O'Reilly, University of Birmingham, UK
Oleg Ozerov, Texas A&M University, USA
Nicolas Plumeré, Ruhr-University Bochum, Germany
Rasmita Raval, University of Liverpool, UK
Erwin Reisner, University of Cambridge, UK
Andrea Rentmeister, WWU Münster, Germany
Jeffrey Rinehart, University of California, San Diego, USA
Stuart Rowan, Case Western Reserve University, USA
Richmond Sarpong, University of California, Berkeley, USA
Dwight Seferos, University of Toronto, Canada
Oliver Seitz, Humboldt-Universität zu Berlin, Germany
Roberta Sessoli, University of Florence, Italy
Kay Severin, Ecole Polytechnique Federale de Lausanne, Switzerland
Mikiko Sodeoka, Advanced Science Institute, RIKEN, Japan
David Spring, University of Cambridge, UK
Brian Stoltz, California Institute of Technology, USA
Brent Sumerlin, University of Florida, USA
Raghavan B. Sunoj, IIT Bombay, India
Yogesh Surendranath, MIT, USA
Mizuki Tada, Nagoya University, Japan
Ben Zhong Tang, The Hong Kong University of Science and Technology, China
Zhiyong Tang, National Center for Nanoscience and Nanotechnology, China
Christine Thomas, Ohio State University, USA
He Tian, East China University of Science & Technology, China
Zhong-Qun Tian, Xiamen University, China
F. Dean Toste, University of California, Berkley, USA
Takashi Uemura, University of Tokyo, Japan
Jan van Hest, Radboud University Nijmegen, The Netherlands
Latha Venkataraman, Columbia University, USA
Julia Weinstein, University of Sheffield, UK
Tom Welton, Imperial College London, UK
Christina White, University of Illinois at Urbana-Champaign, USA
Charlotte Williams, University of Oxford, UK
Vivian Yam, University of Hong Kong, China
Qi-Lin Zhou, Nankai University, China
Article types
Chemical Science publishes:
Edge articles
Minireviews
Perspectives
Comments
See more information about these article types
Edge articles
Chemical Science publishes all original research in one format: Edge articles. Chemical Science editors understand that traditional two- or three-page limits for the dissemination of new research are not suitable across all sub-fields of chemistry. Edge articles have absolutely no page limits, although we anticipate that most will fall between four and 10 pages.
Edge articles enable novel research findings to be presented in a succinct and exciting way, without the need for abridged discussions or perspectives. As a result, we hope these frontier research studies will be more widely accessible to a larger chemistry audience.
Lengthy introductions and discussion, extensive data, and excessive experimental details and non-experiment-based conjecture should not be included. Authors are encouraged to place experimental procedures and characterisation data in the electronic supplementary information (ESI) where appropriate.
In addition, authors are encouraged to use the article template, available from our Author templates & services page, for preparing their submissions. However, the use of the template for Edge article submissions is not essential.
Minireviews
Minireviews are short, personal accounts of a new area of research. They can be speculative in nature, putting a new area in perspective. These are normally published by invitation of the Chemical Science associate editor board or the editorial office. However, suggestions from authors are welcome and enquiries regarding the submission of Minireviews should be directed to the editorial office.
Minireviews are typically three to four pages in length. They can include photographs and brief biographies (max 100 words) for up to six authors.
For inclusion in the articles, biographies and photographs must be supplied prior to acceptance. All Minireviews undergo a rigorous and full peer review procedure, in the same way as regular research articles.
Perspectives
A Perspective should be a concise and critical appraisal of a research area, within the chemical sciences, that will be of interest to the broad general readership of the journal. Perspectives should provide the reader with an overview of a subject and give insight into the field's progression and the potential challenges ahead.
Perspectives should be selective rather than comprehensive in their coverage. It is expected that Perspectives will be 10-12 pages in length and contain no more than 100 references. They can include photographs and brief biographies (max 100 words) for up to six authors. For inclusion in the articles, biographies and photographs must be supplied prior to acceptance.
Written by leaders in their fields, Perspectives are normally published by invitation of the Chemical Science associate editor board. However, suggestions from authors are welcome and enquiries should be directed to the editorial office.

To help the editorial office judge the suitability of a proposed Minireview or Perspective for the journal, authors may be asked to submit a synopsis. The aim is not to provide an extra burden for the author, but to ensure the article will appeal to the journal's broad readership.
Acceptance of the synopsis by the editorial office does not guarantee publication of the final manuscript. Synopses should include the following.
a paragraph explaining the current importance of the field, its implications for the wider scientific community, and the communities of readers who will find the article of interest
a structured outline of the review, giving section headings and expanding on each of these
a selection of representative references to indicate its breadth and timeliness.
All Minireviews and Perspectives undergo a rigorous and full peer review procedure, in the same way as regular research articles.
Articles submitted to Chemical Science that are too specialised for the general chemistry audience should be directed to the appropriate RSC specialist title.
Reproduction of colour images is unlimited and without charge.
Comments
Comments and Replies are a medium for the discussion and exchange of scientific opinions between authors and readers concerning material published in Chemical Science.
For publication, a Comment should present an alternative analysis of and/or new insight into the previously published material. Any Reply should further the discussion presented in the original article and the Comment. Comments and Replies that contain any form of personal attack are not suitable for publication.
Comments that are acceptable for publication will be forwarded to the authors of the work being discussed, and these authors will be given the opportunity to submit a Reply. The Comment and Reply will both be subject to rigorous peer review in consultation with the journal's Editorial Board where appropriate. The Comment and Reply will be published together.
Journal specific guidelines
The following guidelines are journal specific. For general guidance on preparing an article please visit our Prepare your article page, the content of which is relevant to all of our journals.
Experimental information must be provided to enable other researchers to accurately reproduce the work. Figures should include error bars where appropriate, and results should be accompanied by analyses of experimental uncertainty. The experimental details and the characterisation data should preferably be provided as electronic supplementary information (ESI) although on occasion it may be appropriate to include some or all of this within the body of the article. This will depend on the nature of the research being reported.
It is the responsibility of the author(s) to provide the reviewers with the necessary information to evaluate the merit of the manuscript in terms of its scientific content. Failure to provide the necessary experimental evidence and data may result in the manuscript being withdrawn by the editor.
Characterisation of new compounds
Find out more
It is the responsibility of authors to provide fully convincing evidence for the homogeneity, purity and identity of all compounds they claim as new. This evidence is required to establish that the properties and constants reported are those of the compound with the new structure claimed. Referees will assess, as a whole, the evidence presented in support of the claims made by the authors. The requirements for characterisation criteria are detailed below.
Guidelines on writing titles and abstracts
The title and abstract are the first parts of your manuscript that editors, referees and potential readers will see, and once published they play a major part in a researcher's decision to read your article. Therefore it's important that they clearly and concisely show the main findings of your research and why they are important.
Find out more
Title
The title should be short and straightforward to appeal to a general reader, but detailed enough to properly reflect the contents of the article.
Keep it relatively short
Use easily recognisable words and phrases that can be read quickly
Use general terms for compounds and procedures rather than specific nomenclature or very specialised terms
Avoid using non-standard abbreviations and symbols
Use keywords and familiar, searchable terms – these can increase the chances of your article appearing in search results. Around 70% of our readers come directly via search engines
Abstract
The abstract is a single paragraph which summarises the findings of your research. It will help readers to decide whether your article is of interest to them.
The length can vary from 50 to 250 words, but it should always be concise and easy to read with recognisable words and phrases
It should set out the objectives of the work, the key findings and why this research is important (compared to other research in its field)
It should emphasise (but not overstate) the significance and potential impact of the research in your article
Avoid including detailed information on how the research was carried out; this should be described in the main part of the manuscript
Like your title, make sure you use familiar, searchable terms and keywords
Author Contributions
In the interests of transparency, we strongly encourage authors of research articles to include an 'Author Contributions' section in their manuscript, for publication in the final article.
Find out more
Contributions should be explained concisely. We strongly recommend you use CRediT (the Contributor Roles Taxonomy from CASRAI) for standardised contribution descriptions. All authors should have agreed to their individual contributions ahead of submission and these should accurately reflect contributions to the work. Please note that for any manuscript with more than 10 co-authors the corresponding author must provide the editor with a statement to specify the contribution of each author. Please refer to our general author guidelines for more information about authorship.
Appeals and Resubmissions
Chemical Science offers authors the opportunity to appeal the decision on their manuscript. Appeals will be considered on manuscripts that have not been revised, if you resubmit a previously considered manuscript – this will be treated as a resubmission not an appeal.
Find out more
Appeals
Appeals on Chemical Science decisions are handled in line with other RSC journals and more details can be found in the Appeal procedure. Authors have the right to appeal to the editor against any decision taken on their manuscript, and all appeal applications will be considered carefully by the journal editors. Appeals are granted at the discretion of the editor.
If you disagree with the decision on your manuscript please contact the editorial office via the journal email chemicalscience@rsc.org and provide us with your reasoning and a detailed response to any reviewers' comments.
All appeal requests are handled on a case by case basis and the editor's decision is final. If an appeal is granted your manuscript will undergo further assessment by an independent reviewer.
Please note that manuscripts should not be revised before an appeal procedure. An appeal will be considered on the original manuscript files.
Resubmissions
If a manuscript which has been previously considered by the journal is revised and resubmitted, the case will be considered carefully by the journal editorial office. A member of the Chemical Science editorial or advisory board may be consulted on the suitability of the revised manuscript for further review.
Please note: If a resubmission contains no revised files but is accompanied by a rebuttal of the original decision, this will be treated as an application for an appeal on the original submission. Please see the appeals procedure for more details.
Subscription information
Since 2015 there are no submission, publication or article download charges for this journal.
All published articles are deposited with LOCKSS, CLOCKSS, Portico and the British Library for archiving.
We offer Chemical Science authors a choice of two Creative Commons licences, CC BY or CC BY NC. Publication under these licenses means that authors retain copyright of their article, but allows users to read, download, copy, distribute, print, search, or link to the full texts of articles, or use them for any other lawful purpose, without asking prior permission from the publisher or the author. Read our open access statement for further information.
To purchase 2010–2014 articles please contact our customer service and sales team.
Online only: ISSN 2041-6539
*2019 Journal Citation Reports (Clarivate Analytics, 2020)
Chemical Science
Pre-submission queries please contact May Copsey, Executive Editor
Email:
Share