Setting up remote access to RSC content
You can find details about how to access information remotely in this step-by-step guide. The guide will also help if for any reason you have difficulty accessing the content you want.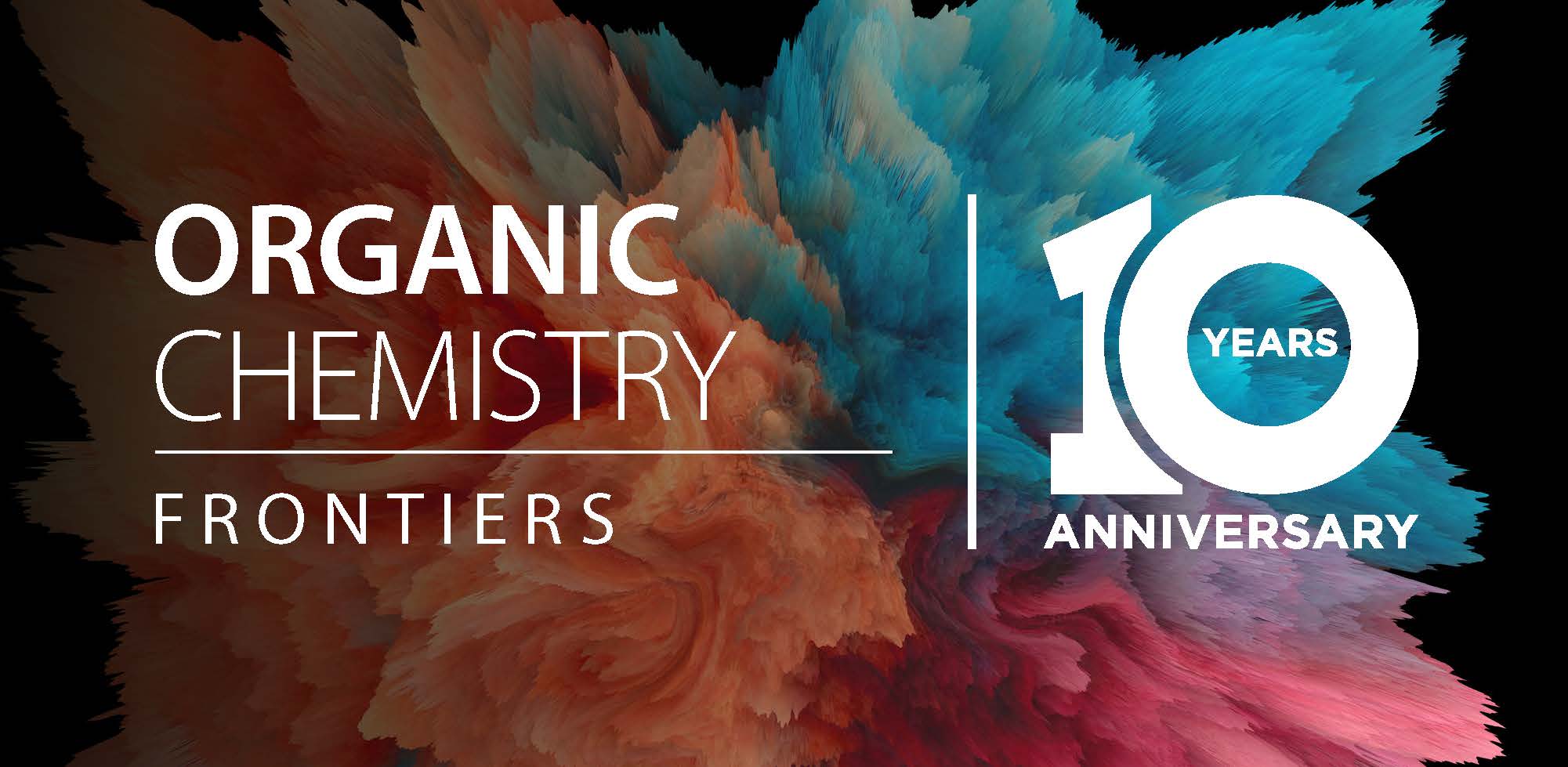 What would you like to know about this journal?
Impact factor: 5.4*
Time to first decision (all decisions): 16 days**
Time to first decision (peer reviewed only): 24 days***
Editor-in-chief: Shengming Ma
Open access publishing options available
Journal scope
Organic Chemistry Frontiers publishes high-quality research from across organic chemistry. Emphases are placed on studies that make significant contributions to the field of organic chemistry by reporting either new or significantly improved protocols or methodologies.
Topics include, but are not limited to the following:
Organic synthesis
Development of synthetic methodologies
Catalysis
Natural products
Functional organic materials
Supramolecular and macromolecular chemistry
Physical and computational organic chemistry
Meet the team
Find out who is on the editorial and advisory boards for the Organic Chemistry Frontiers journal.
Editorial board
Editor-in-chief
Associate editors
Editorial board members
Advisory board
Lutz Ackermann, Georg-August-Universitat Gottingen, Germany
Marco Bandini, University of Bologna, Italy
Matthias Beller, University of Rostock, Germany
Akkattu T. Biju, Indian Institute of Science, India
Xi Chen, University of California-Davis, USA
Yiyun Chen, Shanghai Institute of Organic Chemistry, China
Yonggui Robin Chi, Nanyang Technological University, Singapore
Stuart Conway, University of Oxford, UK
Shuanhu Gao, East China Normal University, China
Véronique Gouverneur, University of Oxford, UK
Frank Glorius, Westfälische Wilhelms-Universität Münster, Germany
Zhenhua Gu, University of Science and Technology of China, China
Masayuki Inoue, The University of Tokyo, Japan
Guochen Jia, Hong Kong University of Science & Technology, China
Michael Kerr, University of Western Ontario, Canada
Ohyun Kwon, University of California, Los Angeles, USA
Rai-Shung Liu, National Tsing Hua University, Chinese Taipei
Sanzhong Luo, Tsinghua University, China
Cristina Nevado, University of Zurich, Switzerland
Christoph Schalley, Freie Universität Berlin, Germany
Daniel Seidel, University of Florida, USA
Feng Shi, Jiangsu Normal University, China
Yian Shi, Colorado State University, USA
Vinod K. Singh, IIT Kanpur, India
Wenjun Tang, Shanghai Institute of Organic Chemistry, China
Yong Tang, Shanghai Institute of Organic Chemistry, China
Chen-Ho Tung, Technical Institute of Physics and Chemistry, China
Tao Ye, Peking University Shenzhen Graduate School, China
Tomoki Ogoshi, Kanazawa University, Japan
Zhaohui Wang, Tsinghua University, China
Lizhu Wu, Technical Institute of Physics and Chemistry, CAS, China
Xingang Zhang, Shanghai Institute of Organic Chemistry, China
Editorial office
Wenjun Liu, Executive Editor
Kailin Deng, Deputy Editor
Cheng Du, Development Editor
Helen Saxton, Editorial Production Manager, ORCID 0000-0002-1560-7396
Becky Webb, Senior Publishing Editor
Kirstine Anderson, Publishing Editor
Matthew Bown, Publishing Editor
Laura Cooper, Publishing Editor
Clare Fitzgerald, Publishing Editor
Anoushka Handa, Publishing Editor
Claire Harding, Publishing Editor
Alan Holder, Publishing Editor, ORCID 0000-0001-5228-877X
Rosie Rothwell, Publishing Editor
Donna Smith, Publishing Editor, ORCID 0000-0002-1337-2327
Laura Smith, Publishing Editor, ORCID 0000-0002-2976-8529
Jie Gao, Assistant Editor
Yu Zhang, Assistant Editor
Article types
Organic Chemistry Frontiers publishes:
Research articles
Critical reviews
Highlights
Tutorial accounts
Methods
Chemistry frontiers
Profiles
Comments
See more information about these article types
Research articles
All original research work published in Organic Chemistry Frontiers is in one Research article format. Both Communication type articles and Full paper type articles can be published under this format. Although there is no formal page limit, authors should report their work in a succinct way. Lengthy introductions, extensive data, excessive experimental details and non-experiment based conjecture should not be included in the main text.
Authors are encouraged to include a brief experimental section containing key and representative experimental procedures in the main text. Additional repeated information and characterization data should be included in the electronic supplementary information by citing the typical or general procedure in the main text.
Authors are encouraged to use the article templates from the Royal Society of Chemistry website to prepare Research articles. However, the use of the template for submission is not essential.
Reviews
Critical reviews
Reviews provide a critical and in-depth discussion of a particularly relevant or interesting topic in organic chemistry. They aim to provide the reader with an authoritative, balanced and up-to-date overview, not a comprehensive list of all possible references. Authors should aim to identify areas in the field where further developments are needed. Critical reviews do not describe any unpublished results.
Critical reviews are normally invited by the editorial board or the editorial office of Organic Chemistry Frontiers; however, direct submissions from authors are also welcome. All reviews undergo rigorous and full peer review and must meet the high standard of the journal to be accepted for publication.
Highlights
Highlights are short, easy-to-read articles that focus on important new developments in the field of organic chemistry. They highlight and provide insight into the significance of the chosen topic, as well as speculating on the future potential and challenges of that field. Highlights are generally four-five journal pages in length, and new results should not be presented.
Highlights are generally contributed by leading experts in organic chemistry, discussing the state of the art and prospects for significant progress in a specific subject area. Direct submissions from authors are also welcome. All Highlights are subject to a rigorous and full peer review procedure.
Tutorial accounts
Tutorial accounts describe recently established methodologies or protocols that lead to new compounds, chemistry or theories with wide and strong interest in the field of organic chemistry. The authors should provide a concise and practical account of their previously established methodologies, chemistry or theories and instruct the readers on how to reproduce those reactions on larger scales if synthetically related. At least one of the described reactions in a Tutorial account should be at the level of 10 mmol. Reactions on a scale of 10 grams are strongly encouraged.
It is recommended that a comprehensive graphic demonstration is presented at the beginning of a Tutorial account to provide an overview of the reported chemistry. Suggestions or comments concerning optimal conditions for reactions, purification of reagents, etc, are welcome in the main text. Further uses and advances in the chemistry reported since the original publication should be discussed. Experimental details of the key and representative reactions should be included.
Tutorial accounts should be as succinct as possible. It is expected that the articles will be three journal pages in length and contain up to four graphics. Authors are encouraged to use well-designed graphics to provide information in a concise and easy-to-read format. Any unusual apparatus involved in the experiments should be described using both text and photos. Special techniques and hazards associated with the experimental procedure must be clearly indicated.
Tutorial accounts are invited by the editor-in-chief of Organic Chemistry Frontiers. All Tutorial accounts are subject to full peer review and must meet the high standards of the journal for publication.
Methods
A Method is a different article type from the current Tutorial account, being technical notes that focus on the practicality of previously published methodologies. Use of unpublished results should be extremely limited. Methodologies in the field of synthetic organic chemistry, natural products purification, spectroscopy, chemical modification and assembly of organic molecules are encouraged as this article type.
Reported methods should be of wide application in the relevant research field and of general interest to the broad readership in related areas. A brief introduction is thus required for the associate editor or referees to judge the importance of very original methods or the significant advantages of the reported methods over competing or earlier protocols.
Methods are designed to assist with practical manipulation. Therefore every aspect of the experiments should be explained explicitly. Authors should include the following details in the paper:
Apparatus
The author should indicate the types of glassware and how they are equipped. The types and parameters of any equipment (for example, microwave reactor, glove box, mass spectrometer, etc) should also be listed when they are able to affect the reproducibility of the reactions. A photo of the complete apparatus should be provided.
Reagents
For any commercially available reagent, authors should indicate the purchase source and CAS number. If there is any purification or activation procedure employed, this should also be clarified.
Reaction & manipulation
Authors should give as many details as possible when describing a reaction process. The required information includes but is not limited to the following.
Duration, pressure and temperature
Sensitivity to air or moisture
The amount and order of addition of reactants
Any phenomena observed during the reaction (such as change of color, temperature, the evolution of gases, etc.)
The monitoring process (for example, if the reaction is monitored via TLC, the Rf and the corresponding solvent system; these should be indicated for products, reactants and significant byproducts or intermediates)
The workup procedure
Purification & characterisation
Authors should indicate how the products and significant byproducts are isolated, as well as their physical properties and spectroscopic data (NMR, IR, mass and UV if applicable) and X-ray structures. For the sake of accuracy, the given yield (±3%), as well as other characterisation data, should be reproduced by chemists in the same group and submitted as electronic supporting information.
Note: Authors are not required to include very long discussions in Methods; succinct and straightforward instructions and troubleshooting of experimental procedures are favored and can be included as notes. Authors should mark in the main text where a note is employed. Relevant notes will be placed close to where they are first mentioned. In this section, authors are expected to include any supplementary explanations that do not fit into the introduction and experimental part. For instance, when a reagent is added at an extremely slow speed or in excess, authors should explain why such a procedure is favored and how it will affect the reaction.
Electronic supplementary information
Authors are required to complete the characterization checklist upon submission of supporting materials. Please note that it is a must to include copies of NMR spectra for any desired compound.
Photos & videos
Photos of the reactor should be submitted. Inclusion of videos is also strongly encouraged to record the manipulation and any change of appearance of the reactions. These should be supplied as electronic supplementary information (ESI).
Chemistry frontiers
Chemistry frontiers are concise, peer-reviewed, forward-looking articles published upon invitation from the editorial office. Authors of Chemistry frontiers will be leading scientists in their research fields. Current hot topics of great interest to the community should be discussed, and personal viewpoints looking forward to the future of the respective research fields are encouraged.
Chemistry frontiers can be speculative and controversial in nature. Some new unpublished results may be included but the amount should be minimized. The suggested length is fewer than four journal pages.
Profiles
Profiles are one- or two-page interviews of top-tier chemists. Videos will also be included where appropriate and will be published as electronic supplementary information. From these articles, readers will learn about the academic career and the most important scientific contribution (in the form of well-designed chemical equations/schemes) of the interviewees, as well as some background information about their personal life.
Comments
Comments and Replies are a medium for the discussion and exchange of scientific opinions between authors and readers concerning material published in Organic Chemistry Frontiers.
For publication, a Comment should present an alternative analysis of and/or new insight into the previously published material. Any Reply should further the discussion presented in the original article and the Comment. Comments and Replies that contain any form of personal attack are not suitable for publication.
Comments that are acceptable for publication will be forwarded to the authors of the work being discussed, and these authors will be given the opportunity to submit a Reply. The Comment and Reply will both be subject to rigorous peer review in consultation with the journal's Editorial Board where appropriate. The Comment and Reply will be published together.
Journal specific guidelines
The following guidelines are journal specific. For general guidance on preparing an article please visit our
Prepare your article
and
Resources for authors
pages, the content of which is relevant to all of our journals.
Characterisation of compounds, & multimedia files
Characterisation of compounds
A completed copy of the characterisation checklist must be submitted with synthetic procedures for the following:
New compounds
Known compounds that have been synthesised by a new method
There is no requirement to provide characterisation data for the synthesis of a known compound by a literature method; in these cases, authors should provide a literature reference to previously published characterisation data for that compound. However, authors are welcome to provide details of improved experimental protocols, more detailed characterisation data, or selected data from known compounds.
Organic compounds
Data required for both new compounds and known compounds synthesised by a new method
Copies of 1H,13C NMR spectra of new starting materials and all the products (containing no more than trace peaks which are not assigned to the structure in question) should be supplied as supplementary material
Data required for new compounds only (in addition to the data specified above)
It is the responsibility of authors to provide fully convincing evidence for the homogeneity, purity and identity of all compounds they claim as new. This evidence is required to establish that the properties and constants reported are those of the compound with the new structure claimed. Referees will assess, as a whole, the evidence presented in support of the claims made by the authors.
The following are required in all cases.
Description of physical state of every isolated new compound as a crystalline solid, an amorphous solid, a gum, or a liquid; the colour should be reported as well.
Complete numerical listings of 1H,13C NMR peaks in support of the assigned structure.
Elemental analysis or high-resolution mass spectroscopy
Required in specific cases:
A melting point range, reported for every new crystalline solid product or known ones being prepared via modified procedures. For these crystalline compounds, the methods used for recrystallisation, including the solvent used should also be documented; for known crystalline products, a data comparison to previous literature should be provided
Infrared spectra to support functional group transformations
Specific rotation for non-racemic compounds; for known compounds, a data comparison to previous literature should be provided (The determination of enantiomeric excess of nonracemic, chiral substances should be supported with either GC/HPLC traces with retention times for both enantiomers and separation conditions - that is, chiral support, solvent and flow rate - or copies of the spectra for Mosher Ester/Chiral Shift Reagent analysis. The GC/HPLC spectra should be included in the electronic supplementary information.)
Copies of 2D NMR and related experiments (that is, NOE, etc) in the electronic supplementary information (ESI) in cases where these data are used to assign the structure
Proof of absolute configuration for chiral compounds (In cases where this is not available, a statement as to why this cannot be supplied should be included in the manuscript; for closely related structures, assignment by analogy is acceptable if the configuration of one compound in the series is unambiguously assigned.)
Information about drawing structures or schemes
When drawing structures or schemes, authors should use the correct sizes and settings in order to maintain consistency. These graphics should ideally be created in ChemDraw, and they should be supplied at the size you wish them to appear in print, using the same drawing settings for all structures.
Templates that provide the correct settings for several drawing programs are available. ChemDraw users can also use the pre-loaded 'RSC (1-column) document' or 'RSC (two-column) document' document settings.
Full guidance on the presentation of structures and other graphics is available in our guidelines for authors. When submitting an article which contains structures or schemes to Organic Chemistry Frontiers, authors should pay particular attention to the following key points.
Graphic widths should be up to 8.3 cm (one-column) or 17.1 cm (two-column).
Graphics should ideally be created to fit these widths to avoid articles containing large amounts of white space.
Graphic height should be a maximum of 23.3 cm.
Use solid or hatched wedges to depict stereochemistry.
It is important not to change the scale of a graphic to modify its width - this results in unevenly sized graphics.
Recommended text size is Arial 7pt and bond lengths 0.43 cm.
Example of a correctly formatted structure
Submitting incorrectly-formatted files will result in a request from the handling editor to provide revised versions [insert image http://www.rsc.org/Publishing/Journals/guidelines/AuthorGuidelines/JournalPolicy/Journals/QO.asp from this page here]
Multimedia files
We welcome the use of multimedia files (including videos and animations) as these can be an excellent medium to present elements of your work. Any videos of general interest may be shared with the wider community via our YouTube channel or through social media - please notify the editorial team if you prefer for your video(s) not to be promoted in this way.
If you submit a multimedia file alongside your paper, please refer to it within your paper to draw it to the reader's attention. Please also provide a short descriptive title for the video.
Format
Acceptable formats for video or animation clips.
Your video or animation clips will be viewed via our Web server, and we need to consider the needs of users with dial-up internet connections so that your work can be made available to the widest possible readership.
Please minimise file sizes where you can, by considering the following points.
640 x 480 pixels is the recommended maximum frame size.
Many packages output 30 frames per second (fps) as standard, but you can specify a lower frame rate.
This may not noticeably affect the quality of your video but can reduce the file size.
Use a 256-colour palette if that is suitable for the presentation of the material.
Our recommended maximum file size is 5 MB.
Please consider the use of lower specifications for all these points if the material can still be represented clearly. If your video is very short (only a few seconds long) then it is recommended that you loop the section a few times to provide a more detailed view.
Submitting multimedia files
Upload your video online, together with your manuscript under the category of electronic supplementary material and please supply the following.
A clear file name for your video
A short descriptive title for the video, which can be used when uploading the video to a streaming channel
A video legend of approx 30 words; this caption must be provided to aid discoverability
Five to ten key words can be used to tag the video; the more accurate the tags are the better discoverability videos will have
Prepare your article for submission
Submitting Review-types of articles
Reviews, including critical reviews, highlights, and Chemistry frontiers are generally solicited by members of the editorial board and editorial office; however, we are happy to consider submission enquiries from authors.
If you are interested in writing such an article for Organic Chemistry Frontiers, please contact the editorial office in advance with a brief proposal. Synopses for all proposed articles are considered by the board before a decision on the commissioning of the full article is taken.
Submitting your proposal to Organic Chemistry Frontiers
Submitting Methods articles
For the preparation of Methods, authors are required to follow the guidelines and use the Microsoft Word template designed for this type of article.
Bibliographic references
We encourage the citation of primary research over review articles, where appropriate, in order to give credit to those who first reported a finding. Find out more about our commitments to the principles of the San Francisco Declaration on Research Assessment (DORA).
These should be listed at the end of the manuscript in numerical order as they appear in the manuscript. Article titles of bibliographic references are requested at the time the manuscript is submitted to the journal. Bibliographic details should be cited in the order: authors, title, journal, year, volume, page. For example: X.-S. Zhang, Z.-W. Li and Z.-J. Shi, Palladium-catalyzed base-accelerated direct C–H bond alkenylation of phenols to synthesize coumarin derivatives, Org. Chem. Front., 2014, 1, 44.
Open access publishing options
Organic Chemistry Frontiers is a hybrid journal and gives authors the choice of publishing their research either via the traditional subscription-based model or instead by choosing our gold open access option.
Gold open access
For authors who want to publish their article gold open access, Organic Chemistry Frontiers charges an article processing charge (APC) of £2,500 (+ any applicable tax). Our APC is all-inclusive and makes your article freely available online immediately, permanently, and includes your choice of Creative Commons licence (CC BY or CC BY-NC) at no extra cost. It is not a submission charge, so you only pay if your article is accepted for publication.
Learn more about publishing open access.
Read & Publish
If your institution has a Read & Publish agreement in place with the Royal Society of Chemistry, APCs for gold open access publishing in Organic Chemistry Frontiers may already be covered.
Check if your institution is already part of our Read & Publish community.
Please use your official institutional email address to submit your manuscript; this helps us to identify if you are eligible for Read & Publish or other APC discounts.
Traditional subscription model
Authors can also publish in Organic Chemistry Frontiers via the traditional subscription model without needing to pay an APC. Articles published via this route are available to institutions and individuals who subscribe to the journal. Our standard licence allows you to make the accepted manuscript of your article freely available after a 12-month embargo period. This is known as the green route to open access.
Themed Collections
Organic Chemistry Frontiers publishes themed collections on timely and important topics, guest edited by members of the organic chemistry community. Themed collections are available to read here.
Members of the community are welcome to submit proposals for themed collections that would be of interest to our readership. If you are interested in guest editing a themed collection with Organic Chemistry Frontiers, please fill out the following form. We will assess your proposal with a decision provided within six weeks of the completed form submission.
To learn more about Organic Chemistry Frontiers themed collections and your role as the Guest Editor, please see the Guideline for Guest Editors, or contact us at OrgChemFrontiersED@rsc.org for more information.
Suggest a topic
Partnership information
Organic Chemistry Frontiers belongs to the Frontiers journal portfolio, an enterprising collaboration between the Chinese Chemical Society and the Royal Society of Chemistry. The Frontiers project aims to publish a series of high impact, quality chemistry journals that showcase the very best research from China, Asia and the rest of the world to an international audience.
For each journal title, the intention is to collaborate with a top Chinese institute in the relevant field. For Organic Chemistry Frontiers, this is the Shanghai Institute of Organic Chemistry (SIOC).
The key benefits
It is wholly society and institute owned.
The journal is truly international, China-led.
The highest ethical standards are upheld.
Readership information
Academic and industrial scientists from organic chemistry, natural products research, material science, catalysis, medicinal chemistry, biochemistry, catalysis, supramolecular chemistry, theoretical chemistry, and other disciplines where involve knowledge in organic chemistry.
Subscription information
Free online access to the entire 2014 and 2015 content of the journal will be provided to all institutions/organisations with registered IP addresses.
Access is available to institutions/organisations who are not Royal Society of Chemistry customers following a simple registration process.
Individuals registered for an Royal Society of Chemistry Publishing personal account will also have access to all 2014 and 2015 free access content.
Online only 2024: ISSN 2052-4129, £2,357 / $3,771
*2022 Journal Citation Reports (Clarivate Analytics, 2023)
**The median time from submission to first decision including manuscripts rejected without peer review from the previous calendar year
***The median time from submission to first decision for peer-reviewed manuscripts from the previous calendar year
Organic Chemistry Frontiers
Pre-submission queries please contact Wenjun Liu, Executive Editor
Email:
Post-submission queries please contact Helen Saxton, Editorial Production Manager
Email:
Share