The Food Group is one of the Royal Society of Chemistry's many Interest Groups. The Interest Groups are member driven groups which exist to benefit Royal Society of Chemistry members, and the wider chemical science community, in line with the Royal Society of Chemistry's strategy and charter.
Aims
The aims of the food group are to promote the role of chemistry in food and enable transfer and sharing of information and networking between academia and the food industry. This includes analytical, biochemical, chemical, physical, nutritional and toxicological aspects of food and food ingredients and the composition and relationships between structure and functionality throughout the entire food chain in a way to enhance sustainability and food and nutrition security. We also aim to:
foster an awareness of the importance of chemistry in the food chain
encourage interactions between scientists and technologists engaged in food research and development
help transfer such scientific research from ideas to applications
Call for nominations for our Early Career medal award 2023 - find out more
Food Group Schools Poster Competition 2023
Please note, entries have now closed and winners will be announced here shortly.
The RSC Food Group with sponsorship from Mondelēz are pleased to announce their Schools Poster Competition for students from 14-18. This year's theme is "The Chemistry of Good Chocolate".

RSC Food Group Schools Poster Competition flyer
Eligibility and Criteria:
Groups of 2-3 students from a single UK-based school per poster
Posters can be digital or hand-drawn, and had to be submitted to rscfoodgroup@gmail.com by end of 30 June 2023
The winners will be announced by 31 July 2023, with the prize session to be delivered in September/October 2023 (exact date to be agreed with the winners and Mondelēz)
All posters must be original, although research on the topic is encouraged
Judging will be carried out by the RSC Food Group and will be based on:

originality of the poster
clear communication of the message/research
relevance to the theme
Prize
The winning students, plus their teacher, will get to spend half a day at Mondelēz Research and Development, the home of Cadbury, where they'll get to hand temper and mould some different chocolates, along with a technical discussion of the chemistry happening during chocolate tempering, moulding and eating! Travel expenses of up to £800 will be covered as part of the prize.
Food Group Established Career Medal 2022
The RSC Food Group are pleased to announce that Professor Alan Mackie has been awarded the 2022 Royal Society of Chemistry Food Group Open Medal (formerly Senior Medal) in recognition of the impact his research and scientific contributions have had in the field of food chemistry.
Our panel of judges said:
"The early stages of his distinguished academic career included pioneering work showing the phase separation of proteins and surfactants. More recently his work on both the Infogest gastric model, which is internationally recognised and adopted and the gastrointestinal fate of proteins to help determine their allergenicity, has had an impact on people's everyday lives.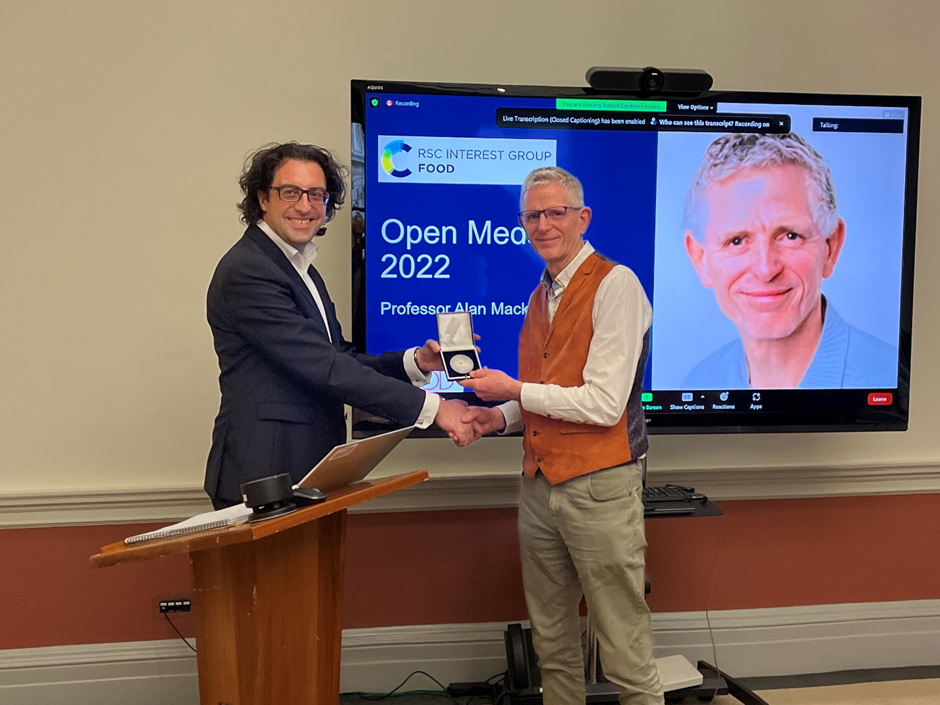 Food Group Chair Robert Cordina presenting Prof. Alan Mackie with the Open Career Medal 2022
"His international collaborations underline his reputation in the field, working not only with other academics but also with regulators and working parties."
Professor Mackie was presented with his medal at the RSC AGM Meeting held at Burlington House on 1 December 2022.
The RSC Food group would like to thank Elsevier for their sponsorship of the Open Medal and the kind donation of £2000 prize.
Get Involved
We are always looking for new members who are keen to get involved and to help organise our activities. If you would like to find out more please contact the Secretary using the form below.
We also encourage you to connect with us on Facebook, LinkedIn and Twitter (@RSC_FoodGroup).
We also have an online chemistry community for food at MyRSC for anyone who shares our interests.
Quick links
The Food Group awards two medals: the Early Career Medal (previously Junior Medal) and Established Career Medal (previously Senior Medal).
There is currently a call for nominations for our Early Career Medal.
This group is open to anyone with an interest in food science. You will be required to register for MyRSC, then you can sign up to become a member of this group
Forthcoming events organised by the Food Group.
For further information on the Food Group you can contact the Secretary, Mr Alan Cross MRSC.
Useful information and resources for all RSC interest groups.
Useful information to download
See all downloads
Download this PowerPoint presentation to find out more about the Food Group vision and mission:

Food group vision and mission
RSC Food Group school contest winning posters:

RSC Food Group school Contest 2022 winner- Chocolate Dipped Strawberries (Phoebe Allan Moore)

RSC Food Group school Contest 2022 winner- Oatmeal (Sneha Bhudia)

RSC Food Group school Contest 2022- Chemistry is Served
Other documents:

RSC Food Group Newsletter 2021

IYPT 2019 - Food Periodic Table

Naturals in Foods Part 1, April 2019

Naturals in Foods Part 2, June 2019
The document below covers 35 years from 1973 to 2008 and provides a historical record of the Chairs, Secretaries and Treasurers of the Group, meetings organised, publications and winners of Food Group Medals:

RSC Food Group History
Committee
Chair
Dr Jane Parker MRSC
Secretary
Mr A Cross BSc MRSC
Alan Cross is a chemist at Reading Scientific Services Ltd, specialising in the analysis of metals in food and pharmaceuticals. He has also worked in the fields of catalysis and environmental monitoring.
Contact the secretary
Treasurer
Dr Wendy Russell MRSC