The Food Group is one of the Royal Society of Chemistry's many Interest Groups. The Interest Groups are member driven groups which exist to benefit Royal Society of Chemistry members, and the wider chemical science community, in line with the Royal Society of Chemistry's strategy and charter.
Aims
The aims of the food group are to promote the role of chemistry in food and enable transfer and sharing of information and networking between academia and the food industry. This includes analytical, biochemical, chemical, physical, nutritional and toxicological aspects of food and food ingredients and the composition and relationships between structure and functionality throughout the entire food chain in a way to enhance sustainability and food and nutrition security. We also aim to:
foster an awareness of the importance of chemistry in the food chain
encourage interactions between scientists and technologists engaged in food research and development
help transfer such scientific research from ideas to applications
Inspirational Committee Award Winners 2020
We are delighted to announce that the Food Group Committee have been selected for the RSC Inspirational Committee Award 2020.
To celebrate IYPT the Committee developed and published a unique Food Chemistry Periodic Table and has been active in promoting it at external events such as the 2nd Food Chemistry Conference in Seville and at RSC outreach events e.g. IYPT Early careers event, also encouraging Chemists to consider opportunities in the Food Industry. This project continues to develop and it is hoped that RSC Education department will support alignment to the school curriculum for wider application in schools. Some teachers have already started to use this new tool in their lessons in the UK and internationally.
The group also organised unique events focusing on global challenges, including on Plastics ("from Cradle to Grave and Re-resurrection") and Sustainability and is actively involved in the Total Food conference, which is now an established bi-annual event focused on tackling the challenges in a sustainable food chain.
RSC Long Service Medal Awarded to Mike Saltmarsh
The Food Group Committee were delighted to present (virtually, below) an RSC Long Service award to Mike Saltmarsh in recognition of his many years of active support for the RSC and RSC Food Group.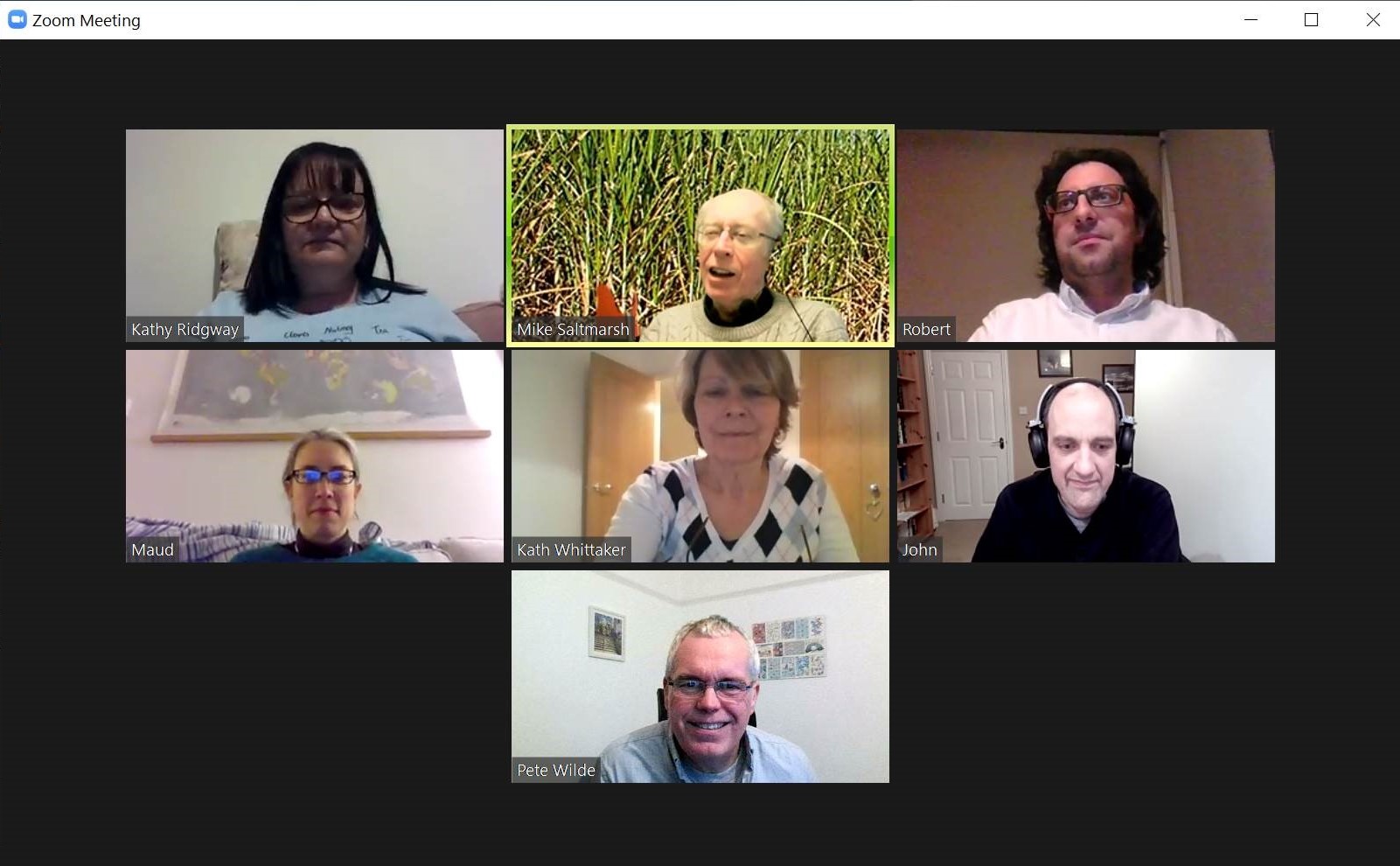 We have managed to capture some of his highlights and memories to share:
Mike Saltmarsh joined the Food Group committee in the late 1980s and stood down from the Committee during the challenges of 2020, and we are grateful for all his efforts and particularly for his encouragement of early career food chemists. The RSC has also just published his latest Food Additives book, which has been an excellent reference to many in the food industry.
We asked Mike to reflect on his time with the committee and would like to share some of his memories. When he joined the Committee, it consisted primarily of academics such as Bronek Wedzicka and Eric Dickinson from Leeds, Roger Fenwick and Colin Dennis from FRI Norwich, Michael Spiro from Imperial College, and later joined by Andy Taylor from Nottingham and Rachel Burch, from the FRA. Many changes have been seen in the UK food sector over the years and government support for food research has plummeted with the closure of all specific food research institutes and of the four industry funded Research Associations: Chorleywood, Brewing Research, Leatherhead and Campden, only the latter remains.
One of the Food Group highlights was the first ever conference on polyphenols and food at the meeting of Group Polyphenol in Lisbon in 1992, organised by Professor Olga Laureano, with focus on tea and chocolate. Groupe Polyphenol was formed in 1972 and had been interested in polyphenols in wood and wine. Now the major emphasis of polyphenol research is food but ours was the first to discuss that and we wanted researchers to understand what polyphenols actually did in food rather than just considering them as interesting molecules in research projects.
Mike has ran a number of conferences for the Food Group including the first functional food conferences with the British Nutrition Foundation and has been actively involved in Total Foods which is now a biennial conference. He remembers when organising a conference on almost any aspect of food chemistry would attract an audience of at least 60, but in recent years the environment has changed and companies tend not to support staff attending conferences, which is really concerning. Mike believes that "It is extremely difficult to invent de novo; even Newton stood on the shoulders of giants and it is essential for technical staff to understand the context of their work and to be exposed to ideas in related areas".
Mike remains active in the Food and Beverage sector and continues to learn and challenge all aspects of food chemistry.
Chemical and Physical Modelling of Food Online Event
On 24 and 25 November, the RSC Food Group, in conjunction with the IOP's Food Physics group, held the 1st Chemical and Physical Modelling of Food conference. The decision to hold the conference jointly was to highlight the interdisciplinary nature of food research, as well as to foster links between the sciences. The conference was held online, with 15 speakers from 7 different countries (US, Canada, UK, France, Netherlands, Italy and Australia) from academia and industry, and attracted the interest of 230 registered attendees from over 27 different countries. The topics covered spanned a lot of different areas, including the Maillard reaction, food digestion, chocolate praline shell forming, microwave/convection oven cooking, and food emulsifiers, among others. Feedback from the conference was very positive, with attendees interacting with the speakers and asking questions all throughout. There are already plans to hold a follow up jointly-organised conference.

A special congratulations goes to Archana Bista from Teagasc in Ireland who won the best Twitter poster prize.
RSC Food Group Early Career Medal 2021 (previously the Junior Medal) - Call for Nominations
The RSC Food Group Early Career Medal has been renamed to reflect the standing of the award, awardees and the objectives. The aim of this award is to encourage and recognise excellence in early career scientists in the application of chemical sciences to the study of all aspects of food, drawing attention to the challenges for chemistry in the food industry and encouraging first class scientists to enter the field of food chemistry.
The award will be made for the most meritorious contributions to food chemistry on the basis of published papers and/or other documentary evidence, including contributions to conferences over the preceding 5 years. We encourage proposals from Industry and accept supporting evidence from more than one person, if the candidate has not been able to publish confidential work. It is open to all early career scientists, whether or not members of the Royal Society of Chemistry. For more details and to download a nomination form please visit the Food Group Awards page.
Event postponements due to Covid-19 outbreak
Save the date
Plastics, From Cradle to Grave and Resurrection
9 June 2021 - Online

Following on from a successful conference held last year, a follow up conference has been organised to expand on the key themes. There will be a thematic link between the current use of plastics, toxicology and standardisation, sampling and analysis and the future of plastic usage. This event has been rescheduled and will be delivered online on 9 June 2021.
Publications: Special Issue 'Dietary Exposure to Food Contaminants and Residues'
Martin Rose (Food Group Committee member) is on the Editorial Board of the International Journal of Environmental Research and Public Health (ISSN 1660-4601) which is an interdisciplinary peer-reviewed open access journal (impact factor around 3). Martin has been asked to guest edit a special issue, title above. If your work is suitable and would help make the issue a success, please contact us via the contact the secretary button at the end.

Learn more about the MDPI Special Issue "Dietary Exposure to Food Contaminants and Residues"

Check out the latest Saltmarsh's Essential Guide to Food Additives: Edition 5
Get Involved
We are always looking for new members who are keen to get involved and to help organise our activities. If you would like to find out more please contact the Secretary using the form below.
We also encourage you to connect with us on Facebook, LinkedIn and Twitter (@RSC_FoodGroup).
We also have an online chemistry community for food at MyRSC for anyone who shares our interests.
Quick links
The Food Group awards two medals: the Early Career Medal (previously Junior Medal) and Established Career Medal (previously Senior Medal).
This group is open to anyone with an interest in food science. You will be required to register for MyRSC, then you can sign up to become a member of this group
Forthcoming events organised by the Food Group.
For further information on the Food Group you can contact the Secretary, Mrs Kath Whittaker FRSC.
Useful information and resources for all RSC interest groups.
Downloadable files
Download this PowerPoint presentation to find out more about the Food Group vision and mission:

Food group vision and mission
The document below covers 35 years from 1973 to 2008 and provides a historical record of the Chairs, Secretaries and Treasurers of the Group, meetings organised, publications and winners of Food Group Medals:

RSC Food Group History

IYPT 2019 - Food Periodic Table

Naturals in Foods Part 1, April 2019

Naturals in Foods Part 2, June 2019
Annual report 2018
Related links
Helping to understand the symptoms associated with COVID-19

The Global Consortium of Chemosensory Researchers (GCCR) survey
Order your copy of "Food - The Vital Ingredient" here:

Food - The Vital Ingredient
Download the book of abstracts:

Food Oral Processing Conference 2018 - Abstract Book
More information about the International Symposium on Flame Retardants Conference:

BFR York 2017
More information about the Food Oral Processing conference:

Food Oral Processing
Follow this link for the "Food for Life" Newsletter:

European Technology Platform
Activities of the Food Group to celebrate the International Year of the Periodic Table 2019:

Food Related Periodic Table
Committee
Chair
Mr Robert Cordina MRSC
Robert is currently Associate Principal Scientist at Mondelēz International R&D, responsible for Process Modelling and Computational Chemistry across their different food categories. He is also a Visiting Lecturer at the University of Malta, teaching food chemistry and food technology. In the past he used to work in the pharmaceutical industry as QC Manager.
Secretary
Mrs Kathryn Whittaker FRSC
Kath Whittaker has over thirty years experience in Food Industries, specialising in flavours and ingredients. She has held senior roles with Kerry Group and McCormick, and worked internationally, based in Budapest and Chicago. Kath combines her strategic understanding of organisations, with her sound technical grounding as an effective business partner, mentor and consultant.
Contact the secretary
Treasurer
Professor Peter Wilde
Prof Pete Wilde heads the food structure and digestion research at the Quadram Institute Bioscience, Norwich UK. He has been researching the physical chemistry of food structures for more than 30 years. His expertise is in understanding the role of colloidal and interfacial phenomena on the functionality of food structures. His current research focuses the fate of food structures during in vitro digestion to understand the physico-chemical mechanisms underpinning the impact of food structures health by controlling nutrient release and absorption. He has published over 140 papers. He is an Honorary Professor in the School of Pharmacy at the University of East Anglia and a Visiting Professor at the School of Food and Biotechnology at Zhejiang Gongshang University, Hangzhou, China. He is on the editorial board of Food Hydrocolloids and Colloids and Interfaces and is a committee member of the Royal Society of Chemistry Food Group.