The Food Group is one of the Royal Society of Chemistry's many Interest Groups. The Interest Groups are member driven groups which exist to benefit Royal Society of Chemistry members, and the wider chemical science community, in line with the Royal Society of Chemistry's strategy and charter.
Aims
The aims of the food group are to promote the role of chemistry in food and enable transfer and sharing of information and networking between academia and the food industry. This includes analytical, biochemical, chemical, physical, nutritional and toxicological aspects of food and food ingredients and the composition and relationships between structure and functionality throughout the entire food chain in a way to enhance sustainability and food and nutrition security. We also aim to:
foster an awareness of the importance of chemistry in the food chain
encourage interactions between scientists and technologists engaged in food research and development
help transfer such scientific research from ideas to applications
RSC Food Group Early Career Medal Winner 2022
The RSC Food Group are pleased to announce that Professor Alan Mackie has been awarded the 2022 Royal Society of Chemistry Food Group Open Medal (formerly Senior Medal) in recognition of the impact his research and scientific contributions have had in the field of food chemistry.
Our panel of judges said:
"The early stages of his distinguished academic career included pioneering work showing the phase separation of proteins and surfactants.
More recently his work on both the Infogest gastric model, which is internationally recognised and adopted and the gastrointestinal fate of proteins to help determine their allergenicity, has had an impact on people's everyday lives. His international collaborations underline his reputation in the field, working not only with other academics but also with regulators and working parties."
Professor Mackie was presented with his medal at the RSC AGM Meeting held at Burlington House on 1st December 2022.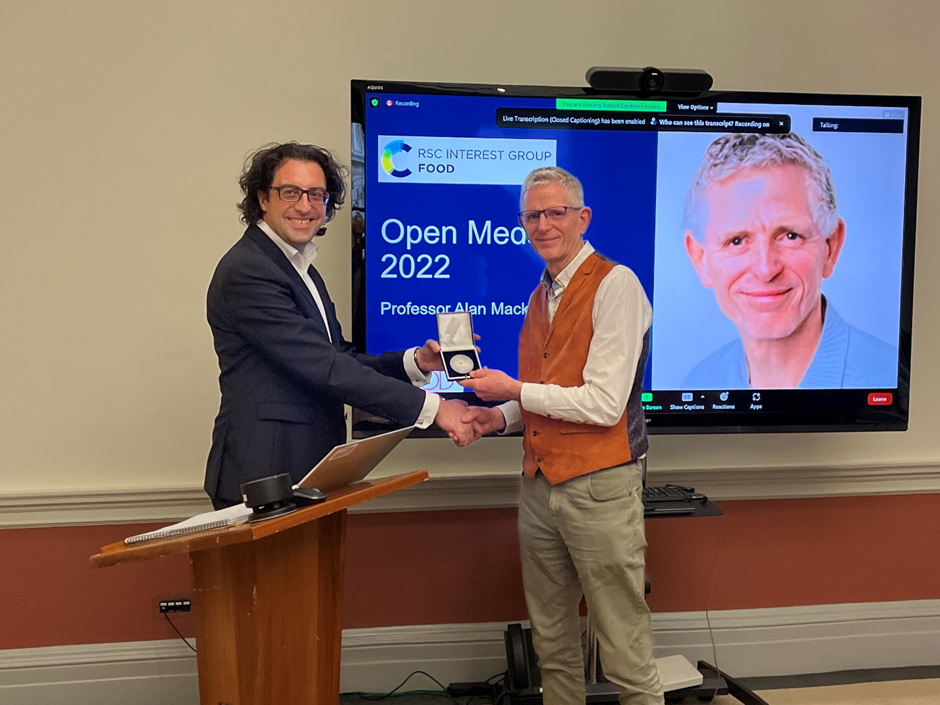 Food Group Chair Robert Cordina presenting Prof. Alan Mackie with the Open Career Medal 2022
The RSC Food group would like to thank Elsevier for their sponsorship of the Open Medal and the kind donation of £2000 prize.
Scottish Metabolomics Meeting online event, 11-12 November 2021
Congratulations to Emma Hurst @emma_hurst91 (The Roslyn Institute) for winning the RSC Food Group best Early Career Researcher presentation at the Scottish Metabolomics
@ScotMetNet meeting for her Vitamin D studies and also to James Weatherill @jw_weatherill (University of Edinburgh) who won the RSC Food Group best Early Career Researcher flash presentation for his work on ion mobility-mass spectrometry
AgriFood Sustainability – Sustainability v Food Safety - What is our Appetite for Risk? RSC Agriculture Group online event on 23 November 2021
We have grown accustomed to the "precautionary principle" in food safety risk management. If there is no need for a hazard to be present in a food then it should not be present, even if a risk of harm has not been demonstrated or has been shown to be low.
In his talk at "AgriFood Sustainability: After COP, what next?", John Points argued that our risk management approach needs reviewing if we are going to achieve our sustainability goals. Risk management need not automatically mirror risk assessment. Rather than manage each risk in isolation, a more holistic balanced scorecard is needed. The food safety risks of a proposed intervention should be considered alongside risks and benefits for multiple aspects, from carbon footprint and water use to ethical production and workforce conditions. This is illustrated by the debate whether recycled cardboard is suitable for use as food packaging and the different conclusions reached in different EU countries.
RSC Food Group Established Career Medal 2022
The RSC Food Group will be opening nominations for the Established Career Medal in January 2022. Anyone can be nominated by an RSC member, including non-RSC members and nominees can reside and carry out their research in any country. The winner will win a medal and a cash prize sponsored by Elsevier Publishing and details will be announced in the new year
Save the Date – Advances in Chemical Analysis of Food III 1 April 2022, Burlington House
The agenda and booking information will be released soon - but please save the date.
Get Involved
We are always looking for new members who are keen to get involved and to help organise our activities. If you would like to find out more please contact the Secretary using the form below.
We also encourage you to connect with us on Facebook, LinkedIn and Twitter (@RSC_FoodGroup).
We also have an online chemistry community for food at MyRSC for anyone who shares our interests.
Quick links
The Food Group awards two medals: the Early Career Medal (previously Junior Medal) and Established Career Medal (previously Senior Medal).
This group is open to anyone with an interest in food science. You will be required to register for MyRSC, then you can sign up to become a member of this group
Forthcoming events organised by the Food Group.
For further information on the Food Group you can contact the Secretary, Mr Alan Cross MRSC.
Useful information and resources for all RSC interest groups.
Useful information to download
See all downloads
Download this PowerPoint presentation to find out more about the Food Group vision and mission:

Food group vision and mission
The document below covers 35 years from 1973 to 2008 and provides a historical record of the Chairs, Secretaries and Treasurers of the Group, meetings organised, publications and winners of Food Group Medals:

RSC Food Group History
The Food Group Open Career Medal is awarded for outstanding contributions to the chemical sciences in the area of food chemistry. See the below documents for further details on how to nominate:

RSC Food Group Open Career Medal 2022- Details

RSC Food Group Open Career Medal 2022- Call for Nominations
RSC Food Group school contest winning posters:

RSC Food Group school Contest 2022 winner- Chocolate Dipped Strawberries (Phoebe Allan Moore)

RSC Food Group school Contest 2022 winner- Oatmeal (Sneha Bhudia)

RSC Food Group school Contest 2022- Chemistry is Served

RSC Food Group Newsletter 2021

IYPT 2019 - Food Periodic Table

Naturals in Foods Part 1, April 2019

Naturals in Foods Part 2, June 2019

RSC Food Group AGM February 2019 minutes

Annual report 2018
Related links
See all links
Related links
Helping to understand the symptoms associated with COVID-19

The Global Consortium of Chemosensory Researchers (GCCR) survey
Order your copy of "Food - The Vital Ingredient" here:

Food - The Vital Ingredient
Download the book of abstracts:

Food Oral Processing Conference 2018 - Abstract Book
More information about the International Symposium on Flame Retardants Conference:

BFR York 2017
More information about the Food Oral Processing conference:

Food Oral Processing
Follow this link for the "Food for Life" Newsletter:

European Technology Platform
Activities of the Food Group to celebrate the International Year of the Periodic Table 2019:

Food Related Periodic Table
Committee
Chair
Dr Jane Parker MRSC
Secretary
Mr A Cross BSc MRSC
Alan Cross is a chemist at Reading Scientific Services Ltd, specialising in the analysis of metals in food and pharmaceuticals. He has also worked in the fields of catalysis and environmental monitoring.
Contact the secretary
Treasurer
Dr Wendy Russell MRSC