India, North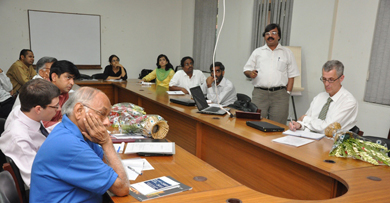 Honorary Secretary of the North India Section presenting the section's activities during a meeting of all Indian local sections with RSC staff
The RSC North India section organises various activities for the advancement of chemical sciences. This includes lecture series, meetings and workshops on green/ sustainable chemistry, etc. for students, educators and scientists.
North India Local Section - IYC Challenge

Green Chemistry Workshop
Events taking place in India which have been jointly organised by the RSC
Downloadable Files
Annual Report 2016
Further information on events run by the Local Section committee


PDF (113k)
PDF files require

Adobe Acrobat Reader
Related Links

RSC India group on MyRSC
This MyRSC group is for members living in India. You will be required to register for MyRSC before you can join the group.
External links will open in a new browser window
Contact and Further Information
Professor R K Sharma CChem MRSC
Secretary
Department of Chemistry, University of Delhi, Delhi 110 007, INDIA

---