Chilterns & Middlesex
Section No. 34
Welcome
The Section represents members in the north and west of London and parts of the adjacent counties of Buckinghamshire and Hertfordshire. Towns on the periphery of the Section include Slough, High Wycombe, Aylesbury, Watford and Enfield. The Section is one of the largest with a membership of over 2000.
We aim to:
communicate a better understanding of chemical science to the general public and promote the profession to young people
arrange programmes of local activities including networking events and, in so doing, act as a channel of communication between members and the RSC
recruit suitable candidates for membership, promote Chartered status and encourage members to 'upgrade' their membership when appropriate
foster good relationships with the RSC Interest Groups and, in particular, support the work of the Chemists' Community Fund in our locality.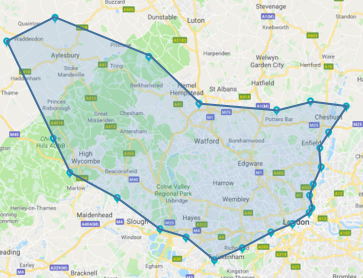 Chilterns & Middlesex Section Map. Shaded area shows the extent of the Local Section.
Downloadable Files
Annual Report 2018
Further information on events run by the Local Section committee


PDF (205k)
PDF files require

Adobe Acrobat Reader
Risk Assessment for RSC events

A risk assessment form must be filled out for every event organised by the RSC. All forms are available for download along with examples of Red Risk Assessment Forms .
Contact and Further Information
Mr Tom Keaveny MRSC
Secretary

---