RSC Landmark Awards
RSC Landmark Awards in the Thames Valley
Chemical Landmarks are the Royal Society of Chemistry's official recognition of historical sites where important chemical breakthroughs have been made and are an RSC initiative to commemorate, emphasise and awaken public interest in historic developments in the chemical sciences.
Sites that are awarded Chemical Landmark status have either played a major part in the development of chemical science or have seen a development of chemical science that has made a significant contribution to the health, wealth or quality of life of the nation.
Notably, the Thames Valley has seen a significantly large proportion of RSC Chemical Landmark Awards, reflecting the wealth of science that is and has been performed in the area.
---
Inorganic Chemistry Laboratory, University of Oxford
16 July 2012. The 8th RSC UK National Chemical Landmark Award to be awarded within the Thames Valley Local Section.
The award took place at the University of Oxford Inorganic Chemistry Laboratory, which saw the unveiling of this award to celebrate the 30th anniversary of the discovery by researchers, Allen Hill, Tony Cass and Graham Davies, that led to the development of a unique electronic blood glucose sensor now used by millions of diabetics worldwide.
---
Inorganic Chemistry Laboratory, University of Oxford

30 November 2010. In recognition of the 30th anniversary of the identification and development of cathode materials for the lithium-ion charged battery.
From left to right Dr Richard Pike, Dr Phil Wiseman, Vice Chancellor Prof Andrew Hamilton, Dr Koichi Mizumshima, Dr Phil Jones and Professor Peter Edwards.
---
Harwell Site, Didcot, Oxfordshire

25 November 2009. To commemorate over 50 years of chemistry research and the 60th anniversary of the B220 laboratory.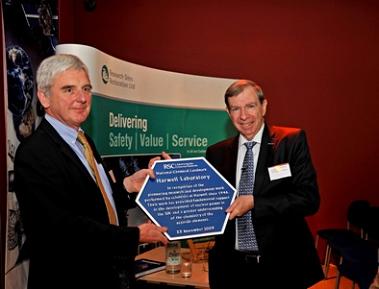 ---
Jealott's Hill International Research Centre

23 November 2007. In recognition of the pioneering work carried out by scientists at Jealott's Hill since 1928 which led to global developments in agriculture.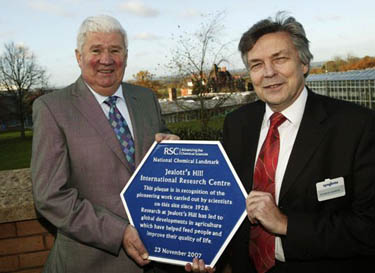 ---
Clarendon Laboratory, University of Oxford

24 September 2007. For its contribution to science research and in particular for the work of H G J Moseley who established the concept of the atomic number.
---
Dyson Perrins Laboratory

24 September 2004, University of Oxford
---
The work of Dorothy Crowfoot Hodgkin on X-ray crystallography

14 May 2001, University of Oxford
---
Work on Platinum Group Metals

21 March 2001, Johnson Matthey Technology Centre, Berkshire
---