Bader Award 2012 Winner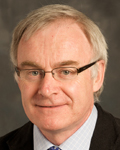 Professor John Murphy
University of Strathclyde
Awarded for his many highly creative and original contributions to reactivity in organic synthesis, including free radical chemistry, the concept of the radical-polar crossover reaction and electron transfer in the invention of organic super electron reducing agents.

About the Winner
John Murphy was born in Dublin in 1955 and educated at Trinity College, Dublin (BA 1976) and the University of Cambridge (PhD 1980). He obtained his DSc (Strathclyde) in 2002.
After his PhD, he held Fellowships at the University of Alberta and the University of Oxford. His independent research began with his appointment to the University of Nottingham as Lecturer, and he was later promoted to Reader there. He moved to his current position as Merck-Pauson Professor of Chemistry at the University of Strathclyde in 1995.
He was visiting Professor at a number of institutions:
l'Université d'Aix Marseille 1996
NAIST, Japan, 2001
Université Pierre et Marie Curie, Paris, 2004.
He also was Visiting Fellow at the Australian National University in 1995 and 2007. He held a Royal Society Leverhulme Senior Research Fellowship in 2001.
He was elected Fellow of the Royal Society of Edinburgh (National Academy of Scotland) in 2001.
He is Director of the Glasgow Centre for Physical Organic Chemistry (GCPOC) 2008-2013.
From August 2006 - August 2008, John Murphy was Director of WestCHEM, the integrated Research School in Chemistry for the West of Scotland.
His chemical interests are in mechanistic and synthetic chemistry, in reactive intermediates and in the development of new reactions.
Related Links

Professor Murphy's Webpage
University of Strathclyde
External links will open in a new browser window