Harrison-Meldola Memorial Prize 2014 Winner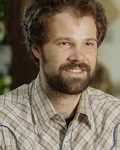 Dr David Glowacki
University of Bristol
For his theoretical work on energy transfer processes in chemical reaction dynamics.
About the winner
Dr David Glowacki is a Royal Society Research fellow in theoretical chemistry. He presently holds appointments as a proleptic lecturer at the University of Bristol, and as a visiting physical scientist at Stanford University.
Born in 1981, he is originally from Milwaukee, Wisconsin (USA). Glowacki obtained his BA in Chemistry from the University of Pennsylvania (Philadelphia, USA) in 2003. He then moved to the UK, and obtained a master of arts (MA) in cultural theory as a Fulbright scholarship finalist at the University of Manchester in 2004. With funding from an Overseas Research Studentship, he completed his PhD at the University of Leeds in 2008 with Prof. Michael Pilling, using both experimental and theoretical approaches to understand chemical kinetics and dynamics relevant to Earth's atmosphere.
Following his PhD, Glowacki moved to Bristol, where he has maintained a range of collaborations, focussing on the development and application of theoretical methods for understanding and analyzing non-equilibrium phenomena and energy transfer in chemical kinetics and dynamics in liquids, solids, and biomolecules.
Glowacki has published across subjects including classical and quantum dynamics, energy flow in chemical systems, adiabatic and non-adiabatic chemical kinetics, atmospheric chemistry, algorithm development, high-performance computing, and interactive art. He has contributed to several scientific software packages, including CHARMM and MESMER.
He is also the creator of danceroom spectroscopy (dS), a multi-award winning software/hardware platform that combines semi-classical molecular dynamics with state-of-the-art computing to facilitate an interactive molecular dynamics experience. dS has earned him an international reputation in digital art and interactive computing, with high-profile installations that have enabled tens of thousands of people across the UK, Europe, and the USA to experience the subtle beauty and complexity of the atomic world.
Related Links

Dr Glowacki's Webpage
University of Bristol
External links will open in a new browser window