Jeremy Knowles Award 2017 Winner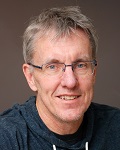 Professor R. Scott Prosser
University of Toronto
Awarded for the successful application of fluorine and multinuclear NMR to understand conformational dynamics and allostery in enzymes and G-protein coupled receptors
About the Winner
Scott was born and raised on the east coast of Canada. His father who, like his grandfather, is a family doctor with a keen interest in biology and the intricacies of life. Through public school and undergraduate university studies at the University of New Brunswick, he discovered an interest in physics and mathematics, which greatly influenced his approach to research thereafter. His graduate studies involved molecular biophysics and solid state NMR at the University of Guelph, with James Davis, whereupon he pursued postdoctoral studies at the University of Stuttgart and the University of California at San Diego, focused on model membrane systems. After a brief stint at Kent State University, as assistant professor, he moved to Toronto in the Department of Chemistry, while later taking on the role of Director of a new graduate program in biotechnology.
His early research at Toronto delved into methodologies aimed at advancing NMR studies of membrane proteins. After a sabbatical with Nobel laureate, Brian Kobilka, Scott began to focus on biophysical questions pertaining to key membrane receptors responsible for signal transduction - namely, G Protein Coupled Receptors (GPCRs). His lab is equally interested in molecular underpinnings of enzymology, particularly with regard to allosteric activation initiated by substrate/ligand binding. Scott feels that the convergence of new ideas regarding fluorine chemistry, computational chemistry, molecular biology, and spectroscopy in the scientific community will bring about a renaissance in our understanding of allostery and the behaviour of complex proteins involved in signalling and enzymology.
Scott is an avid cyclist, cross-country ski enthusiast and distance swimmer. Whenever possible he likes to take in a little hiking or scuba diving.

Related Links

Professor Prosser's Webpage
University of Toronto
External links will open in a new browser window