2018 Jeremy Knowles Award Winner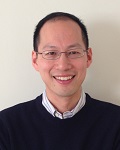 Professor Christopher Chang
University of California, Berkeley
Awarded for foundational contributions in advancing our understanding of signalling roles for redox and metal species in living systems
About the Winner
Chris Chang is the Class of 1942 Chair Professor of Chemistry and Molecular and Cell Biology and HHMI Investigator at UC Berkeley, and Faculty Scientist at Lawrence Berkeley National Laboratory. He was born in Ames, Iowa and completed his B.S. and M.S. degrees at Caltech in 1997 (with Harry Gray), Fulbright scholarship in 1998 (with Jean-Pierre Sauvage), and Ph.D. at MIT in 2002 (with Dan Nocera). After postdoctoral studies with Steve Lippard, Chris began his independent career at UC Berkeley in 2004.
Research in the Chang lab is focused on the study of metals in biology and energy. Chang has made fundamental discoveries in inorganic and biological chemistry through advancing the concept of activity-based sensing to open a field of transition metal signaling, exemplified by identifying copper and hydrogen peroxide signals that regulate processes spanning neural activity to fat metabolism. He has also advanced artificial photosynthesis through bioinorganic catalyst design.
Chang has been honored by awards from the Dreyfus, Beckman, Sloan, and Packard Foundations, Amgen, Astra Zeneca, and Novartis, AFAR, Technology Review, ACS (Cope Scholar, Lilly Award, Nobel Laureate Signature Award, Baekeland Prize), RSC (Transition Metal Chemistry), and SBIC, and the Noyce Prize at UC Berkeley for Undergraduate Teaching. Most recently, Chris received the 2015 Blavatnik Award in Chemistry and was elected to the American Academy of Arts of Sciences in 2017. He is a Senior Editor at ACS Central Science.
Related Links

Professor Chang's Webpage
University of California, Berkeley
External links will open in a new browser window