John B Goodenough Award 2015 Winner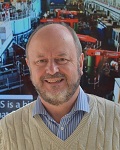 Professor William David
ISIS Facility and University of Oxford
Awarded for his development of new theoretical and experimental approaches to powder diffraction and his contributions to the understanding of structure-property relationships in important solid-state materials
About the Winner
Bill David studied Physics at St. Catherine's College, Oxford both as an undergraduate and D.Phil. student. He then made the short journey from the Clarendon to the Inorganic Chemistry Laboratory to take up a post-doctoral research position with John B. Goodenough working on some of the earliest lithium battery research. In 1983, he moved to the Rutherford Appleton Laboratory to help set up the diffraction facilities at what was to become the ISIS spallation neutron and muon source.

Much of his career has been involved in the development of neutron and X-ray diffraction techniques in combination with computational modelling and he has written a number of computer programs and packages, including GENIE and DASH, for data visualisation and crystallographic analysis. He has made contributions to the understanding of structure-property relationships in a wide range of materials from batteries, high-Tc superconductors and hydrogen storage materials to pharmaceutical compounds and fullerenes. He has received a number of awards that include the IOP CV Boys Prize (1990), the Inaugural British Crystallography Association Prize (2002), the European Society for Applied Physical Chemistry Prize (2006) and one of three Bragg Lecture Awards (2013) marking the Bragg Centenary of the discovery of X-ray diffraction.

He returned to Oxford in 2006 as a Fellow in Physics at the St. Catherine's College and has a joint appointment as STFC Senior Fellow at ISIS and Professor of Chemistry in the Inorganic Chemistry Laboratory, Oxford. His current research is based around sustainable energy provision with a particular focus on chemical energy storage and its utilisation using hydrogen and ammonia.
Related Links

Professor David's webpage
ISIS Facility and University of Oxford
External links will open in a new browser window