Alexander Todd-Hans Krebs Lectureship in Chemical Sciences 2017 Winner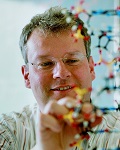 Professor Thomas Carell
Ludwig Maximilians Universität München
Awarded for the analysis, synthesis, and molecular biology of naturally occurring modified nucleobases at the heart of epigenetic control of DNA
About the Winner
Thomas Carell was born in Herford (Germany) in 1966. His academic career in chemistry began at the Universities of Münster and Heidelberg. In 1993 he obtained his doctorate with Prof. H. A. Staab at the Max Planck Institute of Medical Research. After postdoctoral training with Prof. J. Rebek at MIT (Cambridge, USA) in 1993-1995, Thomas Carell moved to the ETH Zürich (Switzerland) as a junior group leader under the mentoring of Prof. F. Diederich to start independent research. He obtained his habilitation in 1999 and was appointed Privatdozent at ETH.
In 2000 he accepted a full professor position for Organic Chemistry at the Philipps-Universität in Marburg (Germany). In 2004 he moved to the Ludwig-Maximilians-Universität (LMU) in Munich (Germany) where he is heading a research group working in the field of chemical biology. The group analyses the chemistry of epigenetic programming.
Thomas Carell is a member of the German National Academy Leopoldina and of the Berlin-Brandenburgische Academy of Arts and Sciences. He is the recipient of the Cross of Merit from the Federal Republic of Germany. Thomas won the Leibniz award from the Deutsche Forschungsgemeinschaft (DFG) and recently an ERC advanced grant.

Related Links

Professor Carell's Webpage
Ludwig Maximilians Universität München
External links will open in a new browser window