2019 Alexander Todd-Hans Krebs Lectureship in Chemical Sciences Winner
Professor Anna Köhler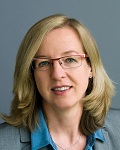 Universität Bayreuth
Awarded for pioneering investigations of triplet states, exciton dissociation and intermolecular chromophore interactions in pi-conjugated polymers.
About the Winner
Anna Köhler is a full professor holding the chair for Soft Matter Optoelectronics at the University of Bayreuth. She studied physics and mathematics at the Universität Karlsruhe (TH), Germany, and University of Cambridge, UK. She received her PhD in 1996 from the University of Cambridge, UK, where she continued her research funded through Research Fellowships by Peterhouse and by the Royal Society. In 2003 she was appointed Professor at the University of Potsdam, Germany, from where she moved to the Department of Physics at the University of Bayreuth, Germany, in 2007.
Her research is concerned with the photophysics of organic semiconductors. These are macromolecules whose backbone are made up of alternating single and double carbon bonds, so that the p-orbitals overlap to form pi-orbitals which allow for semiconducting properties such as light absorption, light emission and charge transport. At the heart of her interest are questions regarding the formation of excited states in these compounds and how they dissociate to give rise to photocurrent used in solar cells, how they emit light through phosphorescence and fluorescence for applications in light-emitting diodes, and how the interactions between chromophores affect these processes.

Related Links

Anna Köhler's Webpage
Universität Bayreuth
External links will open in a new browser window