Joseph Black Award 2011 Winner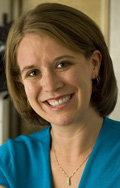 Christy Haynes
University of Minnesota
Awarded for her work on leveraging the core principles of analytical chemistry to gain insight into pressing toxicological, immunological, and ecological questions.


About the Winner
Christy L Haynes is currently an Associate Professor of Chemistry at the University of Minnesota, mentoring a group of 11 doctoral students and 9 undergraduate researchers in the area of bioanalytical chemistry.
Haynes did her undergraduate training at Macalester College in St Paul, MN, graduating in 1998 before beginning graduate training at Northwestern University.
At Northwestern, Haynes earned her PhD in 2003 working with Richard P Van Duyne in the areas of nanoparticle optics and surface-enhanced Raman scattering sensors.
She performed postdoctoral research as a NIH NRSA fellow with R. Mark Wightman at the University of North Carolina - Chapel Hill, using carbon-fiber microelectrochemistry to characterize single cell secretion. Prof Haynes then joined the University of Minnesota as a faculty member in 2005, where her research focus has been on employing carbon-fiber microelectrode amperometry as an assay of nanoparticle toxicity.
In addition, her group has performed the first ever real-time measurements of chemical messenger secretion from individual blood platelets, characterizing serotonin concentration and release kinetics critical in hemostasis, and developed an active materials science program in the area of nanoparticle therapeutics.
Since beginning her independent career, Prof Haynes has co-authored more than 30 peer-reviewed manuscripts and been the recipient a Kinship Foundation Searle Scholar Award (2006), a NIH New Innovator Award (2008), a Camille and Henry Dreyfus Teacher-Scholar Award (2009), and an Alfred P Sloan Fellowship (2010).

Related Links

University of Minnesota
Professor Christy Hayne's Research Group
External links will open in a new browser window