Joseph Black Award 2013 Winner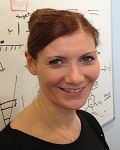 Dr Karen Faulds

University of Strathclyde
For her outstanding contributions focused on the quantitative analysis of biomolecules using surface enhanced Raman scattering (SERS).
About the Winner
Karen Faulds obtained her PhD from the University of Strathclyde under the supervision of Professor W Ewen Smith in 2003. She was appointed as a lecturer at the University of Strathclyde in 2006 and promoted to senior lecturer in 2010 and Reader in 2012.
Her research focuses on using surface enhanced Raman scattering (SERS) to create new approaches to bioanalysis for use in the life and clinical sciences. Her research centres around using the inherent sensitivity of SERS for the detection of target DNA or proteins using signal amplification methods to enhance the signal rather than using target amplification methods such as PCR.
Her work has focussed on exploiting the sensitivity of SERS for quantitative analysis of biomolecules as well as exploiting one of the key advantages of SERS, the ability to analyse multiple analytes in one sample. This allows more information to be gained per analysis as well as giving information about complex systems that are intrinsically difficult to measure.
She has published over 75 peer reviewed publications and she was presented with the Nexxus Young Life Scientist of the Year award in 2009 for her research and was elected to the Royal Society of Edinburgh's Young Academy of Scotland in 2011. She is a cofounder of the spin out company Renishaw Diagnostics Ltd, serves on the editorial advisory board for Analyst and is a committee member of the Infrared and Raman Discussion Group (IRDG).
Related Links

Dr Karen Fauld
University of Strathclyde
External links will open in a new browser window