Khorana Prize 2012 Winner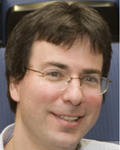 Professor Lewis Kay
University of Toronto
For the development of modern NMR spectroscopy for studies of biomolecular structure, dynamics and function including applications to supra-molecular machines and excited protein conformations that play critical roles in biochemical processes.
About the Winner
Professor Kay received an undergraduate degree in Biochemistry at the University of Alberta (1983) and a doctorate degree in Biophysics under the supervision of Dr. James Prestegard at Yale (1988). He was a post-doctoral fellow with Ad Bax at the NIH from June 1988-November 1991 and subsequently joined the faculty at the University of Toronto where he is currently professor of Molecular Genetics, Biochemistry and Chemistry. Professor Kay was elected a Fellow of the Royal Society in 2010. He has published approximately 350 papers.
Professor Kay's laboratory has been at the forefront of efforts both to develop new NMR approaches, and subsequently, to apply them to problems in biochemistry of importance. His laboratory has developed NMR experiments for the study of biomolecular struture and dynamics, introduced new isotope labeling schemes facilitating structural studies of large proteins in the solution state, published NMR approaches for the quantitative study of supra-molecular machines and contributed to the theoretical framework for relating protein dynamics to thermodynamics. His group has developed methods for the study of excited conformational states of proteins that cannot be observed directly in NMR spectra and applied them to understanding protein folding. His work has provided important insights into protein structure and dynamics and their relation to biological function.
Related Links

Lewis Kay Group
Professor Kay's Research Group
External links will open in a new browser window