2018 Khorana Prize Winner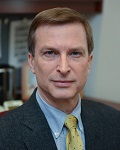 Professor Craig Crews
Yale University
Awarded for pioneering contributions to the field of controlled proteostasis, including the development of the proteasome inhibitor carfilzomib/KyprolisTM and the PROTAC protein-degrading technology.
About the Winner
Professor Craig Crews is the Lewis Cullman Professor of Molecular, Cellular and Developmental Biology and holds joint appointments in the departments of Chemistry and Pharmacology at Yale University. He graduated from the U.Virginia with a B.A. in Chemistry and received his Ph.D. from Harvard University in Biochemistry. Dr. Crews has a foothold in both the academic and biotech arenas; on the faculty at Yale since 1995, his laboratory pioneered the use of small molecules to control intracellular protein levels. In 2003, he co-founded Proteolix, whose proteasome inhibitor, KyprolisTM received FDA approval for the treatment of multiple myeloma. Since Proteolix's purchase by Onyx Pharmaceuticals in 2009, Dr. Crews has focused on a new 'induced protein degradation' drug development technology, PROTACs, which served as the founding IP for his latest New Haven-based biotech venture, Arvinas, LLC.
Currently, Dr. Crews serves on several editorial boards and is an Editor of Cell Chemical Biology. In addition, he has received numerous awards and honors, including the 2013 CURE Entrepreneur of the Year Award, 2014 Ehrlich Award for Medicinal Chemistry, 2015 Yale Cancer Center Translational Research Prize, a NIH R35 Outstanding Investigator Award (2015) and the 2017 AACR Award for Outstanding Achievement in Chemistry in Cancer Research.
Related Links

Professor Crews' Webpage
Yale University
External links will open in a new browser window