Marlow Award 2012 Winner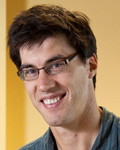 Dr Robert Best
University of Cambridge
Awarded for his innovative development and use of simulation and theory to investigate problems in biophysics and biochemistry.
About the Winner
Robert Best studied Chemistry at the University of Cape Town, receiving a B.Sc(Hons) in 1998, and an M.Sc. (1st Class) in 2000 with Profs Kevin Naidoo and Graham Jackson, studying Carbohydrates by NMR and molecular dynamics simulation. He then moved to Cambridge to do a Ph.D. with Prof. Jane Clarke, using Atomic Force Microscopy to study protein folding, and NMR to study protein dynamics. He spent his first post-doc working in Cambridge with Prof. Michele Vendruscolo on methods for structure determination by NMR.

In a second post-doc at the National Institutes of Health in the US, he worked with Dr William Eaton and Dr Gerhard Hummer on protein folding, using both single molecule methods and coarse-grained and all-atom simulation. Whilst at NIH, he was awarded the NIDDK Scientific Director's Fellowship Award for his research.
Since 2007, Dr Best has held a Royal Society University Research Fellowship in the Chemistry Department in Cambridge, and is a College Lecturer in Emmanuel College, Cambridge. He has started a research group using molecular simulations and theoretical methods to investigate fundamental problems in biomolecular dynamics, particularly protein folding. His recent work has focussed on methodological developments for improving the accuracy of molecular simulations of protein folding, the mechanism and rate of formation of protein secondary structure elements, and the interpretation of single molecule experiments using mechanical force or FRET detection.
Related Links

The Best Research Group
Dr Best's Research Webpage
External links will open in a new browser window