2019 Marlow Award Winner
Dr Samuel Stranks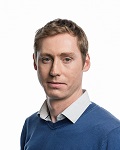 University of Cambridge
Awarded for contributions to the development of hybrid perovskite semiconductor devices through fundamental understanding of the relationships between photophysical, chemical and material properties.
About the Winner
Sam Stranks is a Royal Society University Research Fellow at the University of Cambridge, and Fellow of Clare College, Cambridge. He graduated from the University of Adelaide in 2007 with a BA (German and Applied Mathematics), BSc Hons (Physics and Physical Chemistry) and a University Medal. He completed his PhD as a Rhodes Scholar at Oxford University with Robin Nicholas, receiving the 2012 Institute of Physics Roy Thesis Prize for his work on carbon nanotubes for organic solar cell applications. From 2012-2014, he worked as a post-doctoral researcher in Henry Snaith's group at Oxford University where he was also a Junior Research Fellow at Worcester College. From 2014-2016, he was a Marie Curie Fellow at the Massachusetts Institute of Technology working jointly with Vladimir Bulovic and Richard Friend (Cambridge).
Sam established his research group at the Cavendish Laboratory in 2017, which now consists of 12 PhD students and 8 post-doctoral researchers. His group focuses on the optical and electronic properties of emerging semiconductors including halide perovskites, carbon allotropes and other organic semiconductors. They are particularly interested in low-cost, transformative electronics applications including photovoltaics and lighting. The group uses time-resolved spectroscopy and microscopy to understand material and device photophysics on a range of length and time scales, and relates these characteristics directly to local chemical, structural and morphological properties.
Sam received the 2018 Henry Moseley Award and Medal from the Institute of Physics. He is a co-founder of Swift Solar, a startup developing lightweight perovskite PV panels, and in 2017 he was named by the MIT Technology Review as one of the 35 under 35 innovators in Europe.

Related Links

Samuel Stranks Webpage
University of Cambridge
External links will open in a new browser window