Peter Day Award 2013 Winner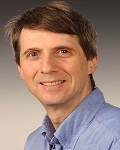 Professor J. Paul Attfield

University of Edinburgh
For outstanding discoveries of novel electronic states and structural properties in inorganic materials, notably transition metal compounds.
About the Winner
Paul Attfield holds a Chair in Materials Science at Extreme Conditions at the School of Chemistry, University of Edinburgh and he is the Director of the Centre for Science at Extreme Conditions.
He received BA and DPhil degrees from Oxford University, and he was a Lecturer, and later Reader, and a Co-Director of the Interdisciplinary Research Centre in Superconductivity at the University of Cambridge during 1991-2003.
He was previously awarded the RSC Meldola and Corday-Morgan medals, and he was elected a Fellow of the Royal Society of Edinburgh in 2006.
Early research contributions included pioneering resonant X-ray scattering and neutron diffraction experiments to study cation and valence ordering effects, and the introduction of the cation-size variance as a concept to rationalize and predict disorder effects in magnetic and superconducting oxides.
Current research is centred on the high pressure synthesis, structural analysis and measurements of transition metal oxide based solids with novel electronic properties including high-Tc superconductivity, colossal magnetoresistances, unusual and frustrated magnetic orders, and negative thermal expansion.
Recent highlights have included the 'hard-soft' synthesis of new layered oxides, the discovery of polymer-like anion chain orders in photocatalytic and dielectric oxynitride perovskites, and the solution of the 70-year old 'Verwey' problem of Fe2+/Fe3+ valence order in magnetite - the original magnetic material.
Related Links

Professor Attfield's Webpage
University of Edinburgh
External links will open in a new browser window