Tilden Prize 2010 Winner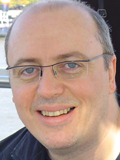 David Leigh
University of Edinburgh
Awarded for his major contributions to hydrogen-bonded and metal-directed reactions, and in particular for the design, fabrication and operation of molecular machines.

About the Winner
David Leigh obtained his PhD in supramolecular organic chemistry from the University of Sheffield in 1987. After postdoctoral research at the National Research Council of Canada in Ottawa, David returned to the UK as a Lecturer at the University of Manchester Institute of Science and Technology in 1989.
In 1998 he moved to the University of Warwick as Professor of Synthetic Chemistry and in 2001 he moved again to take up the Forbes Chair of Organic Chemistry at the University of Edinburgh.
Leigh's research interests include the development of new strategies for interlocked molecule synthesis and the design and construction of artificial molecular motors and machines.
He has won a number of major international awards including the 2007 Izatt-Christensen Award for Macrocyclic Chemistry, 2007 Descartes Prize and the 2007 Feynman Prize for Nanotechnology. He was elected to the Fellowship of the Royal Society in 2009.

Related Links

The Leigh Group Homepage
David Leigh's Research Group
External links will open in a new browser window