2019 De Gennes Prize Winner
Professor Eugenia Kumacheva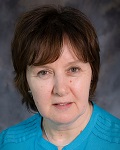 University of Toronto
Awarded for the design of soft and self-assembled new materials with biomedical applications.
About the Winner
Eugenia Kumacheva was born in Odessa (former Soviet Union). After receiving her PhD in the Institute of Physical Chemistry (Russian Academy of Science), she conducted postdoctoral research at the Weizmann Institute of Science (Israel). She joined the University of Toronto, Canada as an Assistant Professor in 1996 and was promoted to Full Professor in 2005. She became a Canada Research Chair in 2002 and a University Professor in 2013.
Her primary research interests focus on the materials science of soft matter and currently involve polymers, colloids on the micro- and nanoscales, self-assembly processes, and microfluidics.
She has published >250 papers and 2 books. She holds >40 patents and is a founder of the start up company FlowJEM. She has given >300 invited, keynote and plenary lectures, as well as public lectures.
She is a recipient of a number of awards, including Killam Fellowship, Macromolecular Science and Engineering Award, and Clara Benson Award (Canada), Schlumberger Scholarship (U.K.), International Chorafas Foundation Award in Physics and Engineering (Switzerland), Humboldt Research Award (Germany) and the 2009 L'Oreal-UNESCO Award "For Women in Science" (given to 5 laureates in the world). In 2017, she was a recipient of the Canada Institute for Chemistry (CIC) medal. She is a Fellow of the Royal Society of Canada and Royal Society (U.K.).

Related Links

Eugenia Kumacheva's Webpage
University of Toronto
External links will open in a new browser window