The importance of colour psychology at an event
In a famous study looking into the importance of colour, it was concluded that 62-90% of our assessment of an environment is based on colour alone. This idea that colour can affect a person's perception and emotions, known as colour psychology, is a key idea behind all sorts of businesses – and events are no exception.
With so much of our perception of an environment being based on colour, you shouldn't underestimate its importance when curating your event set ups. The best events leave attendees feeling something – and the colours you incorporate throughout your event can play a large role in deciding whether that feeling is a positive or negative one.
But how do you utilise colours effectively in an event space, and which colours should you be using anyway? While there is no 'one size fits all' approach when it comes to colour psychology for events – there are a few things to bear in mind.
Utilising colour effectively in an event space
When thinking about colour in a corporate event space, a likely starting point will be the colours of your brand. Combining colour and tech through lighting is a great way to incorporate branding effectively across a large space. Our own portable uplighters are just one way to achieve this, with the ability to set them to any colour and set the mood of the room. This is especially useful for brands that are hosting an event offsite but need to ensure the space still looks and feels like their own.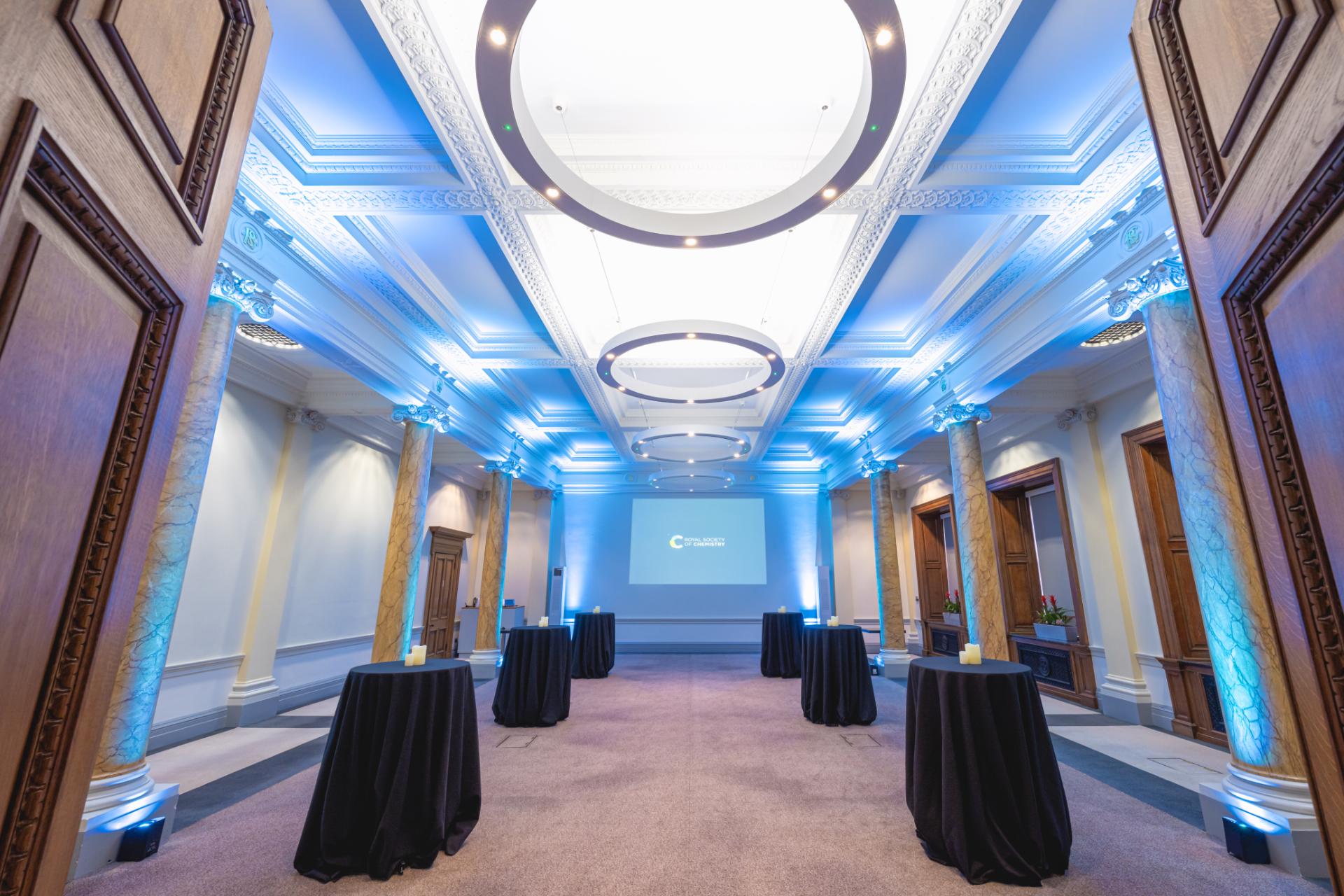 If your event offers food, you could even look to see if there are opportunities to utilise certain colours across the different menu options. Our recent event showcase which was themed around Independence Day naturally incorporated red, white and blue across the space, but we also worked with our caterers, Houston & Hawkes, to devise an Independence Day menu that incorporated these colours across the culinary delights to help delegates feel particularly patriotic throughout the day.
And while much of your event design will require your own input, you'll also want to see which parts of the available event space could even be incorporated into your event colour-wise. For example, our stained-glass windows showcase a variety of colours that reflect the four traditional elements – a perfect addition for a science-based meeting or conference or just to add some elegance and colour into your event.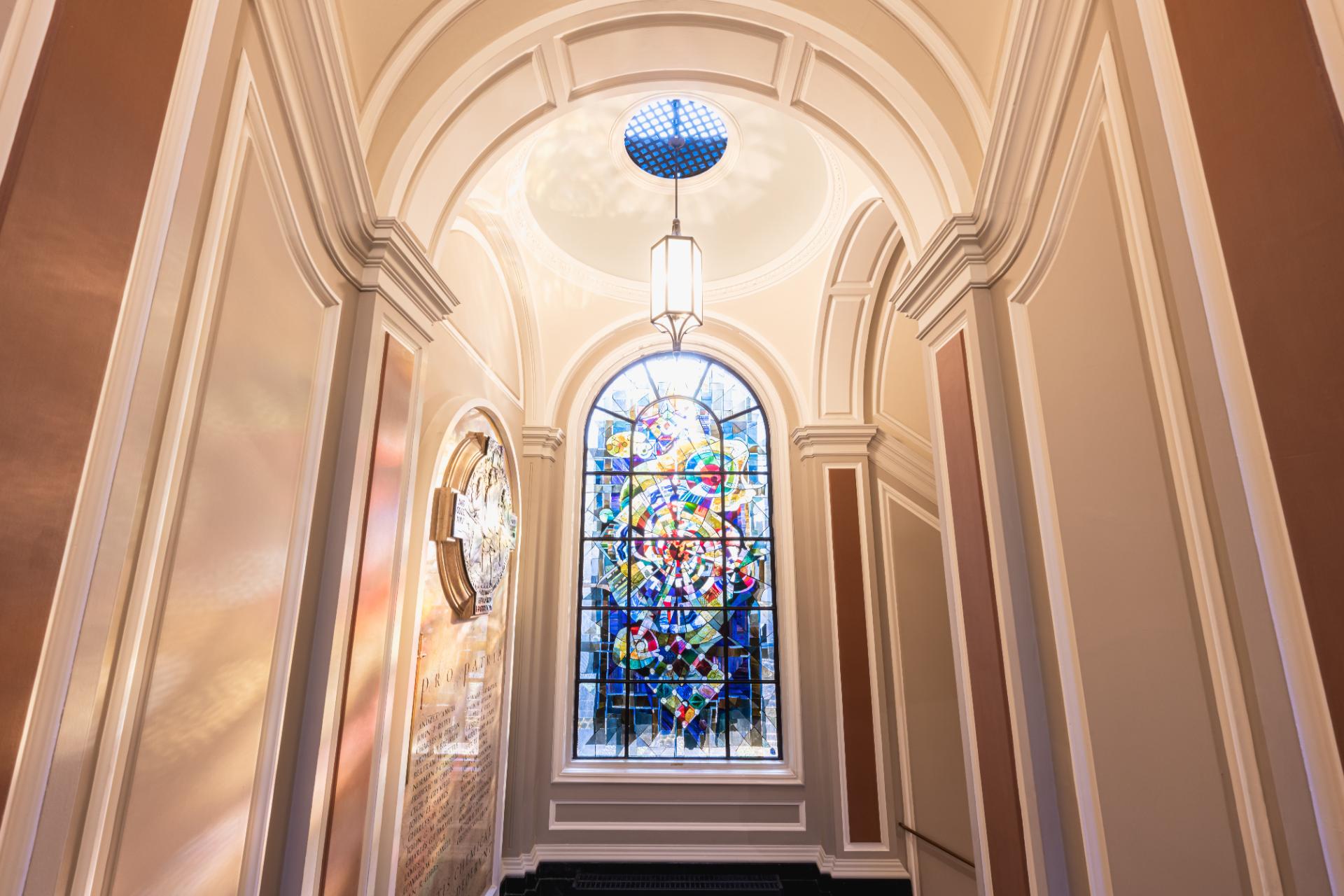 Colour psychology at a glance
While utilising the colours of your brand is a helpful starting point, that's not to say you can't get creative and experiment with other colours where appropriate. Remember at school when you were taught that certain colours could be used to convey certain emotions in your writing? Well some of that basis still rings true when applied to the realm of event spaces. Some typical examples include:
Red
Used to convey love, passion or anger. It is also used to encourage hunger, which helps explain why so many fast-food restaurants incorporate the colour into their branding and restaurant space!
Blue
Peacefulness, trust and calmness are all associated with the colour blue, which is why it's often used when conveying reliability. You'll find events such as financial conferences often incorporate the colour blue, as well as any business or event that is legal related.
Green
It's the most common colour found in nature, which is why it's a common choice for any event focused on the outdoors, health or sustainability.
Purple
On the other hand, purple is one of the rarest colours found in nature, hence why it's often used to express rarity and luxury.
White
Simple and minimalistic, the colour white is also utilised in event spaces to help make them feel bigger – just be careful not to use too much or risk making the space feel empty.
No one size fits all
While these are good general rules of thumb when considering colour's effects on people's mood and emotions in your event, this doesn't mean it's as simple as opting for one colour and plastering it all over the event space.
When designing the event space, you need to think what the purpose of your event is and how you want people to feel during their time at your event. While one colour might take precedence, you will likely utilise a combination of different colours to ensure you effectively set the right mood for your event and ensure you're subconsciously encouraging attendees to feel a particular way. In doing so, you can ensure a successful event for all in attendance.
For more information about our event spaces and offerings, view our venue brochure.
Host an event at Burlington House
In the heart of London's Piccadilly, the Royal Society of Chemistry at Burlington House is a prestigious event venue full of discovery, offering stories around every corner.