Nominations for this award will open 20 February 2023
The Certificate of Undergraduate Excellence is the Royal Society of Chemistry's recognition program for university students in North America who have shown special achievement in the chemical sciences. The award recipients are selected by their departments for demonstrating exceptional dedication, performance, and engagement in coursework and research.
This award is presented annually, with nominations open from February-July and prizes sent on a rolling basis
Each participating institution can present two students with the award each year
The participating institution can award:

Two Certificates of Undergraduate Excellence
One invitation to join in publishing training provided by RSC journal editorial teams. Participants will receive a certificate of completion endorsed by Chemical Science executive editor, Dr. May Copsey
One RSC Affiliate Membership or one copy of The Merck Index (15th edition). Please note, the name THE MERCK INDEX is owned by Merck & Co, Inc, Rahway, NJ, USA and its affiliates, and is licensed to The Royal Society of Chemistry for use in the USA and Canada
For the 2022-2023 award cycle, only previously enrolled institutions are eligible to participate. New institutions can register for the 2023-2024 award cycle.
Past winner spotlight
Caroline Rouget-Virbel
Princeton University class of 2018
Caroline is one of the best undergraduates that I have ever worked with in twenty years of being an independent academic
Caroline's contributions to the department and to the campus as a whole proved to be a plus for the Princeton University community.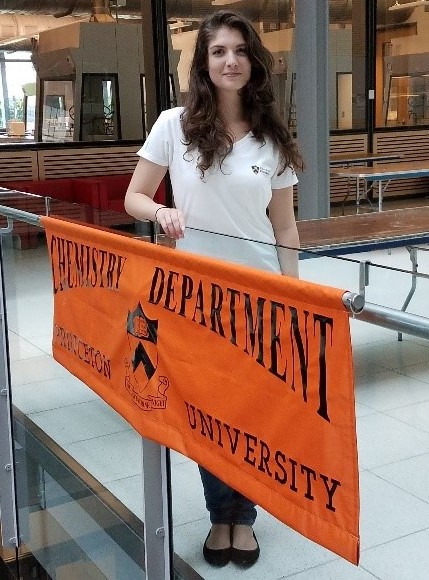 Whilst holding the position of Dining Services Student Manager during all four years at Univeristy, she also worked with the campus mental health initiative.
In the summer of 2016 she persued research at the National Children's Research Center in Dublin, Ireland. She studied the underlying patho-mechanisms of the dysregulation of the NOX-1 and -4 genes in Hirschsprung's-Associated Enterocolitis. Her work gave her the opportunity to add skills in protein expression and PCR analysis, gel electrophoresis, and immunofluorescence microscopy to her research "toolbox." She also served as a volunteer at the Mahatma Gandhi Orphanage in Jaipur, India. While there, she assisted with childcare, global health initiatives, and infectious disease prevention efforts.
Caroline's other achievements:
Highest Honours in chemistry
Sigma Xi: The Scientific Research Society
Study abroad in Australia
Peer Academic Advisor at Princeton
Guidelines for nominators and candidates
Find out who is eligible for this award and about the nomination process.
Nomination deadline
14 July 2023
Announcement of winners
Awards will be presented on a rolling basis but all recipients will be acknowledged publicly by 30 July 2023
How to participate
This year, 2023, nominations can be made by academic institutions previously registered with us to do so. If you are registered, you will receive a call for nominations.
If you are not registered and your institution wishes to nominate candidates for the next award cycle, please provide your details below.
Register now
Who can be nominated
Departments are encouraged to nominate their most outstanding students for the award, including those who:
Are within the top 5-10% of their class in subject-specific and overall coursework
Participate and excel in undergraduate research projects
Have taken on leadership roles in their department and community
Persevered in their program despite facing significant challenges
We recognise that there are significant challenges with inclusion and diversity in the chemical sciences and the importance of valuing all members of our community. We believe chemistry is for everyone and we have a responsibility to promote inclusivity and accessibility to improve diversity. We want to encourage institutions to consider nominating candidates of all genders, races, and backgrounds when selecting recipients.
How to nominate
Nominations from already registered institutions must be made using the form via the button below. Please note that self-nominations are not permitted.
To nominate a candidate, please provide details of the following:
Excellence in coursework (e.g. GPA, class ranking, etc.)
Any projects they participate in and details of research they excel in
Any leadership roles in their department and community
Any significant challenges they have faced but have persevered through
Make a nomination
Previous winners
Please see all previous recipients of this certificate by year.
2021
Bayu I.Z. Ahmad, Middlebury College, Department of Chemistry and Biochemistry
Kwami Aku-Dominguez, University of Alberta, Department of Chemistry
Abigail Armstrong, Earlham College, Department of Chemistry
Maryam Aswad, Dartmouth College, Department of Chemistry
Matthew F. Ballard, Wake Forest University, Department of Chemistry
Jeffery Bettag, University of Notre Dame, Department of Chemistry and Biochemistry
Alexanne Bisson, Université de Montréal, Department of Chemistry
Jenelle C. Booker, The College of Wooster, Department of Chemistry
Jon Bostic, Saint Louis University, Department of Chemistry
Luke D. Buck, Oberlin College, Department of Chemistry and Biochemistry
Kimberly Snow Caroti, UConn School of Pharmacy, Department of Pharmacy
Jiayi Chen, Université de Montréal, Department of Chemistry
Fatima Choudhary, University of Virginia, Department of Chemistry
Calais Cronin, University of Pennsylvania, Department of Chemistry
William T. Delk, Wake Forest University, Department of Chemistry
Anna Dougan-Bacha, Dickinson College, Department of Chemistry
Taylor Lee Dover, Emory University, Department of Chemistry
Tasneem Elkoush, Barnard College, Department of Chemistry
Jayden Eppley, NC State University, Department of Chemistry
Kirsten R. Fernando, Wake Forest University, Department of Chemistry
Maxwell T. Finkelstein, Swarthmore College, Department of Chemistry and Biochemistry
Sunil Fontaine-Rasaiah, William & Mary, Department of Chemistry
Ella N. Glenn, Franklin & Marshall College, Department of Chemistry
Nia Gwen Hammond, University of Colorado Boulder, Department of Biochemistry
Daniel Highland, William & Mary, Department of Chemistry
Brianna Hopper, The University of Colorado at Boulder, Department of Chemistry
Kampbell Howard, SUNY Fredonia, Department of Chemistry and Biochemistry
Karley Johnson, Southern Oregon University, Department of Chemistry
Eunice Y. Kim, Oberlin College, Department of Chemistry and Biochemistry
Maya Jo Kipfmiller, Boston University, Department of Chemistry
Nicholas Krasnow, Cornell University, Department of Chemistry and Chemical Biology
Joseph Land, Mercer University, Department of Chemistry
James Lauer, University of Michigan, Department of Chemistry
Stephen Le, University of Kansas, School of Pharmacy
Blake R. Lewis, Texas A&M University, Department of Chemistry
KJ Li, Lipscomb University, College of Pharmacy
Kaitlin Malley, Boston College, Department of Chemistry
Addison B. McFarland, Wake Forest University, Department of Chemistry
Sarah Miller, Lafayette College, Department of Chemistry
Michael Miller, University of New Hampshire, Department of Chemistry
Jack Nichols, The University of Arizona, Department of Chemistry and Biochemistry
Samson Ogori, University of Houston, College of Pharmacy
Shannon Theresa O'Neil, Rensselaer Polytechnic Institute, Department of Chemistry and Chemical Biology
Jimin Park, Kent State University, Department of Chemistry and Biochemistry
Ali Parvez, Saint Louis University, Department of Chemistry
Matthew Petitt, William & Mary, Department of Chemistry
David A. Polefrone, Unviersity of Maryland, Department of Chemistry and Biochemistry
Sukana Raza, Xavier University of Louisiana, Department of Chemistry
Manik Reddy, Macalester College, Department of Chemistry
Margaret Richard, Tulane University, Department of Chemistry
Audrey Searing, Western Michigan University, Department of Chemistry
Tausif Siddiqui, Xavier University of Louisiana, Department of Chemistry
Evan Stair, Mercer University, Department of Chemistry
Nicolas Teolis, Université de Montréal, Department of Chemistry
Jesse W. Upton, Drake University, Department of Pharmacy
Jason Vo, Georgia State University, Department of Chemistry
Yihan (Fiona) Wang, Northwestern University, Department of Chemistry
Molly Warndorf, University of Delaware, Department of Chemistry and Biochemistry
Luc Wetherbee, Cornell University, Department of Chemistry and Chemical Biology
Benjamin Xie, University of Louisville, Department of Chemistry
Lucy Yang, University of California, Irvine, Department of Chemistry
Jessica Yu, Washington University in St. Louis, Department of Chemistry
2020
Miranda Adams, Saint Louis University, Department of Chemistry
Meirui An, Boston College, Department of Chemistry
Emily Augustine, University of Pennsylvania, Department of Chemistry
Riley Beth Barton, Rensselaer Polytechnic Institute, Department of Chemistry and Chemical Biology
Sabrina Bellantoni, University of Delaware, Department of Chemistry and Biochemistry
Madeline Berry, State University of New York College at Cortland, Department of Chemistry
Alexanne Bisson, Université de Montréal, Department of Chemistry
Sarah Blitz, Lafayette College, Department of Chemistry
Kirstin Bode, Kent State University, Department of Chemistry and Biochemistry
Anatole Borisov, Case Western Reserve University, Department of Chemistry
Lauren Boyd, University of California, Davis, Department of Chemistry
Kaitlin Brueggen, Drake University, College of Pharmacy & Health Sciences
Steven E. Caldwell, Boston University, Department of Chemistry
Nora Chelfouh, Université de Montréal, Department of Chemistry
Ellenor Chi, Cornell University, Department of Chemistry and Chemical Biology
Christina Chong, Cornell University, Department of Chemistry and Chemical Biology
Rad Chrzanowski, Northwestern University, Department of Chemistry
Jordan Cox, Dickinson College, Department of Chemistry
Jennifer DeMars, Baylor University, Department of Chemistry and Biochemistry
Taylor Dent, Xavier University of Louisiana, Department of Chemistry
Louis Dix, Southern Oregon University, Department of Chemistry
Liz Eno Enyenihi, Emory University, Department of Chemistry
Amanda Gaudreault, University Of New Hampshire, Department of Chemistry
Elliot Gild, Loyola University Chicago, Department of Chemistry and Biochemistry
Preston Gourville, North Carolina State University, Department of Chemistry
Erin Grela, Massachusetts Institute of Technology, Department of Chemistry
Ruohua Gui, University of Alberta, Department of Chemistry
Hyungee Ha, University of Maryland, Department of Chemistry and Biochemistry
Benjamin J. Hauk, College of William & Mary, Department of Chemistry
Aaron Ho, University of Virginia, Department of Chemistry
Sarah Elizabeth Holmes, Middlebury College, Department of Chemistry and Biochemistry
Jaimy James, University of Houston, Department of Pharmacy
Mohammad Kader, Saint Louis University, Department of Chemistry
Madison Amy Kalk, Wake Forest University, Department of Chemistry
Rhea Kataria, Tulane University, Department of Chemistry
Jacob Myles Keck, Lipscomb University, Department of Pharmacy
Ingrid R. Kilde, Macalester College, Department of Chemistry
Madeleine Kline, Massachusetts Institute of Technology, Department of Chemistry
Do Hyun Kong, Georgia State University, Department of Chemistry
Maya Landis, Barnard College, Department of Chemistry
Marin Langlieb, Cornell University, Department of Chemistry and Chemical Biology
Fang Li, Earlham College, Department of Chemistry
Linda Yingqi Lin, Swarthmore College, Department of Chemistry and Biochemistry
Danielle Loving, Mercer University, Department of Chemistry
Elaine Lu, University of California, Davis, Department of Chemistry
Susanna K. Maisto, College of William & Mary, Department of Chemistry
Alexander Majewski, University of California, Davis, Department of Chemistry
Julise Marsh, University of Connecticut, School of Pharmacy
Ryan Mcginnis, The University of Michigan, Department of Chemistry, Department of Chemistry
Cuong Calvin Nguyen, Xavier University of Louisiana, Department of Chemistry
Omar Ocegueda, University of California, Irvine, Department of Chemistry
Justice Oehlert, University of Kansas, School of Pharmacy
Sheehan Tucker Payne, Wake Forest University, Department of Chemistry
Andrew Poirier, Franklin & Marshall College, Department of Chemistry
Emma Potter, The University of Arizona, Department of Chemistry and Biochemistry
Naa-Kwarley Quartey, College of William & Mary, Department of Chemistry
Alexander Raborg-Grullon, Université de Montréal, Department of Chemistry
Lauren Reynolds, University of California, Davis, Department of Chemistry
Zeima A. Rodriguez, Franklin & Marshall College, Department of Chemistry
Neil G. Ruthen, Oberlin College, Department of Chemistry and Biochemistry
Troy Sbisa, University of New Orleans, Department of Chemistry
Tiffany Alyssa Shields, Vanderbilt University, Department of Chemistry
Rebecca Sloan, Massachusetts Institute of Technology, Department of Chemistry
Nathan Soland, University of California, Davis, Department of Chemistry
Abigail Solit, University of Pennsylvania, Department of Chemistry
Haleigh Dawn Stafford, Texas A&M University, Department of Chemistry
Rachelle Stowell, University of California, Davis, Department of Chemistry
Regan Nicole Szalay, The College of Wooster, Department of Chemistry
Ruth Tweedy, Massachusetts Institute of Technology, Department of Chemistry
Erica A. Vossen, University of Notre Dame, Department of Chemistry & Biochemistry
Amanda Joy White, University of Louisville, Department of Chemistry
Brittany Wichman, Saint Louis University, Department of Chemistry
Jamin Willoughby, Western Michigan University, Department of Chemistry
Elaine Xu, Carnegie Mellon University, Department of Chemistry
Andy Xu, Washington University in St. Louis, Department of Chemistry
Leon Yim, Massachusetts Institute of Technology, Department of Chemistry
Hao Yu, University of British Columbia, Department of Chemistry
Sherry Zhou, Massachusetts Institute of Technology, Department of Chemistry
Mark Zimmer, Baylor University, Department of Chemistry and Biochemistry
2019
Jessica Ackendorf, Lafayette College, Department of Chemistry
Tyler Ackley, University of Connecticut School of Pharmacy, Department of Pharmacy
Agata Bachleda, University of Houston, Department of Pharmacy
Alexandra Beard, Baylor University, Department of Chemistry and Biochemistry
Victoria Van Benschoten, Carnegie Mellon University, Department of Chemistry
Kendra Bonsey, Dickinson College, Department of Chemistry
Alex Bosley, Texas A&M University, Department of Chemistry
Sara Bouzidi, University of Calgary, Department of Chemistry
Angela Cai, Massachusetts Institute of Technology, Department of Chemistry
Christine Campisi, Washington University in St. Louis, Department of Chemistry
Julia Chase, Wayne State University, Department of Chemistry
Zining Chen, Cornell University, Department of Chemistry and Chemical Biology
Yijie Cheng, University of Maryland, Department of Chemistry and Biochemistry
Katherine Chew, Massachusetts Institute of Technology, Department of Chemistry
Mingyu Choi, Saint Louis University, Department of Chemistry
Denis Cipurko, Loyola University Chicago, Department of Chemistry and Biochemistry
Harrison Davis, Kent State University, Department of Chemistry and Biochemistry
William Carter Edenfield, University of South Carolina, Department of Chemistry and Biochemistry
McKayla Ilene Edwards, University of Kansas School of Pharmacy, Department of Pharmacy
Kirsten Gilliland, Baylor University, Department of Chemistry and Biochemistry
Samuel P. Gleason, Macalester College, Department of Chemistry
Karan Goyal, Vanderbilt University, Department of Chemistry
Lucas Groeneveld, Drake University, Department of Pharmacy
Dariya Hardisky, The Ohio State University, Department of Chemistry and Biochemistry
Thomas Harmon, University of Delaware, Department of Chemistry and Biochemistry
Anna T. Hess, Franklin & Marshall College, Department of Chemistry
Perry Hicks, Mercer University, Department of Chemistry
Drake Johnson, North Carolina State University, Department of Chemistry
Sara Lee Jones, The University of Arizona, Department of Chemistry and Biochemistry
Celena Josephitis, University of Wisconsin-Stevens Point, Department of Chemistry
Sara Elizabeth Kessler, Tulane University, Department of Chemistry
Landon Kilgallon, Rensselaer Polytechnic Institute, Department of Chemistry and Chemical Biology
Ashley Kim, Cornell University, Department of Chemistry and Chemical Biology
Christopher LaSalle, University of New Hampshire, Department of Chemistry
Madison Lee, North Carolina State University, Department of Chemistry
Brian Lee, Southern Oregon University, Department of Chemistry
Chun (Alice) Li, Boston College, Department of Chemistry
George Thomas Lin, Princeton University, Department of Chemistry
Yudi Liu, Georgia State University, Department of Chemistry
Chenghao Liu, McGill University, Department of Chemistry
Carolyn Liu-Kang, Université de Montréal, Department of Chemistry
Joyce Lu, University at Buffalo, The State University of New York, Department of Chemistry
Aileen Lu, University of California – San Diego, Department of Chemistry and Biochemistry
Sarah Rachel Lubin, Barnard College, Department of Chemistry
Davide Mannini, University of California, Santa Barbara, Department of Chemistry and Biochemistry
Daniel L. Markus, Oberlin College, Department of Chemistry and Biochemistry
Maria Matlinska, University of Alberta, Department of Chemistry
Ryan Meehan, Boston University, Department of Chemistry
Jordan Millhollin, Baylor University, Department of Chemistry and Biochemistry
Haley Morgenstern, SUNY Cortland, Department of Chemistry
Taruna Neelakantan, University of California, Davis, Department of Chemistry
Minh Nguyen, University of California, Davis, Department of Chemistry
Angela Nichols, State University of New York at Fredonia, Department of Chemistry and Biochemistry
Samantha Ashley O'Connor, Wake Forest University, Department of Chemistry
Taylor Catherine Outlaw, Wake Forest University, Department of Chemistry
Vy Hong Pham, University of California, Irvine, Department of Chemistry
Alexander Poole, University of Illinois at Chicago, Department of Chemistry
Anwar Radwan, College of William & Mary, Department of Chemistry
Abdelrahman Rahmy, Case Western Reserve University, Department of Chemistry
Maxwell J. Rakutt, University of Louisville, Department of Chemistry
Corey Richards, Saint Louis University, Department of Chemistry
Katie Richardson, Saint Louis University, Department of Chemistry
Grayson Rodriguez, Massachusetts Institute of Technology, Department of Chemistry
Peter Rosston, Washington University in St. Louis, Department of Chemistry
Kevin Ruoff, University of North Carolina, Department of Chemistry
Shahzaib Saleem, Cornell University, Department of Chemistry and Chemical Biology
Lokesh Shah, University of Pennsylvania, Department of Chemistry
Yousuf Shah, Cornell University, Department of Chemistry and Chemical Biology
Terrell J. Shields Jr, University of New Orleans, Department of Chemistry
Mackinsey Anne Smith, Swarthmore College, Department of Chemistry and Biochemistry
Natalie Snitzer, University of Virginia, Department of Chemistry
Samuel Starks, Lipscomb University College of Pharmacy, Department of Pharmacy
Karina Targos, University of California, Davis, Department of Chemistry
Ryan Thai, University of Massachusetts Amherst, Department of Chemistry
Helen Tsiagras, College of the Holy Cross, Department of Chemistry
Hannah Wang, University of Michigan, Department of Chemistry
Charles Wang, Northwestern University, Department of Chemistry
Hannah Wans, University of Michigan, Department of Chemistry
Audrey Warner, University of British Columbia, Department of Chemistry
Emma Hearne Wilcox, Middlebury College, Department of Chemistry and Biochemistry
Robert E. Wiley, College of William & Mary, Department of Chemistry
Meghan E. Willoughby, Purdue University, Department of Chemistry
Cristian Pacheco Woroch, Pomona College, Department of Chemistry
Chu Thet Ywe, Earlham College, Department of Chemistry
Yue Zhang, Massachusetts Institute of Technology, Department of Chemistry
Samuel Zinga, Emory University, Department of Chemistry
Rada Zunich, The College of Wooster, Department of Chemistry
2018
Sumeja Aljic, Mercer University, Department of Chemistry
Rachel S. Anderson, The College of William & Mary, Department of Chemistry
Anis Barmada, University of Illinois at Chicago, Department of Chemistry
Carter Bosse, University of Arizona, Department of Chemistry and Biochemistry
Ian J. Brackbill, Dartmouth College, Department of Chemistry
Daniel Brashear, Lipscomb University, Department of Pharmacy
Nathan M. Brownstein, The College of Wooster, Department of Chemistry
Kelly Chan, UConn School of Pharmacy, Department of Pharmacy
Julie Chase, University of South Florida, Department of Chemistry
Wan Cheng Phua, Northwestern University, Department of Chemistry
Sathya Chitturi, Pomona College, Department of Chemistry
Christina Costeas, Barnard College, Department of Chemistry
Margaret L. Duval, The College of William & Mary, Department of Chemistry
Camilo Espinosa, Massachusetts Institute of Technology, Department of Chemistry
Laurel Finson, State University of New York at Fredonia, Department of Chemistry and Biochemistry
Benjamin Groff, University of Virginia, Department of Chemistry
Hariny Isoda, University of California Irvine, Department of Chemistry
Maria Jaramillow, Western Michigan University, Department of Chemistry
Kassandra Jones, University of South Florida, Department of Chemistry
Kerry Jones, University of California Santa Barbara, Department of Chemistry and Biochemistry
Taylor Kathleen Jones, Wake Forest University, Department of Chemistry
Taylor Jordan, Cornell University, Department of Chemistry and Chemical Biology
Benjamin Kaufold, Rensselaer Polytechnic Institute, Department of Chemistry and Chemical Biology
Zach Kehoe, University of Wisconsin-Stevens Point, Department of Chemistry
Tiernan Kennedy, University of Massachusetts Amherst, Department of Chemistry
Austin Kinley, Texas A&M University, Department of Chemistry
Sai Kottapalli, Arizona State University, School of Molecular Sciences
Rebecca Kubenca, Cornell University, Department of Chemistry and Chemical Biology
Jennifer Kuflewski, Carnegie Mellon University, Department of Chemistry
Christopher Latour, Boston College, Department of Chemistry
Kayla Long, Baylor University, Department of Chemistry and Biochemistry
Edgar J. Luat, University of South Carolina, Department of Chemistry and Biochemistry
Meiqi Luo, Franklin & Marshall College, Department of Chemistry
Joseph Mancinelli, University Of New Hampshire, Department of Chemistry
Takaaki Miki, Case Western Reserve University, Department of Chemistry
Kirsten Miller, University of California, San Diego, Department of Chemistry and Biochemistry
Zaeem Nazir, New York University, Department of Chemistry
Kristina Nikl, Drake University, College of Pharmacy and Health Sciences
Hannah Olsen, Washington University in Saint Louis, Department of Chemistry
Hope Pan, Vanderbilt University, Department of Chemistry
Akshay J. Patel, University of Maryland, Department of Chemistry and Biochemistry
Tyler Reagle, University of Delaware, Department of Chemistry and Biochemistry
Alissa Resnikoff, Dickinson College, Department of Chemistry
Daniel Salguiero, Emory University, Department of Chemistry
Briana Santos, Tulane University, Department of Chemistry
Julia Schaffer, Cornell University, Department of Chemistry and Chemical Biology
Ray Schireman, Southern Oregon University, Department of Chemistry
Andrew Shaughnessy, Saint Louis University, Department of Chemistry
Julian Sobieski, Kent State University, Department of Chemistry and Biochemistry
Jazmine Stenson, Xavier University of Louisiana, Department of Chemistry
Troy Sterling, University of Louisville, Department of Chemistry
Daniel J. Sweitzer, Lafayette College, Department of Chemistry
Jessica Tami, University of Florida, Department of Chemistry
Annie Tarver, Baylor University, Department of Chemistry and Biochemistry
Kaitlin Tillman, Baylor University, Department of Chemistry and Biochemistry
Alexander Turner, Massachusetts Institute of Technology, Department of Chemistry
Lily Upp, University of Michigan, Department of Chemistry
David Vaccaro, Massachusetts Institute of Technology, Department of Chemistry
Jessica M. Vandevord, Keene State College, Department of Chemistry
Maria Vodovoz, Georgia State University, Department of Chemistry
Aboubacar Wague, Cornell University, Department of Chemistry and Chemical Biology
Elise Waldron, University of Houston, Department of Pharmacy Practice and Translational Research
Gabrielle A. Walsh, Oberlin College, Department of Chemistry and Biochemistry
Adam Weiss, The Ohio State University, Department of Chemistry and Biochemistry
William Kong, Duke University, Department of Chemistry
Peyton Williams, North Carolina State University, Department of Chemistry
Joe Windscheffel, University of Kansas, School of Pharmacy
Adam Zahara, Boston University, Department of Chemistry
Jeffrey Zhou, Swarthmore College, Department of Chemistry and Biochemistry
Olivia Zhou, University of Pennsylvania, Department of Chemistry
2017
Gabriella Aboulelkheir, Texas A&M University
Mohammed Alzamami, Wayne State University
Walker Andrews, Southern Oregon University
Adam Antoszewski, University of Virginia
Arianna Ayonon, San Diego State University
Erin Baker, University of New Hampshire
Nicole L. Bendon, University of Nebraska
Frederick Bentzel, Duquesne University
Christopher Bernard Marsalisi, University of South Florida
Luke Bolin, Lipscomb University
Kyle Brook, University of Illinois
Debbie Burdinski, Duke University
Molly C. O. Carney, Franklin & Marshall College
Mark Campbell, Kent State University
Xiaofu Cao, Boston College
Tyler Casselman, Boston University
Taylor Chavez, Idaho State University
Emily Dahm, Saint Louis University
Hannah Dakin, University of Notre Dame
Peter Guo, University of Houston
Shruti Gupta, Emory University
Barite W. Gutama, St. Olaf College
Jennifer Haines, Clemson University
Luke Harding, University of Michigan-Dearborn
Joel Herman Eisenberg, Western Michigan University
Kylie Heupel, Eastern Kentucky University
Oluwatomilona Ifelayo, Baylor University
Angelo J. Melari, The College of Wooster
Stavros Kariofills, Lafayette College
Igor Koleshichenko, University of Texas-Austin
Ahn Lee, University of New Orleans
Matthew Leong, Washington University in St. Louis
Todd Lewis, University of Arizona
Evan M. Dunkley, Keene State College
Beata Mackenroth, Oklahoma State University
Mackenzie McDaniel, University of South Florida
Annie McLean, Kansas State University
Kyle McMillan, University of Nebraska-Lincoln
Kepler Mears, Oberlin College
Alain Moffett, State University of New York-Fredonia
Austin Mroz, Rose-Hulman University
Tracy O'Toole, Butler University
Kaydren Orcutt, Mercer University
James P. Pierattini, Drexel University
Kelly Powderly, Northwestern University
Elizabeth Prejean, Tulane University
Christopher Reynolds, University of Kansas
Lauren A. Sachs, Dartmouth College
Grant Severson, Arizona State University
Sophia Shi, Washington University in St. Louis
Tomohiro Soejima, Massachusetts Institute of Technology
Jay S. Subramoney, University of Delaware
Brett T. Musialowicz, Fordham University
Sarah Tobin, Bates College
Jane Vecca, Cornell University
Hanfei Wang, Vanderbilt University
Yian Wang, Wake Forest University
Ryan Weegans, University of Louisville
Youyunqi Wu, University of California-Santa Barbara
Julia Paquette Zuercher, College of William & Mary
Share