Council Members
Honorary Officers

Professor Duncan Graham CChem FRSC
Duncan Graham is Research Professor of Chemistry and director of the centre for molecular nanometrology at the University of Strathclyde in Glasgow. He has been awarded numerous awards for his research including the RSCs SAC Silver medal (2004), Corday Morgan prize (2009), a Royal Society Wolfson Research Merit award (2010), the Craver Award from the Coblentz Society (2012) and was elected to the fellowship of the Royal Society of Edinburgh (2008). He completed at PhD in organic chemistry at the University of Edinburgh (1996) and his interests are in developing new diagnostic assays based on nanoparticles and spectroscopy. He has published over 200 papers and graduated over 45 PhD students. He is a cofounder and director of Renishaw Diagnostics Ltd (2007) and has filed 13 patents with license deals on most of his portfolio.
---
Professor David Perrett PhD CChem FRSC
Graduated in chemistry from Exeter University, he is Professor of Bioanalytical Science in Barts School of Medicine, Queen Mary University of London. His research interests are wide but most have involved the application of separation science to human disease and Forensics. He has authored or co-authored some 250 papers, books, etc in the scientific literature including a book on Gout published in 2013. He has supervised 24 PhD plus many M.Sc students.
He has been a member of the Dept of Health (England) Decontamination Research Working Group against vCJD since it inception in 1999 and has chaired various DH sub-committees since then. He is currently funded to investigate residual protein detection on surgical instruments in hospitals and the optimisation of washer disinfectors. He is the inventor of the ProReveal protein detection system.
His outside interest is Industrial Archaeology and he recently finished a term as President of the Newcomen Society: the International Society for the History of Engineering & Technology based in the Science Museum London.

---
Professor John R Dean CChem FRSC
John R. Dean obtained a B.Sc. Hons (Chemistry) from UMIST, an MSc in Analytical Chemistry and Instrumentation from Loughborough University and a PhD, DIC from Imperial College. After that he undertook post-doctoral research at the Food Science Laboratory of MAFF in Norwich, in conjunction with Professor L.C. Ebdon at the University of Plymouth. John was appointed Lecturer (1988), Senior Lecturer (1990), Reader (1994), Principal Lecturer (1998) and Associate Dean (2004) at Northumbria University. He was awarded a personal chair by Northumbria University in August 2004. In 1998 he was awarded a D.Sc. (London) in Analytical and Environmental Science and was the recipient of the 23rd SAC Silver Medal in 1995. He has published extensively in analytical and environmental science.
He is married to Lynne and they have two children, Sam and Naomi. In his leisure time he enjoys canoeing and kayaking and was the first person to hold dual UKCC level 3 coaching awards in kayak and canoe in the UK.
Ordinary Members
Dr Perdita Barran CChem FRSC
Perdita Barran is currently Chair in the School of Chemistry and Director of the Michael Barber Centre for Collaborative Mass Spectrometry at the University of Manchester. She graduated from Manchester University with a degree in Chemistry with Industrial Experience (1994), and from Sussex University with a PhD in Chemical Physics (1998) under the supervision of Professors Tony Stace and Sir Harry Kroto. She worked as a Post-doctoral researcher for Tony Stace for 3 more years, before moving to University of California Santa Barbara to work with Mike Bowers (2001-2002). As an MRC Postdoctoral Fellow at the University of Edinburgh, she helped establish a Centre of Proteomics.
Dr. Barran was awarded an EPSRC Advanced Research Fellowship (March 2003) to study the structure and dynamics of model peptides and proteins in the gas phase. The Barran group have developed IM-MS instrumentation to investigate changes in protein conformation and aim to understand biological systems using mass spectrometry based techniques in conjunction with collaboration with biologists and biomedical research groups. In 2009 in recognition of her achievements Barran was awarded the inaugural Joseph Black award by the RSC Analytical Division.
Her research focus is on understanding the conformations and interactions of dynamic and disordered proteins, as well as pushing mass spectrometry to make measurements on molecular systems that are not amenable to other characterisation methods.
---
Mr Arun Kamath MChem MRSC
Arun graduated in chemistry from the University of Leeds with an MChem (ind) in 2008. During his degree, he undertook a year-long (2006-2007) industrial placement at Fujifilm Imaging Colourants in Blackley, Manchester before retuning to Leeds to complete his degree. After graduation, he spent three months working for a particle charaterisation company(ParticlesCiC, based at the University of Leeds) prior to taking a full time position as an analytical scientist in R&D at AstraZeneca, he has workded with several analytical techniques, developed several methods and supported development of pharmaceutical drug substances and products.
In addition, Arun is an active member of the Analytical Science Network and is Vice-chair for their upcoming Emerging Analytical Professional conference, which helps early career analytical scientists to network and become more involved with the scientific community locally, nationally and internationally
---
Diane Turner is the founder and director of Anthias Consulting Ltd. which offers consultancy and RSC approved training for CPD in gas chromatography, GC-MS and related techniques. A University of Warwick graduate, Diane started her career as an Analytical Chemist at an environmental laboratory and then at Jealott's Hill research centre, later gaining significant experience as an Applications Chemist, including setting up and developing an applications laboratory & demonstration facility for a GC instrument distributor.
Diane has developed methods for, given support and high quality training for companies in most industries around the world for the past 17 years; presented and given short courses at global conferences, meetings and webinars; is an author on scientific papers, white papers, chromatography articles, a degree module and is currently involved with creating a book on GC-MS for Africa with the RSC. Diane is a trustee of the Recycling Organisation for Research Opportunities and in the past was on the steering group committee of Cambridge AWiSE, a ChemNet Ambassador and is still regularly involved in outreach with her local schools in chemistry and space sciences. Diane's area of research is disease diagnosis at The Open University through her PhD studies.
---
Tony Bristow is Associate Principal Scientist in mass spectrometry within Pharmaceutical Development at AstraZeneca in Macclesfield. Tony focuses on the application and development of mass spectrometry at all stages in the development of pharmaceuticals. Tony was awarded a degree in Applied Chemistry by Sheffield Polytechnic in 1992. He then carried out a PhD on MALDI- ion trap mass spectrometry under the supervision of Professor Colin Creaser at Nottingham Trent University. In 1995 Tony moved to Kodak Limited in Harrow, where he worked in both mass spectrometry and separation science. Following a secondment from Kodak to LGC in Teddington, Tony joined LGC in 2002. At LGC he worked on a variety of mass spectrometry based projects, mainly focussed on FT-ICRMS, accurate mass measurement and MS/MS. Tony has published many peer-reviewed articles on his research in mass spectrometry and a number of other analytical techniques (28 peer reviewed journal publications to date). Tony is a regular presenter at both national and international conferences and other events (since 2001 this has included over 50 oral presentations and 20 posters). Tony is an Associate Fellow in the Department of Chemistry at the University of Warwick and is also a member of the Warwick Centre for Analytical Sciences External Advisory Board. Tony has been an active member of the British Mass Spectrometry Society (BMSS) Committee for many years. He currently holds the post of Chair and will take the role of the Immediate Past Chair in autumn 2014.
---

Paul has over 20 years' experience as an analytical scientist, having graduated in 1994 from the University of Birmingham with a Bachelor's Degree in Chemistry.
Paul is the Technical Specialist for the RSSL Taints and Volatile Analysis team, that provides rapid troubleshooting, and complex research projects for blue chip FMCG and SME food businesses. He leads a team with a combined 75 years' experience in food analysis. He specializes in chromatography, and has worked in a number of sectors including defense, pharmaceutical, environmental and agricultural.
Paul is passionate about encouraging young people into science careers. He is also a qualified NVQ assessor working with the RSC on accreditation of training courses and assessment of CSci applications and recently became a STEM ambassador supporting RSSLs science outreach program.
---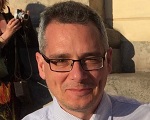 Daren J. Caruana has an interdisciplinary background, having read Biochemistry at the University of Warwick, and then completing a PhD in Electrochemistry under the supervision of Prof. P.N. Bartlett at the University of Southampton in 1994. He then worked on electrochemical DNA hybridization sensors with Prof. Adam Heller at University of Texas at Austin. Following a short Postdoctoral position with Prof. David Williams working on Gas sensors at UCL, he was appointed Lecturer at the Department of Chemistry at UCL where he is now a Reader in Physical Chemistry.
He has diverse research interests such as free standing soap films, electron transfer through protein films, electrochemical mechanisms in astrochemical synthesis, understanding Haemoglobin polymerisation in sickle cell disease and the detection of bioaerosols. Daren's main area of research is exploring the properties of conducting gases such as plasmas from an electrochemical perspective.
He is the programme director of an MSc course in Applied Analytical Chemistry at UCL. The central ethos of the programme is to encourage independence and self-reliance with an aim to build students' confidence in measurement science. We use immersive learning techniques where students are required to build a device to address a specific analytical question.
---

Apryll Stalcup graduated in Chemistry from Georgetown University, she is Professor of Chemical Sciences at Dublin City University and Director of the Irish Separation Science Cluster. During her studies at Georgetown University, she was a Co-op Fellow at the National Institute of Standards and Technology in Gaithersburg, Maryland. She is a member of the University of Cincinnati Graduate Fellows and a Charter member of the University of Cincinnati Chapter's National Academy of Inventors. Her research interests involve understanding chromatographic and electrophoretic separation mechanisms, exploring new separation methods, characterizing surface confined ionic liquid-based stationary phases, characterizing complex carbohydrates, laser processing of microfluidic devices and nuclear forensics. Her work has resulted in over 100 publications. She currently serves on the Editorial Board of Trends in Analytical Chemistry and Journal of Liquid Chromatography and Related Techniques and is the Co-Chair (with Prof. Jeremy Glennon, University College Cork) of the 31st International Symposium on Chromatography in 2016. She is a Fellow of the Institute of Chemistry of Ireland and the Royal Society of Chemistry (application pending), member of the American Chemical Society, the American Association for the Advancement of Science and Sigma Xi.
---

Jacquin currently looks after the Analytical and Information Services teams based in Felling, Gateshead, for the Performance Coatings business area inside AkzoNobel. Typically, the coatings have to combine demanding technical performance (e.g. protect against seawater in all weathers) with fabulous appearance (e.g. mirror-like gloss surface for a super yacht). This leads to a range of analytical challenges, working with products from first concept through formulation development to in service.
Before moving into analysis, Jacquin worked in research and development of materials and coatings, starting in ICI and ending up in Huntsman. This included work in Japan and Belgium, as well as the UK. (And has left a continuing interest in all things Japanese (except karaoke), together with a small collection of Belgian beer glasses.)
Jacquin has previously been a member of the Industry and Technology Division Council, serving as President from 2011 to 2014. She describes this experience as alternately intimidating, empowering and rewarding, but above all enjoyable. She is currently Chair of the North East Region Analytical Division, and also a member of the Management Interest Group Committee.
Her favourite quote is "There is no synthesis without analysis".
---
Zoe studied Forensic Science (BSc) at Nottingham Trent University before moving on to complete an MSc in Analytical Science at the University of Warwick. She completed her PhD in the development novel diamond-based electrochemical sensors for analytical applications in 2017. Zoe went on to complete a 12-month Research Fellow position at the University of Warwick, funded by the prestigious Royal Society innovation award, before becoming a Research Scientist at Hach Company.
Zoe has received several awards for her research, including the Sensors for Water Interest Group Early Career Researcher Prize 2014 and the RSC Ronald Belcher Award 2016. Zoe is also regularly involved in promoting science and is a STEM ambassador. Notable outreach activities include project managing a week long exhibit at the Royal Society Summer Science Exhibition, hosting the Schools' Analyst Competition heats at Warwick and taking part in the RSC Chemistry at Work at the ThinkTank in Birmingham. Zoe is also a member of several other Committees including the Analytical Methods Committee and the Analytical Science Network and works closely with the Community for Analytical Measurement Science (CAMS).
---

Dr John Langley CChem FRSC
John is a Principal Research Fellow at Chemistry, Faculty of Natural & Environmental Sciences, University of Southampton where he is Head of Characterisation and Analytics. He has 30 years' experience of MS and chromatography-MS, and has been responsible for the MS Facility in Chemistry at the University of Southampton since 1988. His research interests are the application of mass spectrometry as a routine tool for chemistry/chemical biology/oilfield chemistry probing new areas for research using MS and separation science-MS and developing open access and multiuser approaches to chromatography-MS. Specific interests are the application of hyphenated approaches (GC-MS, HPLC-MS & SFC-MS) to analysis of petrochemicals, including biofuels, research into analysis and detection of oligonucleotides and understanding fundamental MS/MS fragmentation processes and mechanism, the latter including the use of computational methods.
John is a Chartered Chemist, Chartered Scientist and a Fellow of the Royal Society of Chemistry (RSC) and a IUPAC Fellow; he is Chair of the RSC Separation Science Group and Secretary of the International MS Foundation; member of the Editorial Board of Rapid Communications in Mass Spectrometry; formerly Chair of the British MS Society (2008-2010), Vice-Chair (2006-08) and a member of the BMSS advisory Board (2012-2017). He was the European representative of the IUPAC working group for Standard Definitions of Terms Relating to MS and is a member of the EPSRC Peer Review College.
Co-opted Members
Dr Steve Ellison CChem FRSC
Chair, Analytical Methods Committee (co-opted)