Analytical Research Forum 2013
8 – 10 July 2013
University of Hertfordshire & GlaxoSmithKline, UK
The annual Analytical Research Forum (ARF) is primarily for early-stage analytical chemistry researchers (industrial scientists, PhD students and postdoctoral fellows) and provides an opportunity for scientists to present their latest results in the context of the wider analytical chemistry community.
The programme normally features both poster sessions and lectures, including oral presentations from early career researchers and international leaders in the field. Generously supported by the Analytical Chemistry Trust Fund (ACTF) of the Analytical Division, the Forum is traditionally able to offer a number of discretionary travel bursaries to students.
The 2013 ARF was held jointly at GSK (Stevenage) and the University of Hertfordshire and featured a number of Analytical Division Award winners as headline speakers.
Dr Mike Sargent from LGC Ltd, UK and Professor Mike Ramsey from the University of Sussex gave the 2010 and 2012 L S Theobald Lectures, respectively.
These lectureships are awarded by the Analytical Methods Committee of the Analytical Division for significant contributions to analytical chemistry relevant to the work of the Committee. They are awarded in memory of Leslie Stuart Theobald (1898-1979), who was a member of the academic staff of Imperial College, London from 1925 to 1963 and are funded through the Analytical Methods Trust.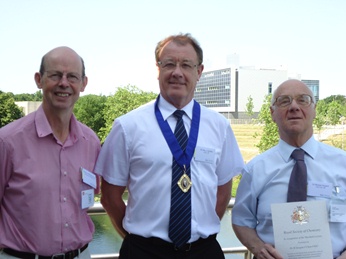 Mike Ramsey, Alan Handley and Mike Sargent
Dr Jonathan Moffat, from the School of Pharmacy, University of East Anglia, was the recipient of the G F Phillips Award which was presented by the Joint Pharmaceutical Analysis Group (JPAG). In his talk Dr Moffat discussed photothermal infrared microspectroscopy - a novel method for the analysis of single particles of pharmaceutical materials.
Dave Elder representing JPAG and Geoffrey Philips awardee Jonathan Moffat
The Ronald Belcher Award is annually presented by the RSC Analytical Division to a postgraduate from a British or Irish University and is funded by the Analytical Chemistry Trust Fund (ACTF). This year's awardee was Mr Dale Brownson from Manchester Metropolitan University.
Alan Handley, Dale Brownson, Jonathan Moffat and Dave Elder
Further awarding of certificates was made by Becky Brodie, Deputy Editor of the RSC's Analyst, to participants for their excellent presentations during the conference.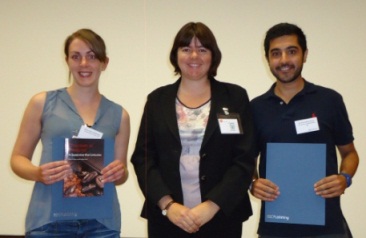 Helen Robinson, University of York, and Arrandeep Basra, University of Nottingham with Analyst Deputy Editor Becky Brodie
View the keynote lectures and invited speakers from the Analytical Research Forum 2013.
Analytical Chemistry Trust Fund

The ACTF supports strategic Analytical Division activities. Trustees are elected members of the Analytical Division Council.
Downloadable Files
ARF 2013 Programme
Download the full programme for ARF 2013


PDF (99k)
PDF files require

Adobe Acrobat Reader