Analytical Division Strategy - Community: International Profile
Dr Steve Lancaster leads this part of the Analytical Division Strategy.
'It is impossible to imagine modern life without analytical chemistry. One of the Analytical Division's strategic priorities is to strengthen the analytical chemistry community, not just in the UK but worldwide. We are tackling this by enhancing our international links and have made some really tangible progress during the year'.
Other members of the group working on developing the Division's international activities include Professor Duncan Graham and Professor Jane Thomas-Oates.

Ghana, Kenya, India and the USA are important areas of activity.
Ghana
In March 2015 Steve Lancaster, in collaboration with Professor Anthony Gachanja from Jomo Kenyatta University of Agriculture & Technology in Kenya, helped deliver a very successful GC-MS workshop to over 20 delegates from Ghana and Nigeria. This activity was run in collaboration with the Pan Africa Chemistry Network (PACN) and Foundation for Analytical Science & Technology in Africa (FASTA). In the picture below are some of the participants at the workshop.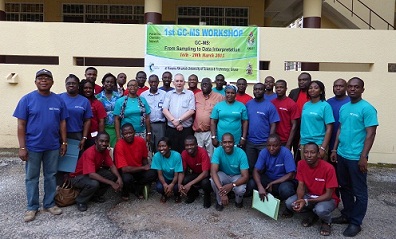 Kenya
Steve and Professor Anthony Gachanja ran a 5 day international workshop on mass spectrometry at Jomo Kenyatta University of Agriculture & Technology (JKUAT) in August 2014, run in collaboration with the Pan African Chemistry Network (PACN).
Professor Mable Imbuga, Vice Chancellor (left), Dr Steve Lancaster (centre) and Professor Anthony Gachanja
The workshop was supported by the Chemistry Department at JKUAT, the Organization for the Prohibition of Chemical Weapons (OPCW), the Royal Society of Chemistry (UK) and the Pan Africa Chemistry Network. It brought together over 20 participants drawn from the African continent.
During the 2014 edition of the workshop that has been run annually for the last six years, participants gained hands-on experience of running and maintaining instruments and developed skills in analysis and interpretation of mass spectra. The workshop has reached over 150 people from all over Africa in the 6 years it has been running.
Whilst in Nairobi Steve and Anthony discussed possible future collaboration with members of the Kenyan Chemical Society with a view to facilitating support for the analytical chemistry community in the region. The discussions were very productive and the prospect of a Royal Society of Chemistry Analytical Division Region in Kenya was met with enthusiasm. The team is looking forward to working with African colleagues to progress this.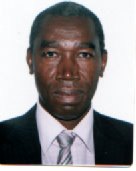 Professor Anthony Gachanja recently joined the Editorial Advisory Board of the Analytical Methods journal to further strengthen links between the Royal Society of Chemistry and the Kenyan Analytical Chemistry community
Find contact details and more information about the Analytical Methods Editorial Team
Related Links

From Hull to Kenya, with love
A tale of beer, friendship and analytical chemistry

Kenyan Chemical Society
Promoting Chemical Science for Transformation of Society
External links will open in a new browser window
India
Alan Handley (Analytical Division Past-President) and Duncan Graham participated in an Analytical Chemistry Symposium and round table Workshop in November 2014 as part of the RSC India Roadshow. This took place in three locations (Delhi, Hyderabad and Chennai) and featured a mix of scientific talks and more policy-focussed discussions aiming at sharing experience between the Indian and UK analytical chemistry communities. A summary of the workshop discussions is given here:
Analytical Division Strategy - Analytical Workshops India

Analytical Workshops - Delhi, Hyderabad, Chennai, November 2014
USA
The Analytical Division continues to support two annual half-day symposia at the SCIX (the Great Scientific Exchange) meeting in the US each year in collaboration with RSC publishing and the ACS. SCIX is organized by the Federation of Analytical Chemistry and Spectroscopy Societies (FACSS) and the 2014 meeting took place in Reno-Tahoe (28 Sep – 3 Oct).

Additionally, the AD supports a half day symposia at Pittcon each year featuring an RSC analytical award winner. Pittcon 2015 will take place in New Orleans on 8-12 March and our symposium will feature a talk by the winner of the 2014 Robert Boyle Prize for Analytical Science, Eric Bakker from the University of Geneva. Five speakers will participate in the symposium:
Eric Bakker, University of Geneva, Switzerland
Mark Meyerhoff, University of Michigan, USA
Richard Crooks, University of Texas, USA
Ludovic Jullien, ENS Paris, France
Justin Gooding, UNSW, Sydney, Australia
Robert Boyle Prize for Analytical Science 2014 Winner

Professor Eric Bakker, University of Geneva
Related Links
External links will open in a new browser window
Contact and Further Information
Dr Steve Lancaster CChem FRSC

---