John Dalton by the artist James Lonsdale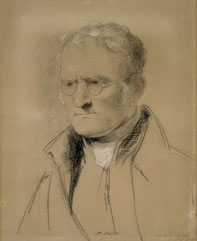 This photograph is a reproduction of a charcoal drawing of John Dalton drawn from life by the artist James Lonsdale on August 2nd 1825. The original hangs in the office of the Director of Planning and Academic Services, University of Manchester.
James Lonsdale
Born Lancaster 16 May 1777. Encouraged by an architect named Threlfall, and the Duke of Hamilton, then Lord Archibald who invited him to Ashton Hall. Studied under Romney in London, and was one of his favourite pupils, accompanying Romney abroad as both companion and pupil. Entered RA Schools 23 October 1801. Exhibited at RA (137), BI (7), SBA (88), LA 1802-38 from London. Married a lady from Lancaster by the name of Thornton, who resided at Southgate. Established a highly successful practice and on the death of Opie was rich enough to purchase his studio in Berners Street, where he resided the rest of his life. Among his sitters were the Duke of Norfolk, HIH the Grand Duke Nicholas, HRH the Duke of Hamilton and the Marquess of Downshire. Appointed portrait painter to Queen Caroline. Died London 17 January 1839. He had three sons, one a portrait painter, one a barrister and the other a surgeon. Said to have been highly esteemed and extremely witty.