Organic Division Activities in India
J-NOST 15 - Applications Now Open!
The RSC Organic Division (RSC-OD) is currently accepting applications from UK based PhD students to attend and give a talk at the 15th National Organic Symposium Trust Conference for Research Scholars (J-NOST-XV) which will take place at University of Delhi, Delhi, India from 18 -21 October 2019. This is part of the collaboration between the RSC Organic Division and the National Organic Symposium Trust (NOST) that began in 2007.

To apply, please complete the online application form (link below) by the closing date of 14:00 BST 24th July 2019. The form includes a space for a supervisor reference and a talk abstract. Once your application is received, you can expect to receive a decision within one month.

Short Research Stay: The Director of CSIR-IICT has kindly agreed to host students at CSIR-IICT in Hyderabad for around 2 weeks. Postgrads might participate in a short project, get involved in some communications activity, and certainly would network with local researchers, discussing their own and the host institution's research. The Indian hosts will support local hospitality, accommodation and meals for the duration of stay in India. If you are interested in this possibility, please indicate this in Question 9 of the online form.

The J-NOST selection committee includes Professor Ray Jones (Loughborough University), Dr Ross Denton (University of Nottingham), Dr Joelle Prunet (University of Glasgow) and Dr Rosie Croft (Syngenta).

For more background information about J-NOST and NOST, please see the rest of this page.
Related Links

J-NOST 15 Online Application Form
Deadline 14:00 BST Wednesday 24th July 2019
External links will open in a new browser window
National Organic Symposium Trust (NOST)
In view of the rapid growth in the organic chemical sector in India, the Organic Division launched an initiative in 2007 to foster interactions between organic chemists from the UK and India. Originally this was developed as an opportunity for eminent organic chemists in academia and industry to participate in the Organic Chemistry Conference of the National Organic Symposium Trust (NOST). This annual meeting in India is by invitation only and the venue is selected in such a way that delegates stay under one roof to maximise personal and professional interactions.
November 2007 saw a second phase of the collaboration between the RSC Organic Division and colleagues in the Indian organic chemistry community, when the NOST welcomed a party of 8 UK-based postgraduate students to their J-NOST meeting (a 'Junior' version of the NOST Conference exclusively for young research scholars). J-NOST meetings, comprised primarily of PhD students, provide a fantastic opportunity for young researchers to network and share work with chemists from a diverse range of scientific backgrounds within the Indian chemical community.
NOST 15
10-12 October 2012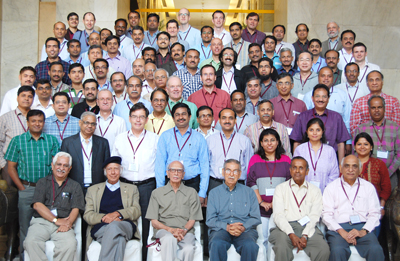 This October, a group of 5 UK academics, Ross Denton (Nottingham), Matthew Fuchter (Imperial College London), Ray Jones (Loughborough), Bruno Linclau (Southampton) and Andrew Smith (St Andrews), attended NOST-15 in Agra.
The symposium featured speakers from Europe, Asia and North America, ranging in experience from graduate students, to early career researches to senior professors. Throughout the scientific meeting a diverse range of presentations focusing predominantly upon catalysis, synthesis and molecular structure were delivered, with major themes including the "Green" chemistry, organocatalysis and methodological based approaches to total synthesis. The conference programme was full and varied; and provided an ideal environment for follow-on discussion and networking.
The meeting raises the profile of UK Chemistry and allows important new links to be made with rapidly expanding Indian research groups as well as others around the world.
NOST-14
5-8 December 2010
In December 2010, a group of four organic chemists, Professor Jim Thomas (University of Manchester); Professor Darren Dixon (University of Oxford); Professor Steve Clark (University of Glasgow); Professor Ray Jones (Loughborough University), travelled to NOST-14 symposium in Goa.
Professors Jim Thomas, Darren Dixon and Stephen Clark were selected to give presentations amongst the outstanding line up of international speakers. Professor Ray Jones (Organic Division Council representative) chaired a session. The meeting proved to be a great success, not only in terms of the wide and varied interactions that took place at the meeting.
Some quotes from delegates:
"The standard of the presentations was very high and covered a broad range of topics. The 30 minute lecture format worked well and within the four day period as the number of attendees was limited, it was possible to talk informally to most of the participants. Finally, the venue was excellent and the hospitality first class. I think the Indian Organic Chemists who initiated NOST were very shrewd.....the reputation of the NOST will rise and it will become one of the premier and most sought after meetings on Organic Chemistry. I hope the RSC can maintain its association with this meeting and keep sending a representative delegation."
"I have been to many meetings this year including the massive ACS and EuChemS meetings and this for me was by far the best owing to its size, the quality of the science, the ability to network and the location/venue.....I returned to the UK with many new contacts and ideas stimulated by the event. Creating new links between developing countries like India and UK - for the future success of UK science - should not be underestimated and from this point of view the NOST experience was excellent and I would strongly recommend it to any potential participant from the UK in the future."
J-NOST 11
14-17 December 2015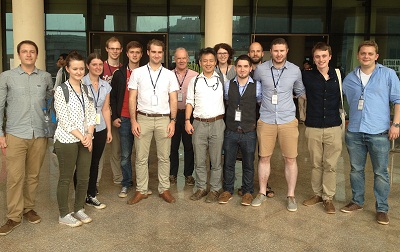 Eight UK based PhD students were selected to present their research at the J-NOST-11 conference that that took place at National Institute of Science Education & Research (NISER), Bhubaneswar from 14-17 December 2015. The scientific programme included short talks from early career researchers based in Germany, the UK and India, and a poster session of 100 posters. The conference provided an opportunity to meet and exchange ideas.
J-NOST 8
15-17 October 2012
The 8th J-NOST conference was held for 3 days at the Indian Institute of Technology (IIT) in Guwahati, Assam, India from 15-17 December 2012. The meeting provided PhD students with the unique opportunity to present their work to younger researchers but also academics from India, UK and Germany in a relaxed environment. The RSC Organic Division supported 7 UK based students to attend this year: Marie Betou (Birmingham), James Burnley (Nottingham), Chris Collett (St Andrews), James Firth (York), Nadia Fleary-Roberts (Manchester), Catherine Fletcher (Bristol), Mubina Mohamed (Southampton).
Feedback from the meeting was excellent, as well as giving students the opportunity to discuss their research with peers on an international platform, it also provided an insight into the vast amount of chemistry research that is carried out at various institutions around India.
J-NOST 7
December 15-18, 2011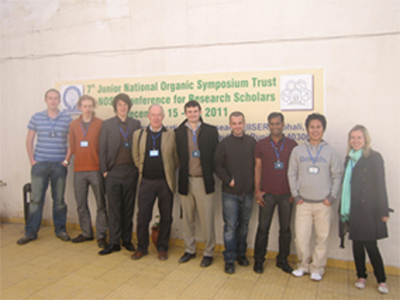 J-NOST-7 took place at IISER Mohali located in Punjab, northern India. The meeting was attended by 8 UK-based postgraduates, thanks to generous support from the Organic Division. The UK delegation was welcomed and hosted by NOST and IISER; and included: Eswarao Doni (supervised by Professor John Murphy, University of Strathclyde); James Douglas (supervised by Dr Andy Smith, University of St Andrews); James Kirkham (supervised by Professor Joe Harrity, University of Sheffield); Jennifer Peed (supervised by Dr Steven Bull, University of Bath); Christopher Nawrat (supervised by Professor Chris Moody, University of Nottingham); Matthew Pennell (supervised by Dr Tom Sheppard, UCL); Christian Spiteri (supervised by Dr John Moses, University of Nottingham); Hazmi Tajuddin (supervised by Dr Patrick Steel and Professor Todd Marder, Durham University).
J-NOST 6
January 28-31, 2011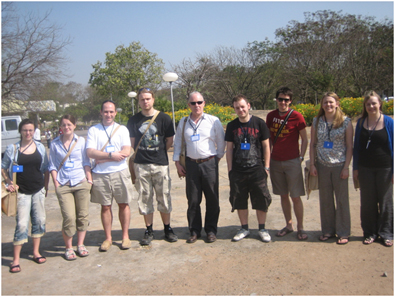 In 2011 the Organic Division supported 8 UK post-graduates to participate in the J-NOST-6 meeting, that was held at the University of Hyderabad, January 28-31, 2011. The students were Samantha Brogan (supervised by Dr Hon Wai Lam, University of Edinburgh); Liam Byrne (supervised by Professor Steve Marsden, Leeds University); Peter Harrisson (supervised by Dr Patrick Steel and Professor Todd Marder, Durham University); Jennie Hickin (supervised by Professor Keith Jones, ICR London); Phillip Inglesby (supervised by Professor Andrew Evans, University of Liverpool); Fiona Kirby (supervised by Dr Patrick O'Leary, NUI Galway); Ondrej Kysilka (supervised by Professor Pavel Kocovsky, University of Glasgow ); Ruth Webster (supervised by Professor Robin Bedford University of Bristol).
Contact and Further Information
Science
Royal Society of Chemistry, Thomas Graham House, Science Park, Milton Road, Cambridge CB4 0WF
Tel: 01223 420066

---