Council Member Biographies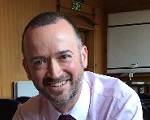 Professor Stuart J Conway CChem FRSC
Stuart Conway is a Professor of Organic Chemistry at the University of Oxford, and the E. P. Abraham Cephalosporin Fellow in Organic Chemistry at St Hugh's College, Oxford. He studied Chemistry with Medicinal Chemistry at the University of Warwick before undertaking PhD studies with Professor David Jane and Professor Jeff Watkins FRS in the Department of Pharmacology at the University of Bristol. Stuart completed post-doctoral studies with Professor Andrew Holmes FRS at the University of Cambridge working on the synthesis of inositol polyphosphates. In 2003, he was appointed as a Lecturer in Bioorganic Chemistry at the University of St Andrews, in 2008 was appointed as an Associate Professor at Oxford, and in October 2014 he was promoted to Full Professor. Between March and August 2013 Stuart was a Visiting Associate at the California Institute of Technology, hosted by Professor Bob Grubbs and Professor Dianne Newman. Since 2016 he has been an Associate Editor for the Journal of Medicinal Chemistry and is on the Editorial Advisory Board for Organic Chemistry Frontiers. Stuart is the President Elect of the RSC Organic Division. His research focuses on the development of molecular tools to enable the study of biological systems. This work has been recognised by the award of the 2012 Prize for a Young Medicinal Chemist in Academia by the European Federation for Medicinal Chemistry, and the 2016 Lectureship of the Biological and Medicinal Chemistry Section of the RSC.
---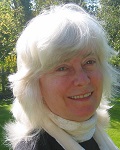 Professor Chris Willis FRSC
Chris is a Professor of Organic Chemistry at the University of Bristol and was appointed Head of Organic and Biological Chemistry in 2013. Much of her research is collaborative, focussing on the use of both organic synthesis and synthetic biology to deliver novel compounds, including antibiotics. She has >150 publications. She was awarded the RSC 2008 Flintoff Medal and was a member of the Polyketides Team awarded the 2013 Rita and John Cornforth Award.
Alongside research, Chris is fully committed to undergraduate and postgraduate education and sharing good practice. She has co-authored an undergraduate textbook and served as External Examiner for degree programmes at nine universities as well as participated in Departmental Reviews both within the UK and overseas.
She has been a member of several RSC Committees and is the current Chairman of the Heterocyclic and Synthesis Group and a member of the UK International Isotope Society Committee.
---

Professor Timothy Donohoe
Tim Donohoe is Professor of Chemistry at the University of Oxford. Between 2006-2011 he was Head of Organic Chemistry at Oxford. Tim's research interests lie in the field of asymmetric synthesis, catalysis and the application this methodology to natural product synthesis.
Tim has published over 170 papers and his research has been recognized with the GlaxoWellcome Award for Innovative Chemistry (1996), the Pfizer Academic Award (2000), the Novartis Young Investigator Award (2001), the AstraZeneca Award for Organic Chemistry (2002), the Royal Society of Chemistry Corday-Morgan Medal (2006), the RSC Synthetic Organic Chemistry Award (2011), the SCI process chemistry award (2012) and the RSC Charles Rees Award (2014).

---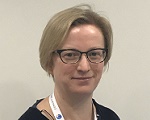 Matilda Bingham is a medicinal chemist with over 15 years' experience of working in the pharmaceutical R&D sector in 'large pharma' (Organon, Schering-Plough, Merck MSD), Biotech (Redx Pharma) and currently with a CRO (Concept Life Sciences). Matilda's early career was spent working in CNS therapeutic areas where her research focussed on design strategies for getting small molecule therapeutics across the blood brain barrier. More recently as Head of Research and Operations at Redx Pharma she was involved in the discovery and development of oncology and fibrosis clinical and pre-clinical candidates, including the porcupine inhibitor RXC004 and BTK inhibitor LOXO-305. She is currently VP Medicinal Chemistry & Site Director at Concept Life Sciences overseeing multiple medicinal chemistry programmes in Hit-to-Lead and Lead Optimisation. Throughout her research Matilda has been an advocate for organic synthesis and its lynchpin role in the success of drug discovery programmes.
Matilda is a member of the SCI fine chemicals group and has authored over 40 papers, patents and publications including the RSC book "Drug Discovery for Psychiatric Disorders".

---
Will is originally from Coppull, near Chorley in Lancashire (UK). He studied chemistry at the University of Oxford and did his Ph.D. studies in the group of Prof. Jeremy Robertson. He completed his Ph.D. in 2010 and then began work at the University of York, first as a postdoctoral research associate in the group of Prof. Richard Taylor, before being appointed to a Research and Teaching Fellowship in 2013. In 2015 Will was awarded a Leverhulme Trust Early Career Fellowship to develop new procedures to synthesise functionalised macrocycles and is now the holder of the inaugural Eleanor Dodson Fellowship at the University of York. His current research interests include ring expansion approaches for the synthesis of medium-sized rings and macrocycles, the construction of diverse spirocyclic scaffolds and catalyst selective synthesis. Will won the 2018 RSC Hickinbottom Award for his work on spirocycles and macrocycles. Will now lives in York with his wife Hayley and two children Billy (8) and Catherine (4).
---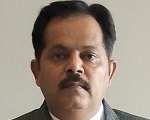 Professor Hitendra M. Patel MRSC
Dr. Hitendrakumar M. Patel is a Professor of Chemistry at the Department of Chemistry of the Sardar Patel University, V. V. Nagar 388 120, Gujarat, India. He acts as Review Editor in Organic Chemistry section, Frontiers in Chemistry Journal and Editorial board member of Frontiers in Chemistry and in Arkivoc journal. He was an Elected Member of the Organic Division Council, The Royal Society of Chemistry, London. He has 22 and 15 years of rich experience in Teaching and Research respectively. I have membership in many national and international professional organizations like RSC, ACS, ICS, ISCB etc. His research group focuses on Organic Chemistry for the Development of Bioactive Heterocyclic Scaffolds via Multi-component reactions, utilizing a Sustainable Chemistry approach and results have been published in more than 30 research papers in reputed journals related to Organic Chemistry. He has been granted two projects to a tune of rupees 51.81 lakh from National agencies like DST-SERB and UGC, New Delhi. He was selected as a Brand ambassador of Bentham Science Publisher for the Year of 2018-2019. He received International Travel Support from DST-SERB, New Delhi to attend RSC sponsored International Symposium on Green Chemistry ISGC-2019 at La Rochelle, France. He had given many invited talks at the National and International level in Conferences and Universities. He has received the Outstanding Contribution Award for reviewing Journal from Elsevier, and also received Distinguished Faculty in Science Award-2017 by Venus International Foundation, Chennai, India. He also worked as an Expert reviewer in many high repute Journals with more than 90 reviewed papers and received Top 1% Peer Reviewer Award 2018-2019 in Chemistry from Publons.
---
I studied chemistry at the University of Oxford and was inspired to specialise in organic chemistry by Dr John Brown, my college tutor, and by Dr Lionel King my project supervisor in the Professor Jack Baldwin's group. My D.Phil CASE placement at ICI Agrochemicals first gave me a taste of how synthetic organic chemistry could be used to provide solutions for society.
Upon receiving my D.Phil, I immediately joined Glaxo Group Research in 1991 as a synthetic chemist in Process Research where I worked on the scale up of the neuraminidase inhibitor, Zanamivir. In 1993 I joined the medicinal chemistry department and have had increased levels of science and line management including leading national and multinational projects in different therapy areas. I was the leader of the team that identified the p38 inhibitor Losmapimod which is currently in phase 3 trials. Currently, I am the leader of a medicinal chemistry group in Stevenage that is responsible for identification of clinical candidates for some of the high priority GSK projects; acting as a conduit for the identification of new technologies into other medicinal chemistry departments and the recruitment training of new graduate and post-doctoral employees. A major part of my role is to work at the interface of academia and industry, either through collaborations or as an experienced direct supervisor of students in the GSK/University of Strathclyde PhD scheme and therefore have experience of the different cultures in the chemistry community. Although, I have remained with GSK and its predecessor companies, my entire career I have worked closely with 'biotechs' to deliver programmes in a collaborative manner as well as managing science through Contract Research Organisations.
---
Dr Paul Davies MChem MRSC
Paul Davies is a Senior Lecturer in Synthesis and Catalysis at the University of Birmingham. Following undergraduate studies at the University of Sheffield, including an integrated year at SmithKline Beecham, he completed his PhD at the University of Bristol in 2003 under the supervision of Professor Varinder Aggarwal (FRS), sponsored by AstraZeneca. Paul then moved to the Max Planck-Institut für Kohlenforschung (Mülheim, Germany) working with Professor Alois Fürstner. In 2006, Paul was appointed Lecturer in Organic Chemistry at the University of Birmingham and his research focuses on the discovery, study and application of catalysis-based methods. His group looks at developing new reactivity concepts for more efficient synthesis through complexity-increasing processes. He is currently Chair of the Young Chemists Panel in the Society of the Chemical Industry.
---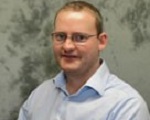 Andrew is a Reader in Chemical Biology at the University of Glasgow. He obtained his BSc(Hons) and PhD degrees in Chemistry from the University of Glasgow. He then took up a post-doctoral fellowship at the University of Montreal working with Prof. William Lubell. In 2008 Andrew joined the lab of Prof. Andrew Hamilton FRS at Yale University and then the University of Oxford. He then joined the faculty at the University of Leicester in 2010. In 2016 Andrew moved to the University of Glasgow as a Senior lecturer and was promoted to Reader in 2019. He leads a research group focused on small molecules, peptides and peptidomimetics that can be used to probe the biological mechanisms underpinning disease.
---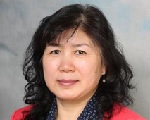 Beining Chen (BC) is a Professor of Medicinal Chemistry in the Departmentof Chemistry at the University of Sheffield. Since 2003, she has led prion chemical biology research at Sheffield, working on developing small molecule tools to understand the role of prion protein (PrPC) in stem cell biology (Stemistry) and in neurodegenerative diseases (Alzheimer's disease and vCJD) and in cancer. She has been devoting herself to establish an integrated platform for early lead discovery involving computer-aided drug design, and modern synthetic techniques in conjunction with biological screening assay.
Beining obtained a BSc in 1984 and an MSc in 1987 from China Pharmaceutical University. She obtained a PhD in 1991 under the supervision of Professor Gordon Kirby at the University of Glasgow. She worked as a Research Fellow under Professor Sir Jack Baldwin.at the Dyson-Perrins Laboratory in the University of Oxford (1993-1995). In 1996, she moved to Cranfield University where she started her independent academic career as a lecturer. She moved to Sheffield in 2003 and was promoted to a professor in 2014.
---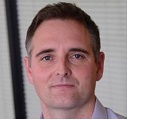 Ashley is a Medicinal Chemistry Department Head at Evotec (UK) Ltd., having held this position since joining the company in 2017.
In addition to Ashley's line management responsibilities, he provides scientific leadership and oversight for Evotec's contribution to integrated drug discovery projects and nurtures collaborative relationships with both academic and industrial partners.
Ashley is a synthetic organic chemist by training and has further developed his career in industrial chemistry and drug discovery, with over 20 years' experience; his speciality area is medicinal chemistry where he has led projects teams that have contributed to the nomination of several ("small molecule") pre-clinical drug candidates, across different disease areas.
Ashley's experience covers both academic and private sectors within the UK and New Zealand; including Domainex Ltd., The Wolfson Institute for Biomedical Research, Industrial Research Ltd. and Oxford Asymmetry International.
Ashley earned a PhD in Synthetic Organic Chemistry and a BSc Chemistry (first class) from the University of Bristol.
---
Staff Secretary (non-voting)