2018 Applied Catalysis Award Winner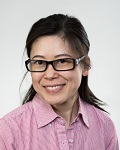 Professor Ying Zheng
The University of Edinburgh
Awarded for the development and application of recyclable, heterogeneous nanocatalysts.
Biography
Professor Ying Zheng is the Chair of Chemical Reaction Engineering at the University of Edinburgh. She received her PhD degree from the University of Western Ontario and started her academic career at the University of New Brunswick. She held the Canada Research Chair in Chemical Processes and Catalysis at the University of New Brunswick before relocated to Edinburgh. She has contributed extensively to the fundamental understanding of dispersed recyclable catalysts and transition sulfided catalyst as well as catalytic applications of the catalysts to various chemical processes for fuel refinery and waste-to-energy/value-added products.
Her research activities in the field of heterogeneous catalysis and catalytic processes are documented in 10 patents and 140 original publications. The new technologies have resulted in improved efficiency, reduced carbon footprints and acid rain. She has received many awards, including the 2010 Syncrude Canada Innovation Award from the Canadian Society for Chemical Engineering.