Bourke Award 2015 Winner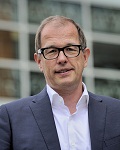 Professor Lyndon Emsley
Ecole Polytéchnique Fédérale de Lausanne & Ecole Normale Supérieure de Lyon
Awarded for the development of experimental methods that have transformed the field of solid-state NMR and enabled new applications across chemistry
About the Winner
After graduating from the Imperial College of Science and Technology in London in 1986, Lyndon Emsley completed a PhD at the Université de Lausanne in 1991 doing NMR spectroscopy of solutions with Geoffrey Bodenhausen. He then moved to the University of California Berkeley as a Fellow of the Miller Institute for basic Research in Science, working with Alex Pines, where he was introduced to solid-state NMR.
In 1993 he moved the French National Laboratory for Atomic Energy Research in Grenoble, and in 1994 he was appointed to a Professorship at the Ecole normale supérieure in Lyon. He became a member of the Institut Universitaire de France in 2002, and was made a Senior Member in 2012. In 2003 he was made the project leader for the creation of a European Laboratory for Very High Field NMR, which was completed in 2008, with the delivery of the world's highest field high-resolution NMR spectrometer, operating at 1 GHz. He became a Professor of Physical Chemistry at the EPFL in June 2014. He is a Fellow of the International Society of Magnetic Resonance, and a Member of the Academia Europaea.

His research centres on the development of new NMR spectroscopy experiments to determine the atomic-level structure and dynamics of complex materials and molecular systems, to solve a range of problems across disciplines.
Related Links
External links will open in a new browser window