Robert Boyle Prize for Analytical Science 2008 Winner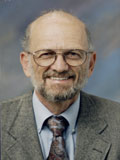 R. Graham Cooks FRSC
Purdue University, USA
Distinguished for his exceptional body of work over the past 30 years covering various areas of analytical chemistry and, in particular, for his researches on gas phase ion kinetics and mass spectrometry.
Most recently he has developed desorption electrospray ionisation (DESI-MS) which promises to revolutionise many types of bioanalysis.
Professor Cooks delivered hs lecture in association with this award at the Analytical Division Awards Symposium on 18 May 2009.
About the Winner
Graham Cooks was born in South Africa and received a Ph. D. at the University of Natal, Pietermaritzburg and also from Cambridge University, UK. He is a Distinguished Professor of Chemistry at Purdue University.
His interests involve construction of mass spectrometers and their use in fundamental studies and applications.
Early in his career, he worked on energy partitioning during metastable ion fragmentation and contributed to the concept and implementation of tandem mass spectrometry and to desorption ionization, especially matrix-based methods. These interests led to the construction of miniature ion trap mass spectrometers and their application to problems of trace chemical detection. His work on ionization methods has led to the ambient method of desorption electrospray ionization. Applications of this method in tissue imaging, forensics and in pharmaceutical applications are in progress.
His interests in the fundamentals of ion chemistry include chirality effects and the possible role of the amino acid serine in the biochemical origins of life.
Graham Cooks is a past President of the American Society for Mass Spectrometry and is on the boards of a number of scientific journals. He has worked with over a hundred Ph. D. students.
Related Links

R. Graham Cooks' homepage
Aston Labs at Purdue University
External links will open in a new browser window