Chemical Dynamics Award 2015 Winner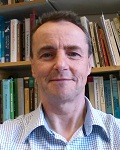 Professor Kenneth McKendrick
Heriot-Watt University
Awarded for the development of novel methods to study elementary reactions and collisional energy transfer in the gas phase and at the gas-liquid interface
About the Winner
I was brought up and educated in Irvine, Ayrshire. I did a BSc Hons degree in Chemistry at the University of Edinburgh, followed by a DPhil in Physical Chemistry at the University of Oxford under Gus Hancock's excellent supervision. I won an SERC / NATO Fellowship to work with Dick Zare at Stanford, which was a life-changing experience, before returning to my first academic job as a Lecturer (and subsequently Senior Lecturer) at the University of Edinburgh.
I took up the Chair of Physical Chemistry at Heriot-Watt University in 2000, and have remained here since. I have done a spell as Director of Research for the School of Engineering and Physical Sciences and am currently the Head of the Institute of Chemical Sciences. I have enjoyed many productive research collaborations, both externally and internally, particularly with my close colleague at Heriot-Watt, Matt Costen. I was heavily involved in the 'research pooling' initiative in Chemistry in Scotland, becoming the first Chairman of 'ScotCHEM'.

I am married (to Alison Hulme) and have two children (Catie and Andrew). In our spare time we like outdoor pursuits, including hill-walking and camping. We nearly managed to finish the Munros before the children came along. We are keen on cycling, swimming and most other sports.
Related Links

Professor McKendrick's webpage
Heriot-Watt University
External links will open in a new browser window