Chemistry of Transition Metals Award 2012 Winner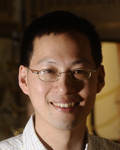 Professor Christopher Chang
University of California, Berkeley
For his important contributions to the applications of transition metals in molecular imaging and neurochemistry.
About the Winner
Christopher J. Chang is an Associate Professor of Chemistry and HHMI Investigator at UC Berkeley, as well as a Faculty Scientist in the Chemical Sciences Division of the Lawrence Berkeley National Laboratory.

He received his B.S. and M.S. degrees from Caltech in 1997, working with Prof. Harry Gray. After spending a year as a Fulbright scholar in Strasbourg, France with Dr. Jean-Pierre Sauvage, Chris received his Ph.D. from MIT in 2002 under the supervision of Prof. Dan Nocera. He stayed at MIT as a postdoctoral fellow with Prof. Steve Lippard and then began his independent career at UC Berkeley in Fall 2004.

Research in the Chang lab is focused on chemical biology and inorganic chemistry, with particular interests in molecular imaging and catalysis applied to neuroscience, stem cells, cancer, infectious diseases, renewable energy, and green chemistry.

His group's work has been honored by awards from the Dreyfus, Beckman, Sloan, and Packard Foundations, Amgen, Astra Zeneca, and Novartis, AFAR, Technology Review TR35, the ACS Cope Scholar Fund, and the Society for Biological Inorganic Chemistry.
Most recently Chris was awarded the 2011 Harvard Wilson Prize and the 2012 ACS Eli Lilly Award in Biological Chemistry.
Related Links

Professor Chang's webpage
University of California, Berkeley
External links will open in a new browser window