The Anne Bennett Memorial Award for Distinguished Service 2014 Winner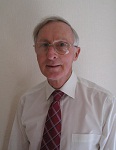 Dr John Green (Retired)
Formerly BP Chemicals Ltd
Awarded for his exemplary and dedicated service to the RSC Analytical Division and its Committees for more than 25 years. John, during this time, has worked tirelessly to promote analytical chemistry both within his work place, within the NE Region, within the Local Sections and at National level. He has held many positions within the RSC including President and Vice President of the Division, membership of RSC Council and the RSC Benevolent Fund.

About the Winner
John studied Chemistry at the University of Nottingham (1965-1968) and then moved to Reading University (1968-1971) where he obtained a PhD. After a postdoctoral appointment at the Dyson Perrins Laboratory in Oxford, John began his industrial research career firstly at International Synthetic Rubber (Hythe, Hampshire) then at the research centres of British American Tobacco (Southampton) and BP Chemicals (Hull).
Initial research was focussed on organic photochemistry under the leadership of Professor D Bryce-Smith and Dr A Gilbert. His industrial career included research into multifunctional catalysts for polymerisation , flavour isolation and the analysis, development and application of chromatographic and spectroscopic on-line analysis to manufacturing processes.
Association with academia has played an important role in John's work both as a visiting lecturer at Hull University and City University in Dublin and as an external examiner for MSc students at Northumbria University and the University of Malta. Research at Hull University and with CPACT (Centre for Process Analytics and Control Technology) led to valuable collaborative projects of industrial relevance.
Throughout his career John has been associated with the Royal Society of Chemistry serving at local section level (Mid-Southern Counties and Hull & East Riding Sections) and with the society's Analytical Division (as AD Council Member, AD Hon President and AD Hon Treasurer). As a member of the Analytical Methods Committee he has represented the AD at Eurachem General Assemblies. He has served on RSC Council and remains a member the Investment Committee and the Benevolent Fund Grants Committee.