Education Award 2014 Winner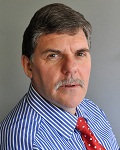 Dr Keith Taber
University of Cambridge
For extensive research that has contributed significantly to the teaching and learning of chemistry concepts.
About the Winner
Dr Keith S. Taber is Reader in Science Education at the University of Cambridge Faculty of Education and a Senior Member of Homerton College, Cambridge. He was born in Romford, England, in 1960, and attended state schools in the London Borough of Havering. He read Chemistry at the University of Nottingham (graduating in 1981) before preparing (at Nottingham Trent University) to be a teacher of chemistry and physics.
Keith took up a teaching post at Haywood Comprehensive School (Nottingham), and during his time at the school undertook a Diploma in the Practice of Science Education, studying part time through a course offered by Surrey University and Roehampton Institute. In 1987 he moved to Mayflower Comprehensive School (Billericay) and enrolled for the part-time MSc in science education offered by Surrey/Roehampton.
In 1988 Keith moved to take up a lecturing post at Havering College of Further and Higher Education, and whilst teaching there undertook a part-time PhD at Roehampton University - exploring students' developing understanding of chemical bonding. In 1999 Keith moved to Homerton College to work in initial teacher education, joining the University of Cambridge Faculty of Education. He was seconded to the Royal Society of Chemistry (RSC) as the Teacher Fellow for 2000-2001. In 2001 he was appointed a University Teaching Officer at Cambridge.
Dr Taber is currently Chair of the Science, Technology and Mathematics Education Academic Group. He teaches about educational research methods on a range of courses, and supervises masters and doctoral students.
Keith is married to Philippa, and lives in a village just outside Cambridge. He is the Editor of the RSC journal Chemistry Education Research and Practice.
Related Links

Dr Taber's Webpage
University of Cambridge Faculty of Education
External links will open in a new browser window