2018 Education Award Winner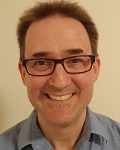 Dr Andrew Dicks
University of Toronto
Awarded for innovation in organic chemistry education research and practice, most significantly in the venue of teaching green chemistry principles to undergraduates via novel laboratory activities.
About the Winner
Andrew (Andy) Dicks joined the University of Toronto Chemistry Department in 1997, after undergraduate and graduate studies in the United Kingdom at the University of Wales (Swansea) and Durham University respectively. His doctoral work at Durham under the supervision of Professor Lyn Williams focused on the reactivity of nitric oxide donor drugs. He became an organic chemistry sessional instructor in 1999, and was hired as part of the university teaching-stream faculty two years later. He has research interests in undergraduate laboratory instruction that involve designing novel and stimulating experiments, particularly those that showcase green chemistry principles. This work has led to 50 peer-reviewed publications in the chemistry education literature. Following promotion in 2006, he became Associate Chair of Undergraduate Studies and developed an ongoing interest in improving the student experience in his department.
He has earned several pedagogical awards, including the University of Toronto President's Teaching Award, the Canadian Institute of Chemistry National Award for Chemical Education, a 2011 American Chemical Society-Committee on Environmental Improvement Award for Incorporating Sustainability into Chemistry Education, and a 2012 Ontario Confederation of University Faculty Associations (OCUFA) Teaching Award. He has additionally edited two books as resources for teaching green chemistry (Green Organic Chemistry in Lecture and Laboratory and Problem-Solving Exercises in Green and Sustainable Chemistry). In 2014 he was co-chair of the 23rd IUPAC International Conference on Chemistry Education which was held in Toronto, and became a Canadian 3M National Teaching Fellow in 2016.
Related Links

Dr Dicks' Webpage
University of Toronto
External links will open in a new browser window