Gibson-Fawcett Award 2010 Winner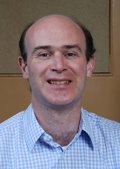 Simon Clarke
University of Oxford
For his exceptional contribution to the chemistry of non-oxide and mixed anion solids as new functional materials.

About the Winner
Simon Clarke grew up in Hertfordshire and was an undergraduate at St John's College, Oxford.
He gained his first taste of research as a stagiaire at the Institut Laue Langevin (ILL) in the summer of 1989 working with Jeremy Cockcroft. He continued the theme of using neutrons in research as an undergraduate project student with Andrew Harrison and carried out his D.Phil. research with Andrew Harrison and Matt Rosseinsky as a graduate scholar at St Hugh's College, Oxford.
He then gained a Royal Society/NATO Postdoctoral Fellowship to work on nitride chemistry with Frank DiSalvo at Cornell University and spent two years gaining a taste for working in the less-well-tramelled parts of the periodic table.
He returned to Oxford in 1997 as a Lloyd's of London Tercentenary Foundation Fellow to begin work on oxynitride chemistry and then in 1998 was elected to a lectureship at the University of Exeter and started to develop themes in multi-anion and non-oxide chemistry.
He moved to his current post at the University of Oxford in September 2000.The focus of his research has been to synthesise new materials using a wide range of techniques and correlate their compositions and crystal structures with their physical and chemical properties. His group is currently exploring the new series of iron-based pnictide and chalcogenide superconductors.
Related Links

University of Oxford, Department of Chemistry
Simon Clarke's Research Page
External links will open in a new browser window