Green Chemistry Award 2010 Winner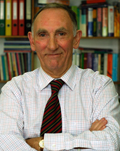 Roger Sheldon
Delft University of Technology
In recognition of the role that he has played as one of the founding fathers of green chemistry and in particular for his work on the development of clean, catalytic technologies for waste minimization and elimination of toxic/hazardous materials in chemicals manufacture.
About the Winner
Roger Sheldon received a Ph.D. in organic chemistry from the University of Leicester (UK) in 1967. This was followed by a postdoctoral fellowship with Jay Kochi at Case Western Reserve University and Indiana University (USA).
From 1969 to 1980 he was with Shell Research Laboratories in Amsterdam and from 1980 to 1990 he was Vice President for R&D with DSM-Andeno.
In 1991 he was appointed Professor of Biocatalysis & Organic Chemistry at Delft University of Technology. He is also Chief Executive Officer of CLEA Technologies B.V. a biotechnology company specializing in enzyme immobilisation, biocatalysis and green chemistry.
He is a globally recognized expert on catalysis and green chemistry and the (co)author of several books on the subject of catalysis as well as more than 400 professional papers and ca. 50 granted patents.
His books on "Metal Catalyzed Oxidations" (together with Jay Kochi) and "Chirotechnology" have become desk references for professionals in the field. More recently he has written, together with Isabel Arends and Ulf Hanefeld, the book "Green Chemistry & Catalysis".
He was the first Chairman of the Editorial Board of the highly successful RSC journal Green Chemistry.
His research interests are in the general area of Green Chemistry and Catalysis, encompassing the application of homogeneous, heterogeneous catalysis, and biocatalysis in organic synthesis. He is widely known for developing the concept of E factors for assessing the environmental footprint of chemical manufacturing processes.
More recently, he has focused his attention on the use of green and sustainable (bio)catalytic methodologies for the conversion of renewable raw materials.
Related Links

Roger Sheldon
Homepage of Roger Sheldon Green Chemistry and Catalysis
External links will open in a new browser window