2019 Higher Education Teaching Award Winner
Dr Barry Ryan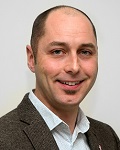 Technological University Dublin
Awarded for ongoing innovation in chemistry education, particularly for the adaptable approach to integrating students as co-creators of knowledge
About the Winner
Barry completed his undergraduate degree (Biotechnology) and his PhD (Applied Biochemistry) in Dublin City University. Following time in research and development in the biopharmaceutical, diagnostic and biotechnology industries, he returned to academia as a lecturer in the Dublin Institute of Technology (now Technological University Dublin). His teaching focuses on introductory organic chemistry and advanced biochemistry, and is underpinned by his passion for practical implementation of research informed teaching. Aligned to his pedagogical research, he is concurrently a principle investigator in the Applied Biochemistry Laboratory in TU Dublin.
Barry is a Senior Fellow of the HEA, a Chartered Science Teacher and has been awarded institutional and national honours in recognition of his innovative teaching. He completed three postgraduate qualifications in higher education and these inform his educational research. His current educational research interest lies in communities of practice for foundation chemistry students; other research areas include the strategic use of technology to enhance learning and embedding research into the undergraduate curriculum.
Barry champions impactful, evidence-based pedagogies and supports others in developing their own practice. He is the Chair of MORSE (Methods for Science Education Research), a conference that seeks to widen the impact of practitioner driven method development in educational research. He also coordinates the RSC Chemistry Education Research Group International Mentoring Programme. Barry consistently seeks to influence and positively impact chemistry education through the promotion of a student centred approach. He is the Chair, and Editor, of the Journal of Science Undergraduate Research Experience, which aims to promote and centralise research at all levels within the undergraduate curriculum.

Related Links

Barry Ryan's Webpage
Technological University Dublin
External links will open in a new browser window