2018 Higher Education Technical Excellence Award Winner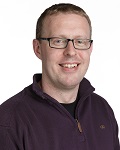 Dr Trevor Carey
School of Chemistry, University College Cork
Awarded for excellence in the support and continued development of undergraduate physical chemistry teaching practicals and for contributions to chemistry outreach and promotional activities in Ireland
About the Winner
Born in Cork, Trevor graduated with a BSc. Chemistry degree in University College Cork (UCC) in 2004. He carried out his Ph.D. research under the supervision of Professor John Wenger at The Centre for Research into Atmospheric Chemistry in UCC. Trevor's research focused on the Atmospheric Simulation Chamber Studies of the Ozonolysis of Green Leaf Volatiles. He completed his Ph.D. studies in 2010 and was appointed Technical Officer for the School of Chemistry in 2011. He is responsible for the management and development of undergraduate Physical Chemistry practicals and many aspects of continuous assessment associated with undergraduate Physical Chemistry modules.
Trevor is joint-chair for the Outreach, Public Relations and Admissions (OPRA) committee in the School of Chemistry. He is coordinator of the highly successful RSC and SFI funded outreach activity, Spectroscopy in a Suitcase (SIAS), where he has visited over 150 schools in the past 4 years. Trevor is also administrator and content creator of the School of Chemistry Website, the popular School of Chemistry App for iOS and Android and all social media outlets (Facebook, Twitter, LinkedIn, YouTube) for the school. He is also editor of the School of Chemistry online newsletter. Trevor has played a significant role in the recent Athena Swan Bronze Award application from the school, where he is part of the school's Self-Assessment Team and working group leader for the student data section of the Athena Swan application.
Away from chemistry and work, Trevor is married to Nicola (a Chemistry teacher!), has a keen interest in all sports, website design and maintenance, and spends most of his weekends travelling around Ireland supporting his favourite football team, Cork City FC - League & Cup double winners in 2017!
Related Links

Dr Carey's Webpage
University College Cork
External links will open in a new browser window